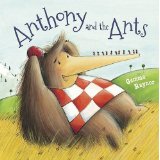 Anthony and the Ants is described as a "comic tale of friendship". It's an apt description as my daughter and I had quite a detailed discussion about friendship after we read it.
As ever, I won't give too much away. Suffice it to say Anthony Anteater is driven to distraction by a group of ants that keep relieving him of his food. Deciding to eat elsewhere so that his food remains untouched, Anthony then gets himself in trouble and has to be rescued by the very ants he was trying to avoid. I think my eldest would say they came together as "team workers". The ending was unexpected and caught me by surprise!
The book is both written and illustrated by Gemma Raynor, a writer new to me. It's a great title for any children old enough to be dealing with the ins and outs of friendship and the challenges it presents. The book is published by Parragon, has an RRP of £5.99 and is available on Amazon.
Interested in this blog post? Well have a read of these...