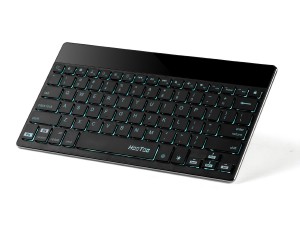 Having recently had a very positive experience reviewing a HooToo multi USB port, I was delighted to be given the opportunity to review its HT-WK01 bluetooth keyboard. Thankfully my high expectations were met.
I used it with my iPad, although you can use it with Android and Windows based products. It connected to the iPad with ease and I found it to be a great option if you using an app such as Pages as it means you can work on a proper keyboard instead of the tapping away using the touch screen.
The keyboard is backlit, so it can be used at night time. You also have a choice of seven colours to choose from, although I'm partial to the colour red.
I haven't run the battery down, but that's probably because the packaging states it stays charged for 200 hours. This reduces to four-five hours if the backlighting is on.
The other stand out feature is the keyboard's weight. It weighs next to nothing.
Here's a little technical information;
operating range is up to 10 metres
keyboard dimensions are 26cm long X 13.5cm wide by 11mm thick
battery is lithium polymer and non-accesible and
keyboard life is 5 million clicks.
This is a great quality and very useful. It retails at £24.99 and is available from Amazon.
Interested in this blog post? Well have a read of these...