Strap yourselves in and get ready. Next week is My Family Week, a week to celebrate families in all there various complex, messy and beautiful forms.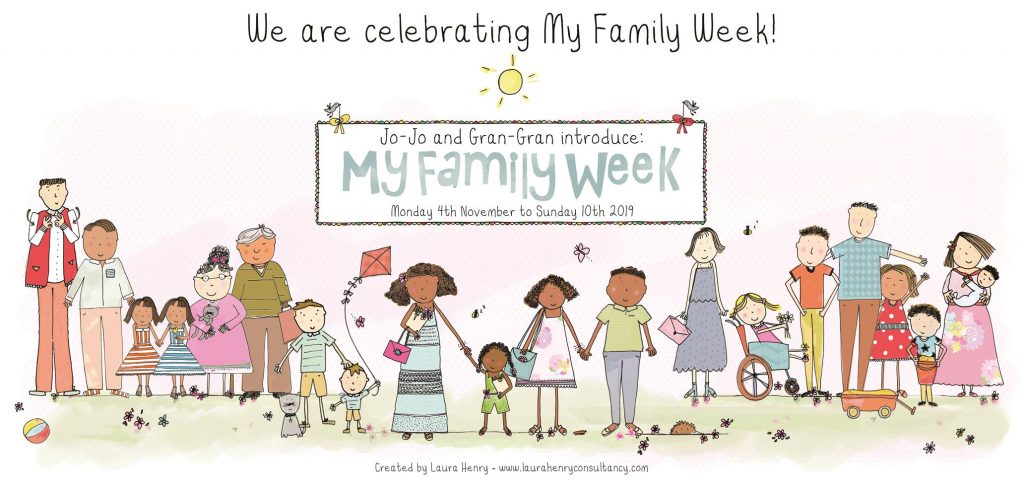 My Family Week struck a chord with me because of its inclusive nature. It's organised by early years child development specialist Laura Henry, a fascinating individual who is no stranger to this blog (see the Q&A Laura took part in here, she really does have an unrivalled background in child development). It's aim is simply to acknowledge and celebrate families in all their forms.
My Family Week, which runs from 4 November until 10 November, is for everyone. The event recognises nuclear families, single parent families, blended and step-families, same sex families, families where individuals are disabled, families with fostered and adopted children and so on.
Laura was inspired to start My Family Week because of the stigma she says she felt growing up in a single parent family following her parents' divorce. Knowing only too well that Mother's and Father's Day can leave children feeling isolated if both parents are not present, My Family Week was born.
It's strangely personal to me as well. When I got thinking about My Family Week, it dawned on me for the first time ever that I never once lived in a 'straightforward' nuclear family while growing up. I either lived with extended family or in blended or step-families and that had never occurred to me before. That's quite a revelation to have when your age is north of 40!
Laura has produced various activities and materials for parents, schools and early years settings that want to celebrate My Family Week. You'll find more information on her website. During the week itself, you might want to look out for the #MyFamilyWeek hashtag on social media.
I hope you do choose to do something to mark the occasion, even if you only do something small. If you do, I wish you all the best with your celebrations.
Interested in this blog post? Well have a read of these...