"Is it a barbecue if you don't use chrcoal?" This was the challenge put to me when I announced on Twitter I would be using a gas-powered Char-Broil barbecue.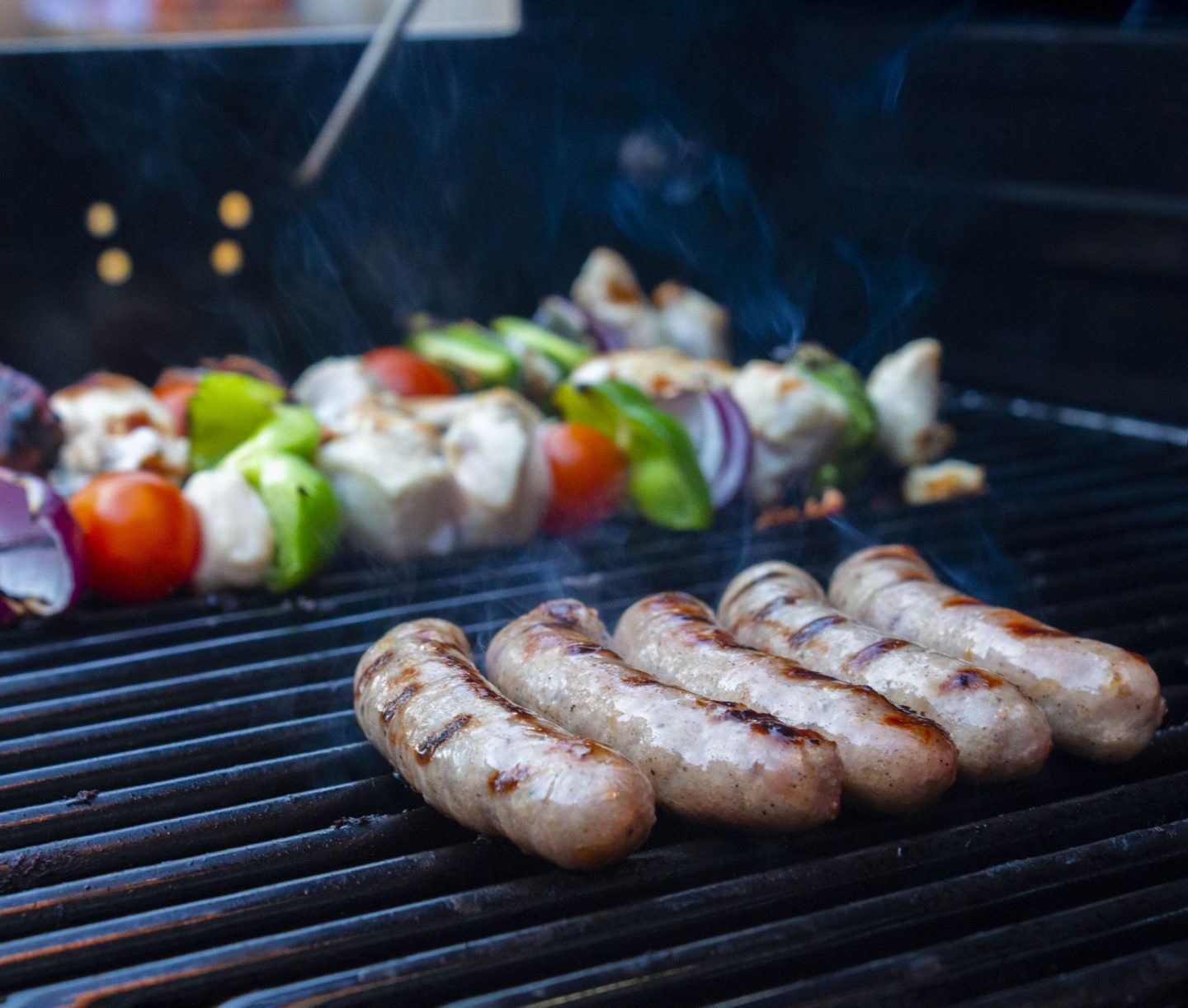 Disclosure: This is a review feature and I was gifted a Char-Broil Performance EB340 for the purposes of producing this blog post. Thoughts and opinions entirely my own.
It was a perfectly fair challenge. As a family, we are enthusiastic barbecue users and I had never cooked using a gas barbecue before. In fact I had never entertained the idea considering it a cheat's way to cook outside.
Before I go any further, here's a quick introduction to the difference between barbecuing and grilling. If you cook outside over fire, the correct terminology is barbecuing. If you cook over gas, it's known as grilling. The two phrases are often used interchangeably, especially on this side of the Atlantic but strictly speaking this is a grill and not a barbecue. That said, back to the review!
I enjoyed using charcoal and it was, I thought, the more environmentally-friendly option. Charcoal was such a part of the barbecuing experience that Char-Broil had to approach me two or three times before I was even prepared to think about reviewing one of its gas-powered products. After one of these approaches (I forget which) I got a bit curious so dedicated some time to looking into the environmental impact of the different types of barbecue and grill.
I used to be able to buy the most amazing charcoals that were produced in a local forest and were sold at a local garden centre. Everything I read suggested that buying locally produced coals was the best option when it comes to the environment.
Only thing is, I haven't been able to buy those coals in years. With some reluctance, we've used coals from a variety of different suppliers and very often lit them with firelighters or lighting gel. Occasionally we've bought briquettes, failing to realise chemicals are sometimes added to them to make them burn white.
I read numerous different sources and they all came to the same conclusion. Unless you can get genuine charcoal (not briquettes) produced very locally, gas is the better option.
It took a lot to put aside my snobbery against gas, but I accepted the King's shilling and agreed to try out a Char-Broil Perfomance EB340 grill. A couple of days later, the grill arrived, and we haven't looked back.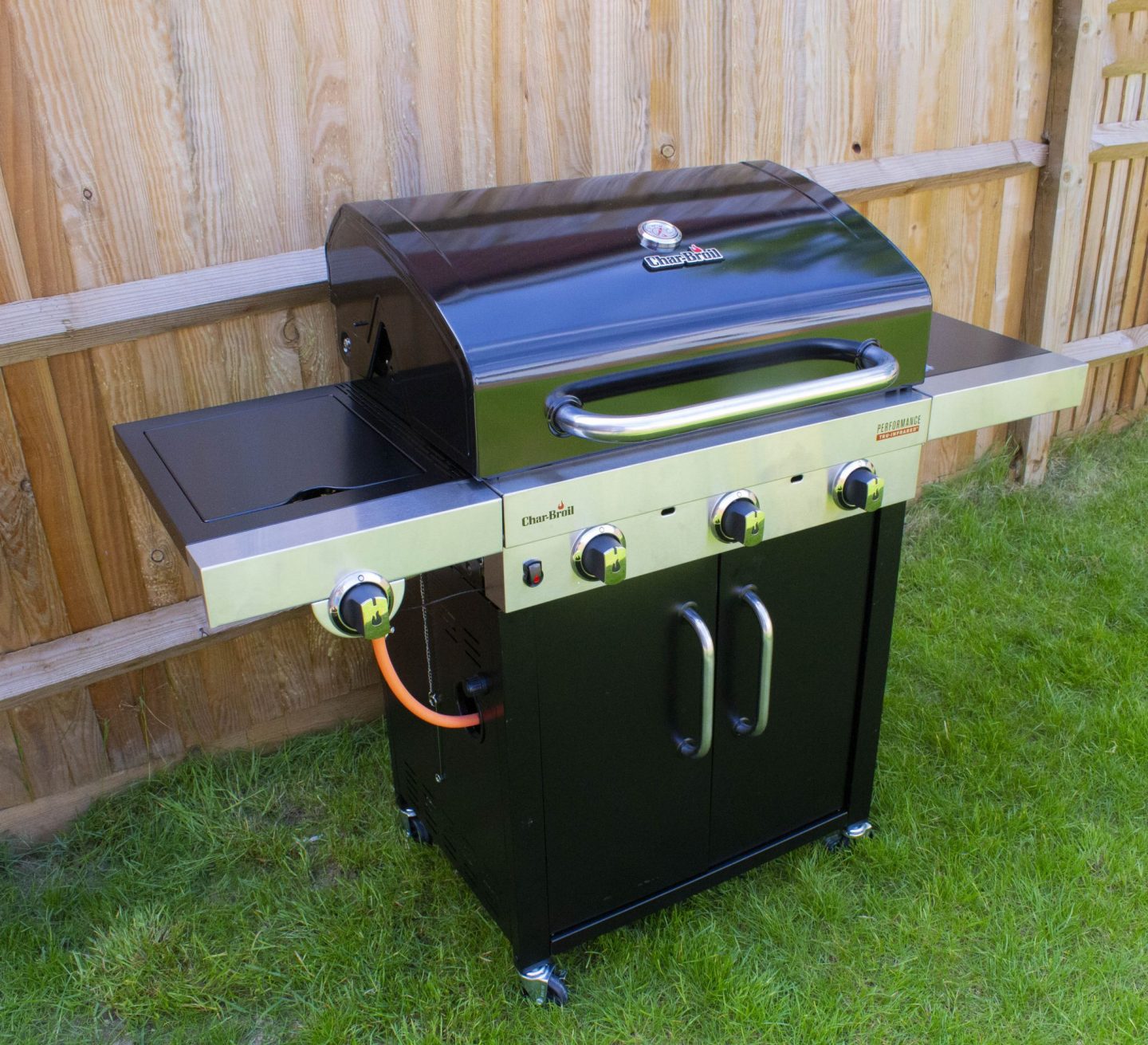 The grill arrives
When the Char-Broil arrived, it was flat packed. Rather naively I had assumed it would come ready built. Not, however, this was too much of a problem.
After about 90 minutes I had the barbecue built. This also gave me a superb excuse not to do any housework.
I took a gamble that Mrs Adams wouldn't be too upset to arrive back home to a messy house if there was a new, impressive gas barbecue grill in the garden. Thankfully my gamble paid off. She was indeed very impressed.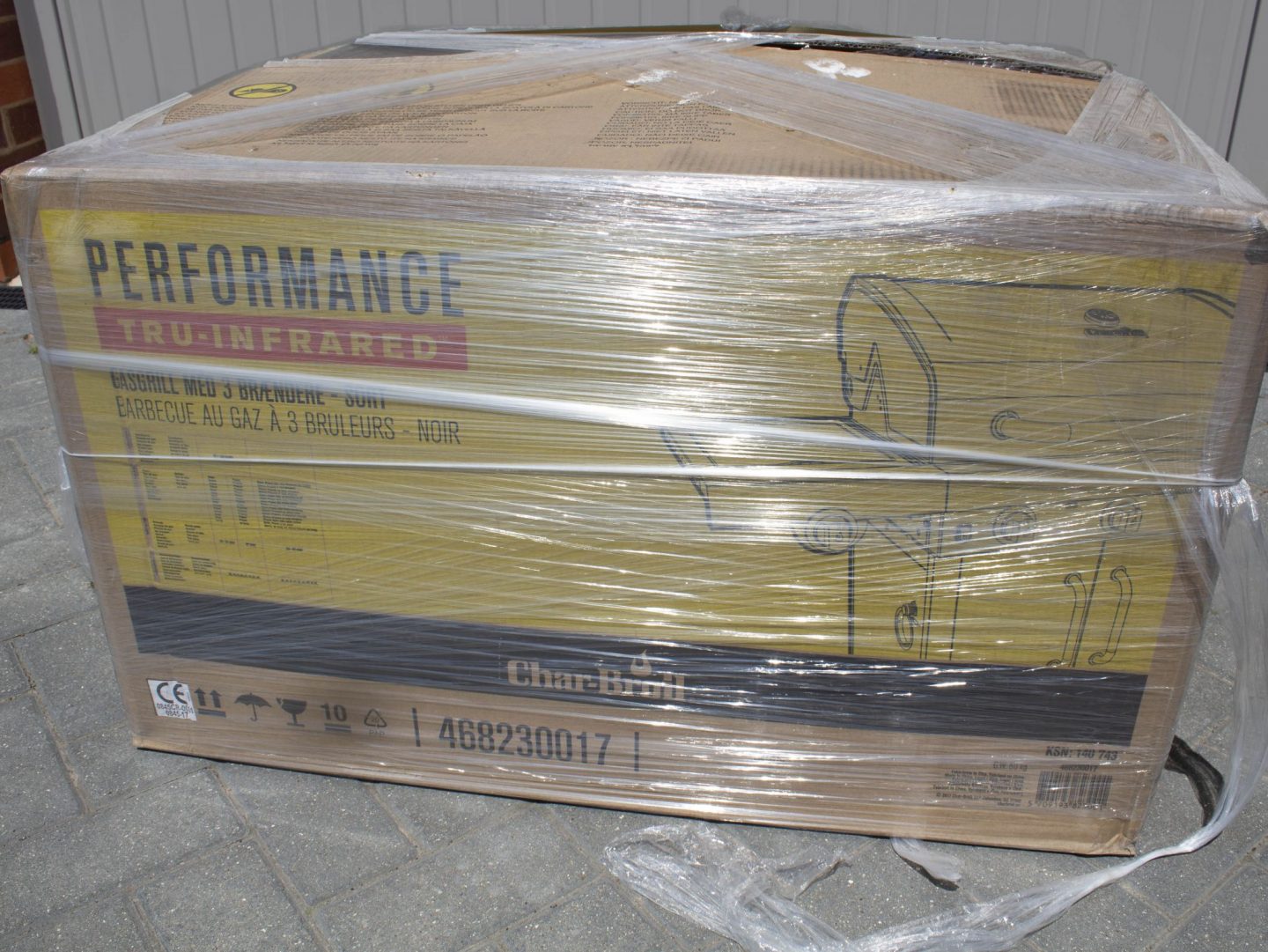 The only issue I had at this early point was the ignition system, which didn't work. When this kind of thing happens, I always judge a company on how quickly they deal with the error and credit to Char-Broil, a replacement was dispatched very swiftly so top marks for its customer service.
Product description
Char-Broil has a broad product range featuring charcoal barbecues, gas grills, combination gas and charcoal grills, small, portable barbecues, massive barbecues and a host of accessories. The EB340 is at the bigger end of the scale measuring 116 centimetres tall and 138 centimetres wide.
There are three gas burners, each with an individual temperature control, that heat up porcelain-coated steel grates. You cook your food on top of these plates, rather like a broiler in a restaurant kitchen.
The grates are the key to the whole cooking operation. They are removable to make cleaning easier and they have holes in, so fat can drain away from the food. In fact, the EB340 is designed in such a way so the fat drains away and collects in a small dish that you can empty once you have finished cooking.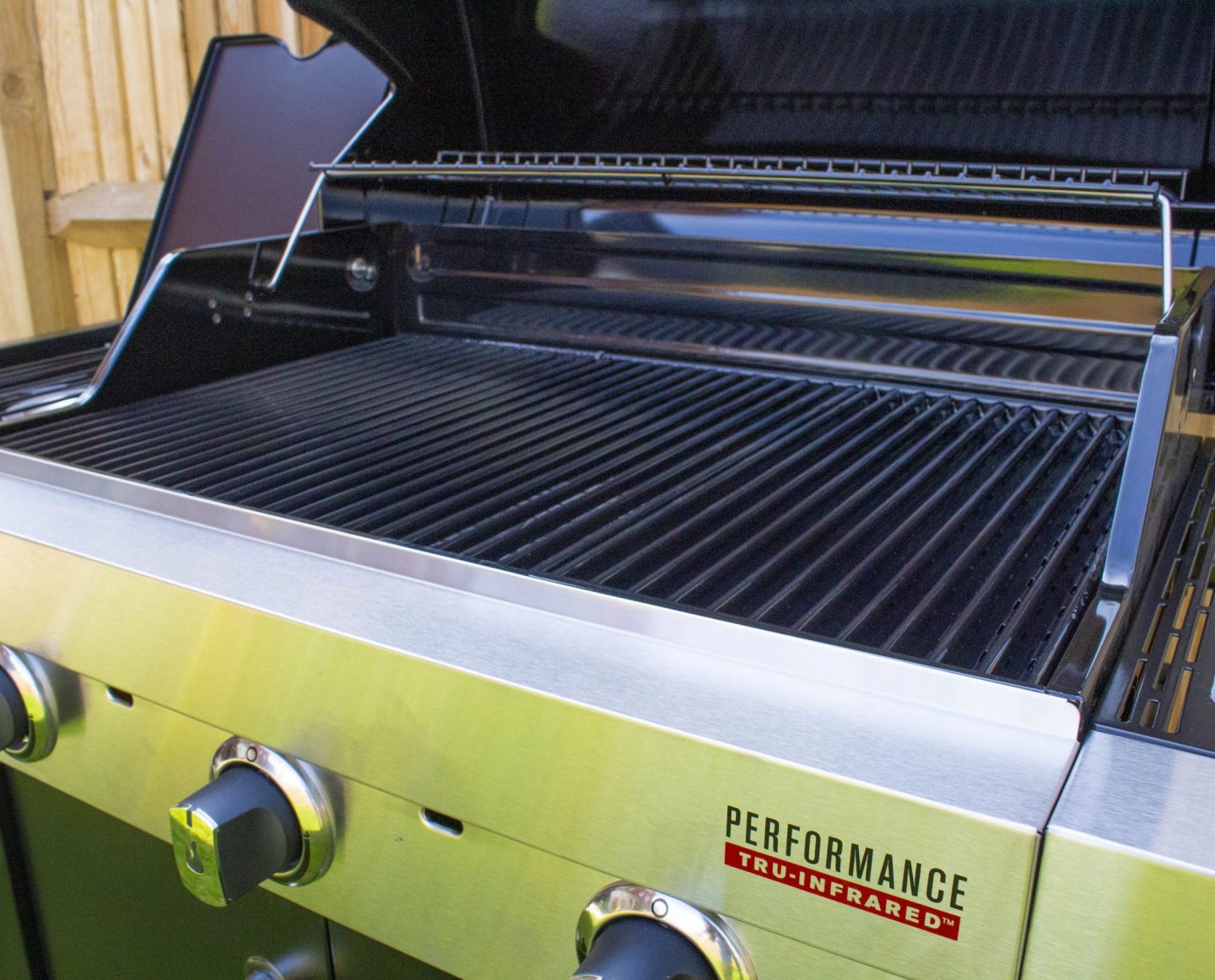 There is a hood that you can pull down over the top to retain the heat. On the top of the hood is a temperature gauge so you can see how hot it is inside the barbecue.
As with any decent barbecue, there is a rack for placing cooked food to keep it warm. The EB340 also has a separate gas ring so you can heat up sauces or fry onions etc. The entire barbecue sits on wheels so you can move it into place with ease.
The science behind the cooking
There is a whole science dedicated to cooking using the Char-Broil. Take a look on YouTube and you'll find Char-Broil engineers talking enthusiastically about it.
I, however, shall keep it very simple. When you cook food using the Char-Broil Performance EB340, the food does not cook directly in the flames or the convection heat produced by a charcoal barbecue. By heating up the grates, the food cooks in the infrared spectrum instead.
You know there's always a cold spot on the barbecue when you cook on coals? Not so with the Char-Broil because, when used properly, the heat is distributed uniformly across the plates (hold that thought, I'm going to re-visit this point in just a moment).
Cooking this way you don't get flare-ups caused by fat that can burn the food. Char-Broil also claims this method of cooking means that meat retains its moisture. Did I find these to be extravagant claims or did the EB340 work as well as I had been led to believe? Read on to find out.
Cooking performance of the Char-Broil Performance EB340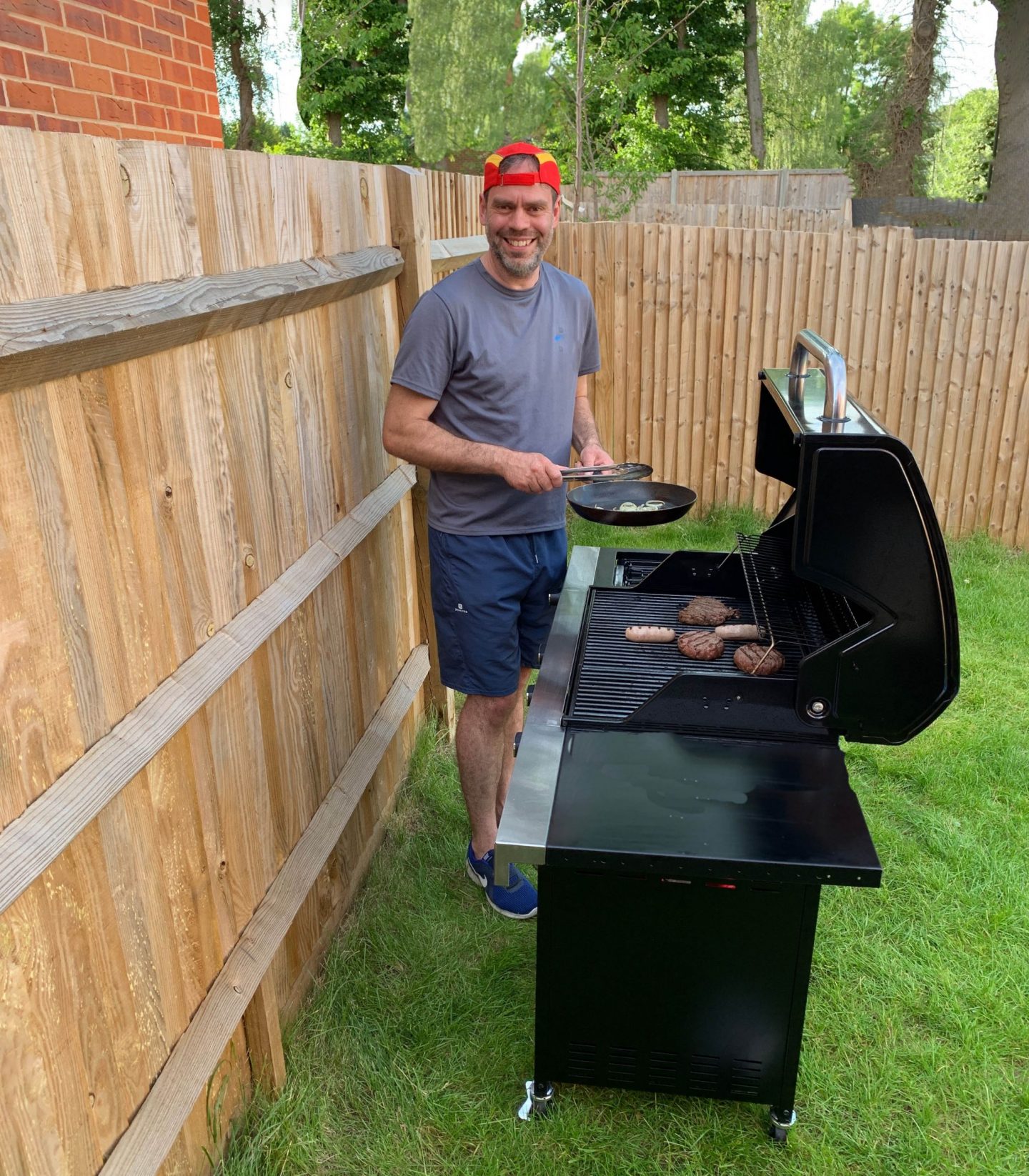 As you will have gathered, I was a hardened, charcoal barbecue user. It took some effort to persuade me to try this product but I am so glad I did. Aside from a couple of tiny points where improvements could be made, I have loved using it.
I've enjoyed using the Char-Broil EB340 so much that I couldn't honestly tell you how many times we've cooked on it over the past month or so. The food does indeed retain its moisture and the grates do protect the food from flare-ups.
I haven't yet burnt anything and just as importantly, I haven't under-cooked anything either. It is a real pleasure to use and unlike the charcoal barbecue we used previously, it doesn't rapidly cook the food. You have much better control with the Char-Broil because you can close the lid or turn the gas down etc.
I mentioned above the point about the grates heating up in a uniform manner. The first time I used the Char-Broil, I was only cooking for Mrs Adams and I. Thinking I was doing the correct thing, I only turned on one of the burners and cooked on one of the three-grates. This being a large barbecue, I simply didn't think I needed to turn them all on.
It took forever to cook the food. What I learned from that experience is that, just like a charcoal barbecue, it's all or nothing with the Char-Broil. If you're going to cook on it, you need to turn all the gas burners on to heat up all of the grates. If you don't, you're going to be cooking for a long, long time.
Cleaning the EB340
Cleaning the EB340 is straightforward. After each use I clean the grates. Although the EB340 comes with a special tool for removing bits and pieces from the grates, I would recommend investing in a barbecue cleaning brush as the tool won't remove every little speck.
I also wipe down the inside of the hood and the cooking area. It is also worth removing the grates and giving the barbecue a wipe down immediately before use. I found a slug underneath the grates on one occasion. If I hadn't checked, that little fella would have met an unfortunate end so keep that in mind!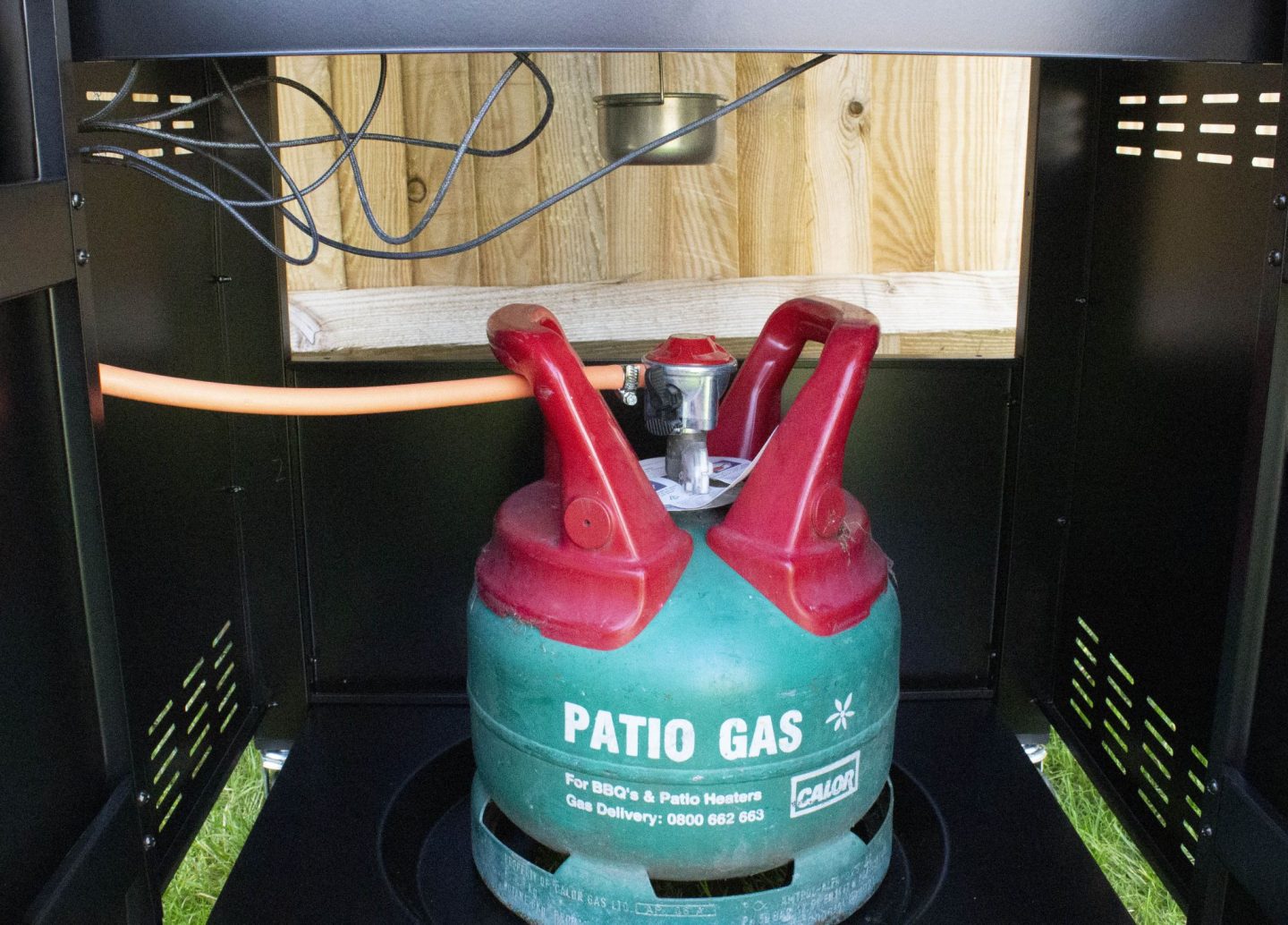 Points to be aware of
I mentioned the issue I Had with the ignition system. The only other point I can think of is that the EB340 doesn't have handles for maneuvering it into position.
It's maybe not essential if you're using the barbecue on a hard, patio surface. If, as I have had to do, you need to position the barbecue on a lawn, you have to do it gently and some handles would be useful to make that easier.
More information and summary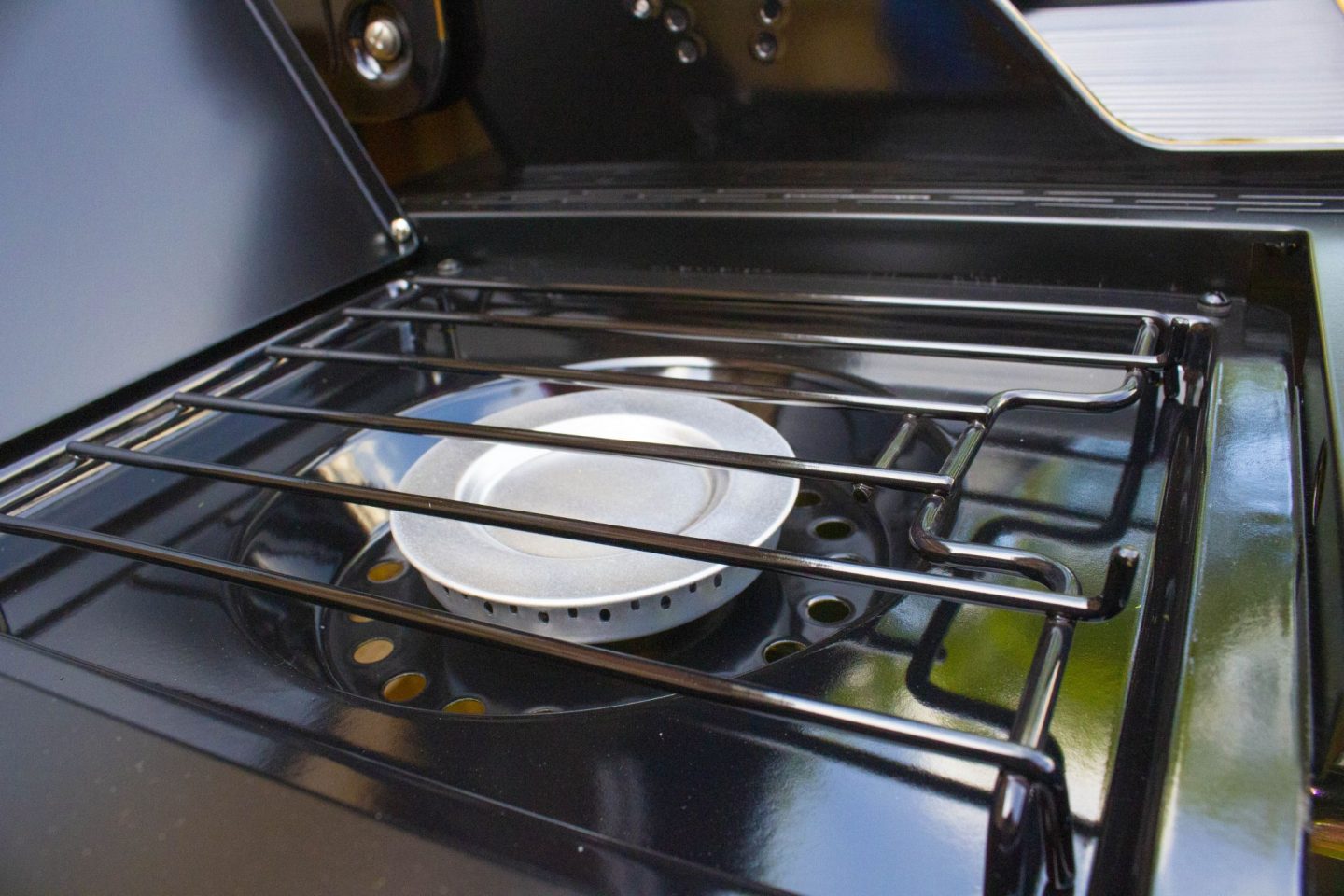 You may be wondering what the Char-Broil Performance EB340 costs. At the time of writing it was retailing for £439.99 and further details can be found online at the Char-Broil website. If that's a bit much, there are many other options in the Char-Broil range so do take a look.
As you may have gathered, moving away from charcoal to gas was a bit of a wrench. It was always going to take something special for that to happen and the Char-Broil Performance EB340 was that 'something special.
It produces superb results and it's a lot easier to use that a charcoal barbecue. Twice now I have sent text messages to Mrs Adams while she has been travelling home from work suggesting we have a barbecue in the evening. There is no messaging around with paper, firelighters or waiting for ages while coals turn the correct colour so it has made cooking outside simple and fun.
Interested in this blog post? Well have a read of these...