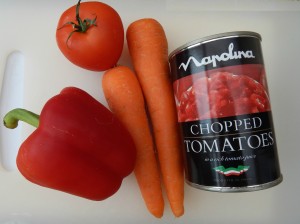 I don't usually write food-related posts but I thought I'd share a homemade child friendly recipe with you. It's something I made to get our eldest daughter eating fresh vegetables.
It's a recipe for a simple tomato sauce that sneakily contains more than just tomatoes. Once made it can be frozen and, by adding a few basic ingredients, adapted so that mum and dad can also enjoy a good meal.
I was inspired to make this by an old boss of mine who went on a course to learn about making curry. He returned from the course with a fascinating nugget of information. You know how curry sauces are often quite thick when bought from restaurants and take aways? According to my former employer, chefs use pureed carrot to achieve this.
I don't know how prevalent this practice is, although I doubt it's how an authentic Indian curry would be made. Despite this, I shamelessly pinched the idea when I struggled to get my daughter to eat fresh vegetables.
One thing I'd noticed was that my kids will always eat a basic tomato sauce. What would happen, I wondered, if I added some purred carrot to it? Would they, in particular my slightly fussier elder child, notice?
She didn't, and so I took it one step further. I added a couple of red peppers that had been chopped into tiny pieces in the food processor. Yet again this went unnoticed. On the odd occasion I've also added garlic. I'm no nutritionist, but I figure this has to be a reasonably healthy sauce.
I'm afraid I'm a bit gung ho in the kitchen. I don't really do weights and measures but this is how you do it.
You will need:
Approx 10 tomatoes
Two tins of chopped tomatoes
Approx five large carrots
Two red peppers
Tomato puree
1) Peel and clean the carrots and blitz them in the food processor until they're as small as possible. Add to a large pan of water and boil for a couple of minutes.
2) While the carrots boil, blitz the peppers until they are as small as possible. Once chopped, set to one side.
3) Quarter the tomatoes and blitz them in the food processor. As you're going, steadily add the tinned tomatoes (the tinned tomaotes add a texture the kids like and also deepen the red colour, masking the orange of the carrots).
3) Drain the carrots, return them to the pan and steadily add the blended tomatoes. Turn up the heat so the mixture simmers.
4) Add the peppers and some tomato puree.
5) Leave to simmer for bout 20 minutes, stirring occasionally.
What you don't eat straight away can be frozen. You can add chicken, beef mince or simply serve over pasta.
To sex it up for mum and dad, you can defrost some of the sauce and add some fried chilli flakes and garlic. You could even fry some red onion, garlic and chilli flakes together with some red wine vinegar before slowly stirring in some of the sauce.
Bon appetit!
Interested in this blog post? Well have a read of these...