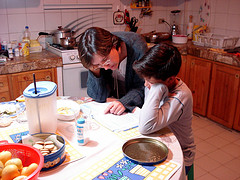 This is the first of a couple of blog posts I plan to write about homework. In this one, I shall comment on the amount children are expected to complete. It's the one thing that has troubled me about Helen's first year at school.
At the beginning of the school year, my wife and I were told that we should ideally read with Helen for about 20 minutes each night. School books came home and we fulfilled our obligations and read them with our daughter.
Interestingly, any resistance to reading at home came in the early days when the books were easier. Needless to say, as Helen neared the end of the school year the books became increasingly challenging. The story lines were more complex and interesting. She actually found this stimulating and you could see her really enjoying the stories and commenting on them.
As her reading improved, I noticed that notes were coming home suggesting she also practice writing various key words. We duly complied, but cut back on the reading to compensate for this. As a four and latterly five year old, we didn't want her to be burdened with work after school.
Then there were suggestions as to maths homework we could be doing. Added to this, we were supposed to be logging on to a Virtual Learning Platform so she could practice various skills on line.
As an aside, I find the concept of teaching reception aged kids IT skills hilarious. Have you met any?? They probably know more than their teachers! I digress, forgive me.
Towards the end of term I was beginning to get a bit concerned about all this. These were reception aged children being sent home with reading, writing, mathematics and IT homework.
I'm afraid I drew the line. So long as Helen did some homework and I could see progress, I was happy. Some days I even made up my own homework. After her birthday I made her write thank you letters and a note was duly made in Helen's homework record that she had done "writing practice". I mean come on, I wasn't going to make the kid write thank you notes and do homework on top of this.
This all worries me. It seems like too much at too young-an-age. I know worse is to come. A few months ago I found myself in a room with a group of parents with teenaged kids. I was somewhat taken aback to learn that their offspring are expected to complete two hours of home study a night. When I was that age it was an hour a night and that seems much more reasonable.
What do you think? Are our youngsters under too much pressure to do homework? Should we leave them alone to play? Or are you all in favour of this approach?
Photo credit: Pete Gene Reproduced under Creative Commons 2.0 agreement. For more info about the license and for a link to it, please see my Disclosure page.
Interested in this blog post? Well have a read of these...