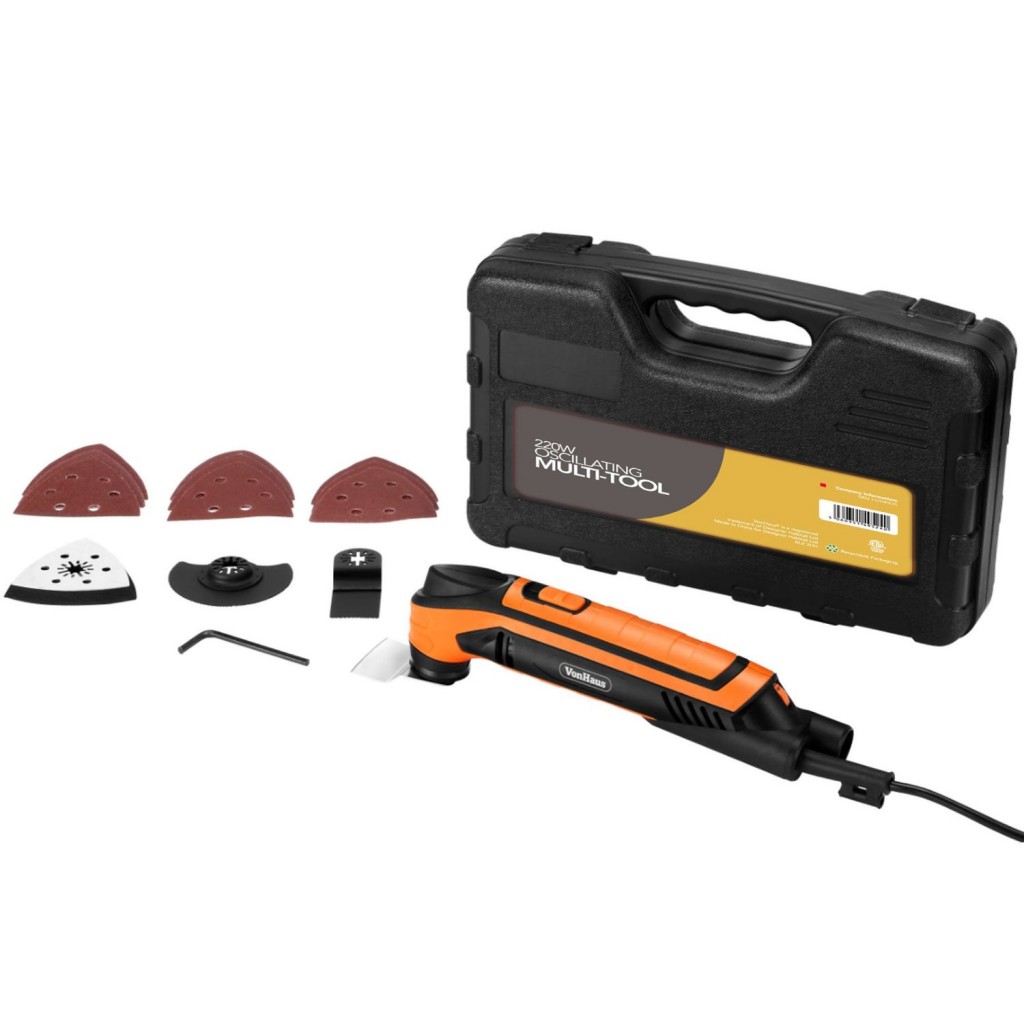 As you may have gathered from previous reviews, I'm something of a DIY fan and I do like my power tools. This family, you see, likes to save money and avoid paying for tradespeople if it can be avoided. This particular item, the VonHaus 220w oscillating multi-tool, seems to be the latest in a growing trend of power tools that has many different uses.
The tool itself is essentially a hand held device that oscillates at six different speeds. You fit the appropriate attachment for the job you are doing, and away you go.
It comes in a heavy-duty plastic case. It also boasts a number of attachments including; a sander, a scraping tool for removing wood, vinyl and adhesive residues, an E-cutter (end cutter) that cuts metal and wood and a half-moon saw for that cuts wood, plaster board or laminate and is designed for cutting up to the edge of another material.
The attachments are very easy to fit. They are held in place with a simple hex key. Each attachment has to line up with four small lugs before it is tightened. Do pay attention to make sure you have the lugs lined up. I found it was possible to do up the hex key without the lugs being in place and I think it would work loose very quickly if you did this.
How does this beast perform? I've used the sander, half-moon saw and e-cutter. I found the half-moon saw was brilliant, the sander also performed very well. The E-cutter was great although I am very inexperienced in using this kind of attachment so I don't really have much to compare it to. Suffice it to say, I can see many uses for it.
I did find it worked better at the higher speeds with all the attachments. That said, that's exactly what I would expect.
The VonHaus 220w oscillating multi-tool is presently available from Amazon for £24.99 having been previously priced at £65. At this price I don't think you can go too far wrong and I have read many reviews stating it offers great value for money.

Disclosure; I was provided with one of these tools for review purposes. Thoughts and opinions are my own.
Interested in this blog post? Well have a read of these...