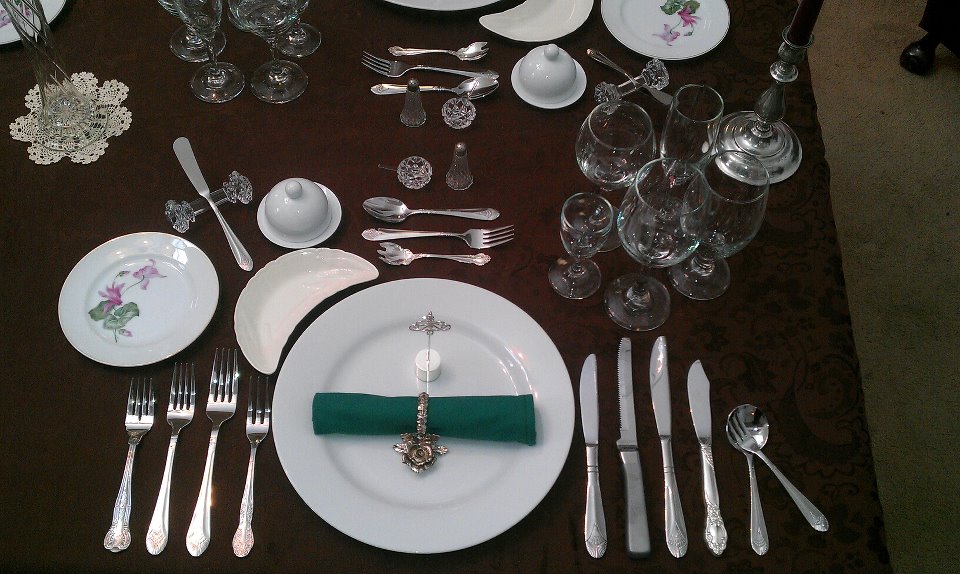 Am I alone in thinking it's hard to teach a child good table manners? For a brief moment I am going to let my guard down and confess that it's an occasional cause of marital disharmony in this household.
I, you see, was raised in a household where exemplary table manners were expected from a very, very young age. By the age of five I put my knife and fork down properly after every mouthful in a v-shape, never used my hands and never put my elbows on the table. If I ever passed the port bottle in the wrong direction, well, it was 100 lines and a night in the dog's kennel for me.
Okay, I lied about that last bit. You get the impression though, table manners were taken very seriously when I was a kid. Oh, yeah, and the dog didn't have a kennel. His bed was next to the Rayburn so he had the warmest spot in the house.
Such a big thing was made of table manners that it's just second nature to me. I want my kids to follow my example simply because it was ingrained into my very being. In fact I was probably being lectured about it while in the womb.
Don't get the wrong impression. My wife has very good table manners, but she has a more relaxed attitude.
Not surprisingly, Toddler Adams eats like a toddler. She will use a spoon or fork but quite a bit of her food still makes it into her mouth via her fingers. No great surprise bearing in mind her age, she will grow out of it.
With Helen, however, we have reached an impasse. She's quite capable of using a knife and fork. She can even squeeze peas onto her fork and deliver them to her mouth perfectly, although I know for a fact this only happens when I'm sitting right next to her. Even so, she has some very fixed habits that I'm struggling to deal with.
You'll note I say "I" and not "we". This is because my wife's work hours are so long that I have to take care of the evening meal. We only really eat together en masse at the weekend. As a result, it's largely my responsibility to teach table manners.
Helen will do a very good job of cutting up her food. Once she's cut everything up on her plate, she will forget about the knife, put the fork into her right hand and eat Mediterranean-style.
I really don't want to come down her too hard, but I seem to be constantly reminding her about elbows being on the table and she often gets up from the table during meals. For her age, this is probably quite normal but compared to my upbringing it's a million miles away (could I be a bit damaged? Oh probably, but it's just the way I am).
There's an added irony here. As I have alluded to in the past, I have French heritage. On the odd occasion I get to eat with French relatives.
Have you ever seen a group of French people enjoy a meal together? Compared to my upbringing, it's like feeding time at the zoo. Seriously, the French approach to table manners is completely different.
In France, you enjoy the food, enjoy the company and let the rest of the world hang. A table should be covered in bread crumbs and spilt gravy. Elbows should rest on the table and the loud discussion of left wing politics and family scandal is always encouraged. If the previous points are not achieved, the meal will be considered a failure.
I know Helen's table manners aren't that bad. I know there are many years ahead to iron out any bumps. I'll also admit that I'm a victim of my own upbringing. My expectations of how a six year old should behave at the table are probably far too high.
I have to face the fact my children and I have very different backgrounds. When I was Helen's age I was the only child in the house and lived in an extended family with four adults. They all piled in and taught me table manners and with no other kids around, I was the focus of their attention.
My kids are in a nuclear family where the burden falls on me and I have to split my time dealing with the two children. I guess it'll be a while while until they both eat like graduates of a Swiss finishing school.
Pic credit; Hopefulromntc. Sourced from Wikpiedia and reproduced under Creative Commons agreement.
Interested in this blog post? Well have a read of these...