Regular readers will know that my oldest daughter has just started school. This was a significant milestone, not just for her but the rest of the family.
Like families the world over, we're now hide-bound by school hours, school holidays and homework. The situation with our youngest daughter is easier as she's at nursery part-time. It's a commercial venture so the hours are flexible and there are no holidays.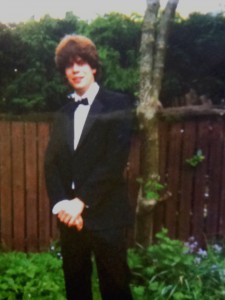 The change to the family routine means I, as the kids' main carer, now face a dilemma usually reserved for women. In short; how on Earth do I keep some kind of career going and fit it around the school run, homework and the needs of our young baby?
Until now I've managed to muddle on through, working part-time and doing some freelance work. This approach has kept my skills up to date in preparation for the day when I can enter the work force full-time again.
Now I have a child at school, not to mention a second child that will enter the school system in three years' time, I can see that will be a very long way off indeed. I've come to the conclusion that a complete change of career is needed. It may even be that a career isn't feasible and I'm simply looking at a change of occupation.
At this stage I'm not going to reveal what I'm planning. It is, however, a complete change of direction and would involve entering a workforce dominated by women (if that's not enough of a clue then you need to go back to school).
If you'll forgive me for quoting Shakespeare, therein lies the rub. I'm supremely qualified to work as a media type (bit of writing, bit of PR, bit of journalism, bit of ghost-writing, bit of eating in nice restaurants, bit of using someone else's expense account etc). I am, however, qualified to do very little else.
I am now looking at my past and staring the sixteen year old John Adams (SYOJA) in the face. To be frank, I want to slap that hippy-face and cut his dreadful hair because of the poor educational choices he made. SYOJA was a bit of a dreamer and an idealist. He didn't need qualifications, he was going to make it on his own. As a result he had to sit GCSEs twice and even then left school with grade E mathematics.
A slightly older John Adams (SOJA) somehow successfully completed his A-levels and went on to sit a Higher National Diploma instead of a degree. This was never a problem in the media world but now I'm thinking about doing something else the lack of degree and GCSE maths are a massive stumbling block. Little did SYOJA or SOJA realise he was laying a trap for later life.
I've been discussing the situation with my wife and come up with a crazy plan to rectify this situation and do it in a way that benefits the family. We're in agreement that I should follow this plan, retrain and do something else. It's going to involve sitting four new qualifications including study with the Open University to convert my Higher National Diploma into a degree. It'll also take at least two years and cost thousands of pounds. Ultimately, however, I think it will be worth it.
As for my own children, I'm not much of an Eagle Dad, but I'm going to do my utmost to make sure they learn from my mistakes and are properly qualified in the core subjects. In the meantime, please donate generously to the Education of the Older John Adams Fund (EOTOJAF).
Interested in this blog post? Well have a read of these...