My family was recently set a challenge. Could we make use of a home projector? We were going to be provided with an Epson EH-TW650 projector and we'd need to prove this piece of equipment didn't simply belong in an office.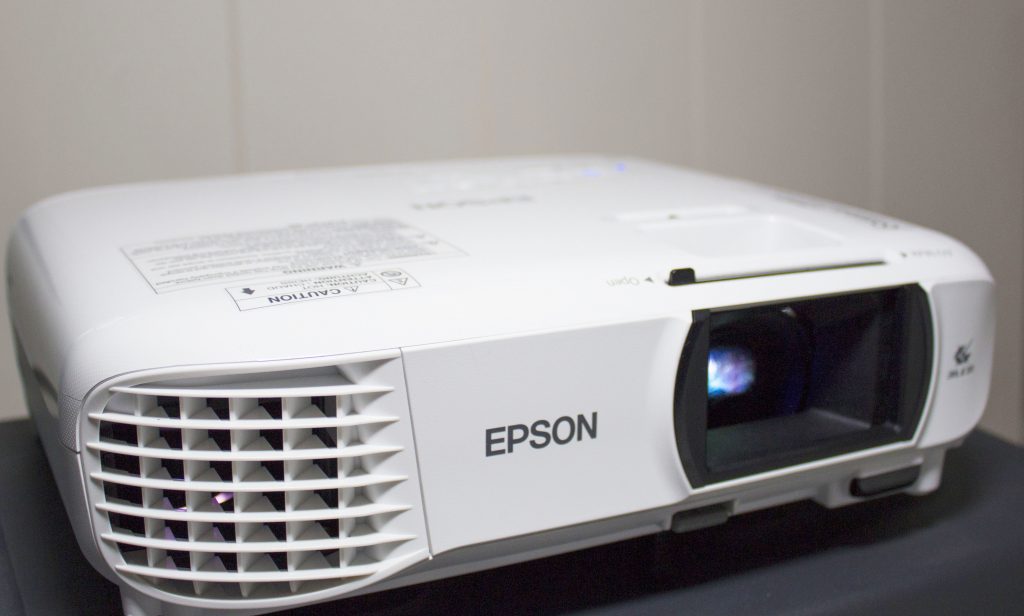 I was quite keen to have a go, although I wasn't convinced we would get much use out of it. This is possibly because an old friend of mine.
This guy had a projector in his home instead of a television. Every time he wanted to do something as simple as watch the news, he had to hook his lap-top up to the projector and pull down a screen and it seemed like a huge faff.
I accepted the challenge, but I would be keeping a very close eye on the Faff Factor. After several weeks of use, here's how we got on.
Background
Needless to say, projectors are often found and used in offices and schools. We were testing it in a home environment with two young children.
Would it be good for showing films? Could I run a slideshow of photographs? Once set-up, would Mrs Adams and the kids be able to use it with ease?
Let me say from the start that one massive element of faff was removed from this scenario. A projector screen is not necessary. Sure, you can use one if you wish, but we've projected on to a neutral-coloured wall with great results.
Product description
The Epson EH-TW650 is described on the Epson website as a "Full high definition projector" that's "easy to move and quick to set up, so you can sit back and appreciate its bright 3,100 lumens display."
It goes on to stress that it can be used for movies, gaming and sports. Interestingly, there's very little mention of its capabilities in the office suggesting Epson is targeting this product firmly at the family market.
The projector can apparently reproduce over 1 billion colours. It's ability to reproduce colours and to do so with incredibly clarity impressed me a great deal. It left me with no reason to doubt this claim.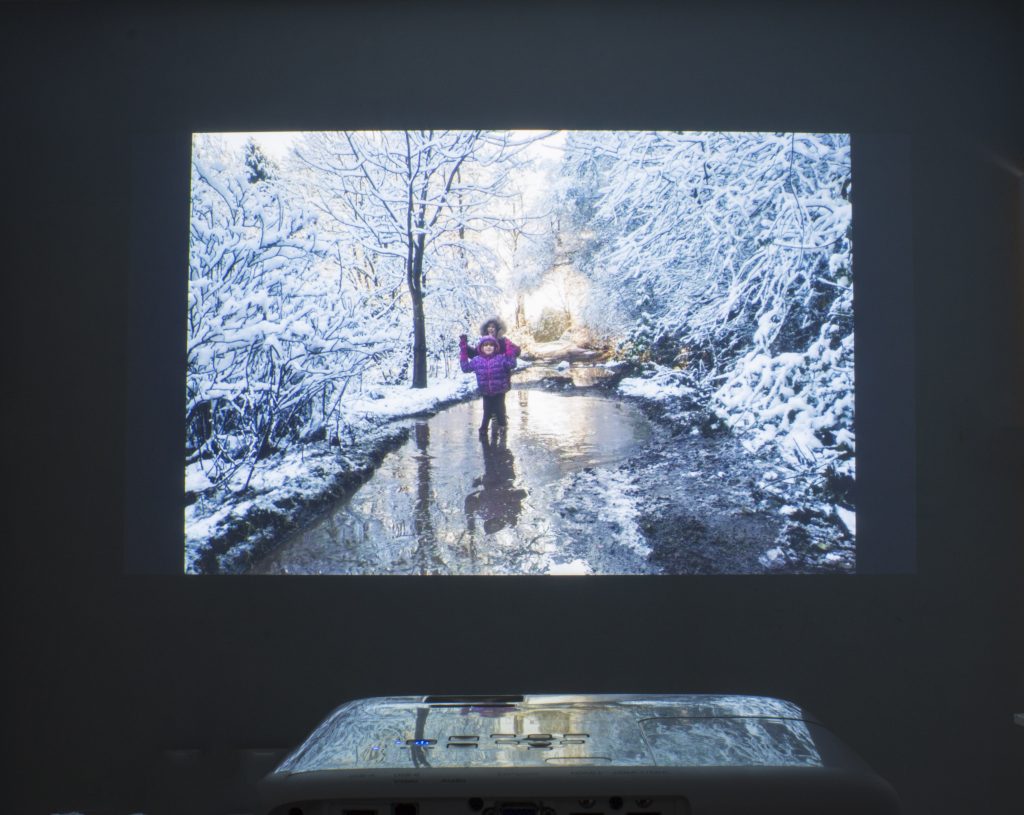 You can hardwire a computer to the Epson EH-TW650. Alternatively, you can use it with a USB stick, HDMI cable or use Epson's iProjection app to send images and other material to the projector via a WiFi network.
Power use is 298 watts an hour. There's no escaping it, this is more than an LED television, although I'll come back to this point shortly.
Weighing just 2.7 kilograms and measuring 30.2cm x 25.2cm x 9.2cm (width, depth, height), the projector can be moved around easily. Accessories are available if you wish to permanently mount it from the ceiling or elsewhere.
Set-up
I set myself a special challenge. I purposefully discarded the quick start guide to see if I could get the projector up and running without it.
My aim was to set the projector up and stream something via a dongle plugged into the HDMI port. I thought I'd be messing around for some time, trying to get the projector up and running.
About 90 seconds later, everything was working. I had to adjust the lens slightly to make the picture clear, but it worked a treat.
I have also used a USB stick and the iProjection app. While the iProjection app doesn't look pretty, it is straightforward to use and enables you to stream photographs or video straight from your phone or wireless device.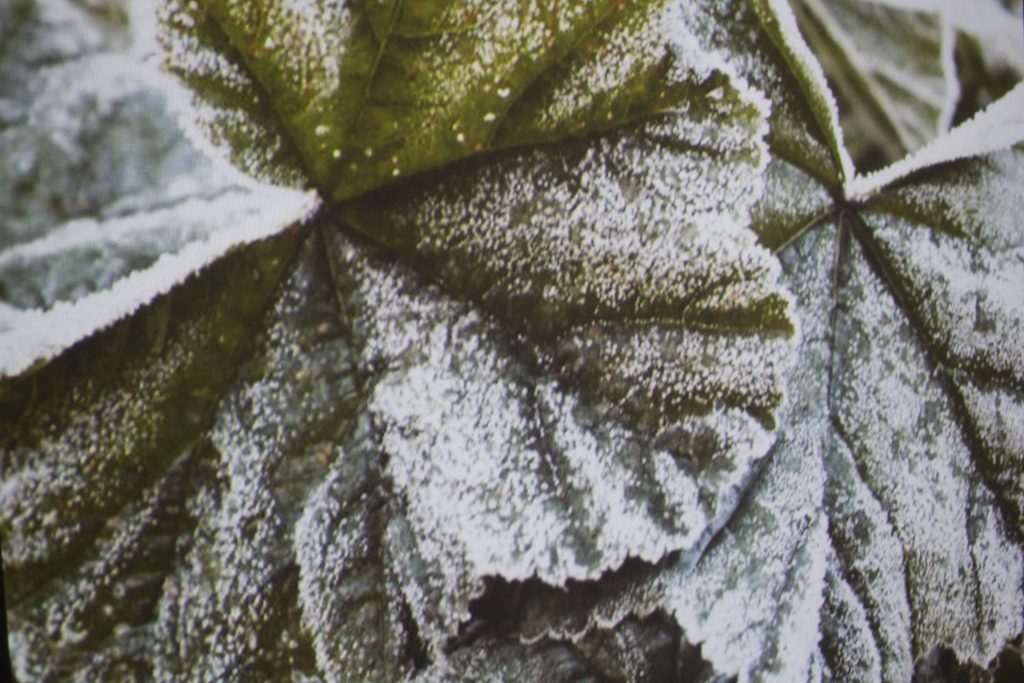 Product performance
As I have already mentioned, picture quality is superb. You may need to adjust the lens and other settings slightly, but I was amazed at the quality. For the best results, you will need to turn off the lights and close the curtains.
Once turned on, the Epson EH-TW650 requires a few seconds to warm up. It doesn't, however, take long to ready itself for use.
For basic use, the instrument panel on top of the projector will serve your needs just fine. To get the most out of the projector, you will want to use its remote control.
Using the remote control, you can zoom-in with ease, adjust the volume, switch between sources and so on. Most of this can be done using the instrument panel, but the remote is more intuitive and easier to use.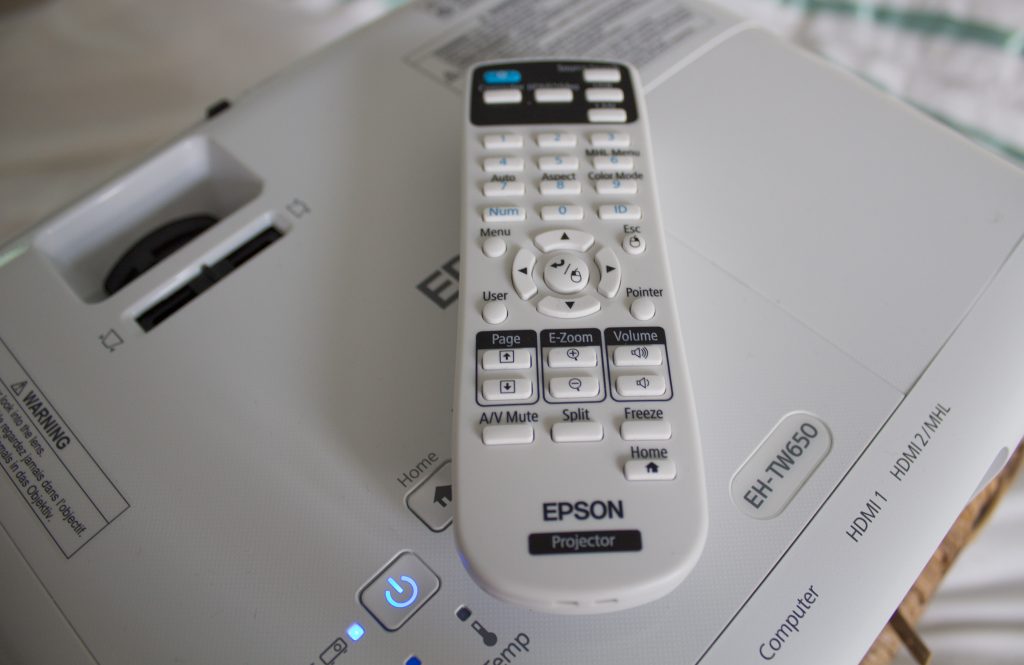 For those wanting a projector for an office, the remote control also operates the pointer. This is a little clunky as you have to keep pressing the arrow keys to move it around, but it does work.
In terms of audio, the Epson EH-TW650 is packed with a 2-watt loudspeaker. This is perfectly good for watching a movie at home but is a little tinny at higher volumes. If you want to recreate a full-on cinema experience, you will probably want to use some speakers.
Price
The Epson EH-TW650 has a recommended retail price of £599. Sure, this is a big-ticket item. What the projector allows you to do is recreate the cinema experience at home. A family of four wouldn't have to go to the cinema that many times to burn their way through £600. If you think of it like that, you may feel this is an item worth investing in.
Additionally, the Epson EH-TW650 is small so it can be packed away. If, for some reason, you require a second television in your house, but don't want one all the time, you could bring out the Epson EH-TW650 when it was needed and put it away afterwards.
Final thoughts
First of all, let me tackle the Faff Factor. This is a surprisingly simple product to set up and use. You can't escape the fact you need a power cable, but if you cast streaming media or use the app, you can cut out the need for any further cables and you don't need a screen. In other words, faff is minimal.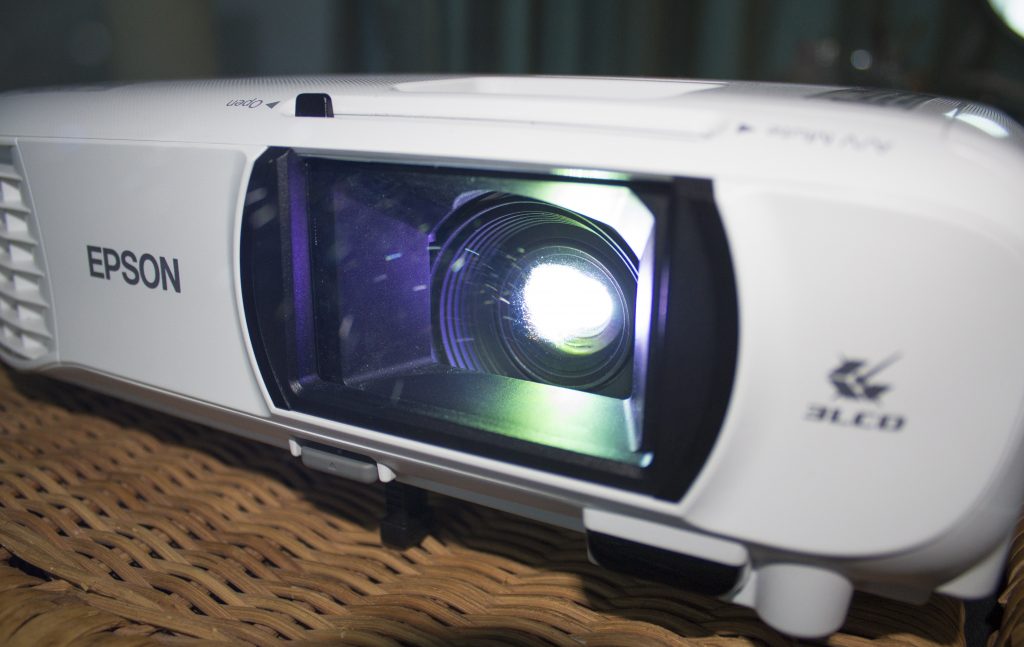 The audio is perfectly good. Some people would want to use speakers instead of the built-in speaker, but that's a personal thing.
You can't escape the fact this item is heavier on power use than a television. A hardcore gamer might consider that justifiable, but for me, this makes it an item I'd use on special occasions. The Epson EH-TW650 is small enough and light enough to be packed away and brought out when needed so storage wouldn't be a problem.
Maybe we'd all settle down on the sofa for a film night and recreate the cinema experience at home. Maybe we'd be holding a sleepover party and need to stream a film for children, perhaps we'd want to stream a slideshow of photographs at a family gathering.
I think we've found there are many uses for the Epson EH-TW650. If you're tempted to buy one or you'd like further information, you'll find all the details online on the Epson website.
Disclosure: An Epson EH-TW650 was provided for review purposes. Thoughts and opinions entirely my own.
Interested in this blog post? Well have a read of these...