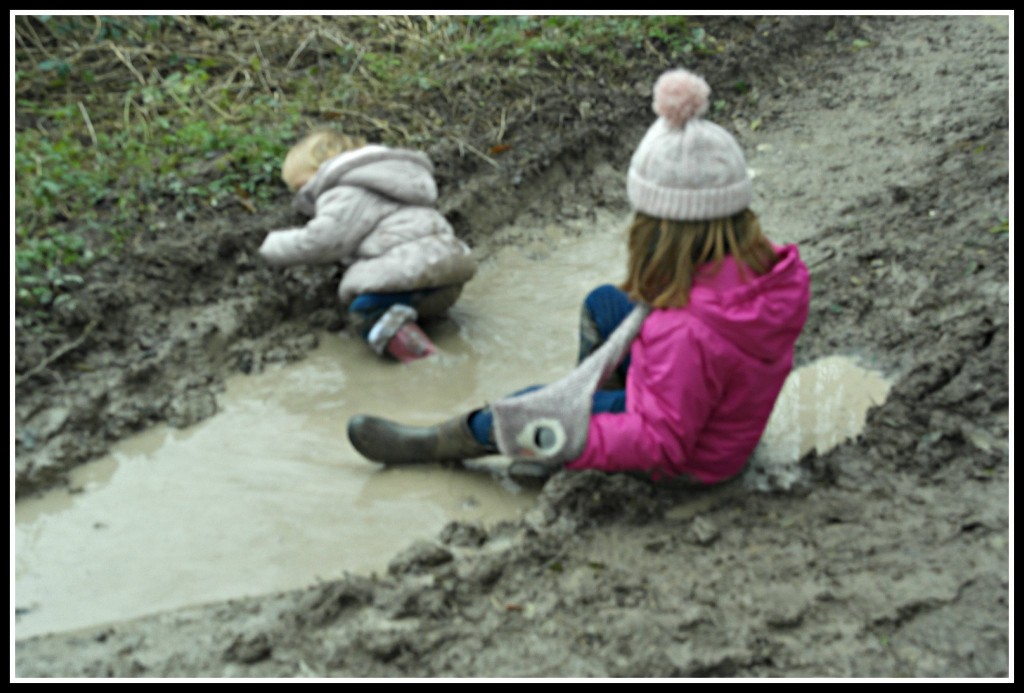 At first glance, it might not seem my kids are enjoying themselves in this photograph. While neither of them intended to get quite so dirty, let me assure you they were having the most amazing time in this extremely muddy and deep puddle. After all, kids love muddy puddles, right?
There isn't a complex story behind this image. It was one of those days where the television had been on just a little bit too long and I felt the family needed to get some fresh air. Mrs Adams and I bundled our offsprng into the car and we went for a walk alongside a footpath at a nearby farm.
The kids saw some horses and a couple of trains whizz by on a nearby rail line. The wife of the farmer then happened to stroll past and pointed out this puddle.
Well, I hardly need to tell you what happened next, do I? Both big sister Helen and Toddler Adams tentatively waded through it. Slowly but surely the excitemt built up and they started jumping, Mrs Adams looking on and becoming increasingly uncomfortable with the situation.
It wasn't that long before Helen fell over on to her bottom, getting her trousers and coat covered in mud. Toddler Adams followed very soon after and this picture shows the moment it happened. I thought it was hilarious and, thankfully, Mrs Adams saw the funny side once both kids were plastered with mud.
The kids were hosed down as soon as we got home and given some hot chocolate as a treat. They loved this particular walk and we'll probably do it again this weekend at some point.
I'm linking this post to the #CountryKids linky hosted by the Coombe Mill blog. It's the first time I've taken part in this linky and, who knows, maybe it'll become a regular thing?
Interested in this blog post? Well have a read of these...