It was early Sunday morning morning. I peered in to check on the kids and that was the moment it sank in. They'd usually be in their bunk beds, but they were lying on mattresses on the floor, the bunk having been dismantled.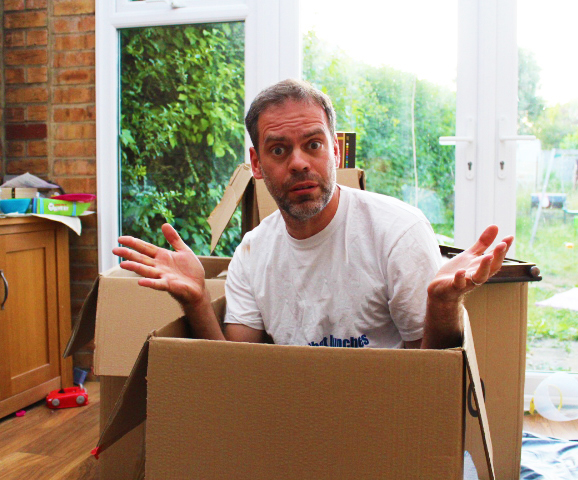 Yes folks, after six months of planning our impending house move is just days away and the sight of the kids sleeping on the floor made it seem all the more real. I don't know why I had to see that sight for the reality to sink in because the signs are all over the place, not least our front garden.
The components of the dismantled bunk bed are presently underneath a tarpaulin in that garden waiting to be collected by a local family who will make use of it. Also in the garden is our tumble dryer, again, waiting for someone else to collect it. Next to the bunk and tumble dryer is a pile of items I'll be paying the council to take away.
Yes, all of this stuff is out the front of our house for the world to see. It's a little bit embarrassing having our unwanted possessions on display. It doesn't look pretty and as I joked to a neighbour; "We're doing our best to hammer your property prices before we move."
Despite the move being just days away, I feel strangely calm. I shouldn't do, there is still one monumental task to take care of, which I shall come on to in just a moment.
Even so, we've exchanged contracts and we now have a set deadline to move. Having reached that legal milestone, the task becomes very clear: Move all of your possessions and family out of your old property and into your new one.
There's one job to focus on and that's it. It's a massive job, but there is no one coming round to do viewings, no long-forgotten warranty agreements to unearth at the solicitor's request and no decisions to make about where we're moving to. All that stuff's taken care of. It's simply a case of selling / giving away / throwing out what you don't want to keep and boxing up everything you want to take with you.
That monumental task I spoke of? It is quite a big one: Hiring a removal company.
We have a very good idea which removal firm it will be, but as there were some last-minute complications, we still haven't got it confirmed. Even with this one, gaping hole in our plans, I feel stupidly relaxed about the situation.
I've done my research and already got a contingency plan in place. If we don't hire a removal firm, I'll instead be hiring a long-wheel based Ford Transit and a storage unit and I'll be doing a lot of heavy lifting with Mrs Adams' help. It would be a pain, but it would work.
It's going to be an intense few days and I just want to wake up in the new house. There's a big job ahead of us but there's a fantastic goal at the end of it.
We're all very excited about it. We've not just got to get moved. Wish us luck.
Interested in this blog post? Well have a read of these...