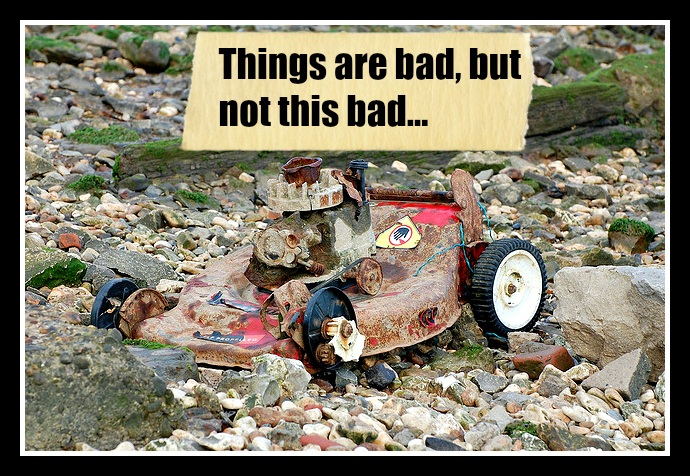 We need a replacement lawnmower, but things are not this bad. Pic credit below.[/caption]
How is your garden coping with this mild winter? Ours has turned into a mud bath. Every time the children go out in it, which confess isn't often because of the short days, they return with incredibly muddy boots. Unfortunately, Toddler Adams has, on one or two occasions, forgotten to take her boots off when coming back inside, leaving me with a massive mess to clear up.
The mild weather has had one further unexpected effect. Some of the plants have continued to grow.
When I say plants, I'm thinking in particular of our lawn. Believe it or not, I am thinking the lawn may need to be mown in December.
This presents a particular problem as our old petrol lawnmower, much as I loved it, is on the way out. For reasons that are too complicated to explain, it cuts at uneven heights, scorching some of the ground while leaving other bits untouched.
Although we could do without the expense, I think a new lawnmower is called for. I've been looking round and this time we may go for an electric one powered by lawnmower batteries.
I didn't realise there was such a thing as a battery-powered lawnmower until I started looking at our options. We are lucking to have a large garden and it does take an awful lot of maintenance to keep it in order.
We used to have a mains powered mower but I was always terrified of slicing through the lead, something I did with our hedge trimmer. Battery powered machines don't seem to be any more expensive and I wouldn't have the worry of having to store petrol in the garden shed. With two curious young children this is a worry I could live without.
Whatever I decide to do, I have to get that lawn seen to. It's beginning to look like a jungle out there.
On a completely unrelated note, I could write about lawnmowers without doing a Google search to fint out what had happened to a legendary, if not particularly talented, band from my youth called Lawnmower Deth. To my great surprise and joy, I see the band is still going strong!
Pic credit; David Locke. Reproduced under Creative Commons agreement and sourced from Flikr.com.
Disclosure; this is a collaborative post
Interested in this blog post? Well have a read of these...