A short while ago we experienced an attempted break-in. Luckily it was foiled by our secure back doors, but I think part of the reason our house looked so tempting was because we had no working security lights. With winter getting ever closer, and the nights getting longer, I have looked at the Philips Hue lighting system to see how it could help make our home more secure.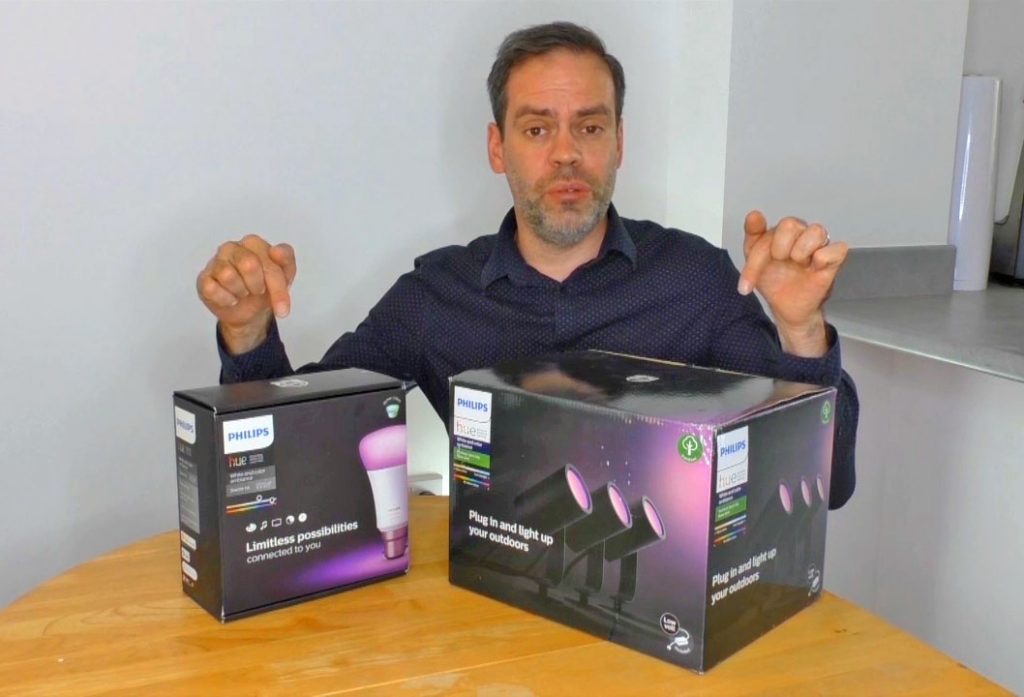 After Philips Hue got in touch, we installed:
B22 Starter Kit
Motion sensor
What is the Philips Hue range?
There is a huge clue in the title. Philips Hue Connected lighting is a smart lighting system. Controlled via an app on your phone or through your voice assistant, you can turn lights on or off, change their colour and so on.
With home security in mind, you can also programme lights to come on and off for certain durations and at certain times, giving the appearance that someone is always at home. They also have a geo-fencing functionality. With your phone connected to Wi-Fi they can sense when you leave or return to your home and turn the lights on and off automatically. This, however, merely scratches the surface. I'll go into more detail about what the lights can do in a moment, suffice it to say, they can do a lot!
Before we go any further, let me just mention power use. The bulbs are LED and the entire system has an A+ energy rating. The internal bulbs are only 10w and the external lights I tested were 8 watts, so power use is very low indeed.
Setting the system up
As alluded above, I tested two different sets of lights; the Philips Hue Starter Kit and the Lily Outdoor Spotlights. Firstly, I'll tell you about setting the system up.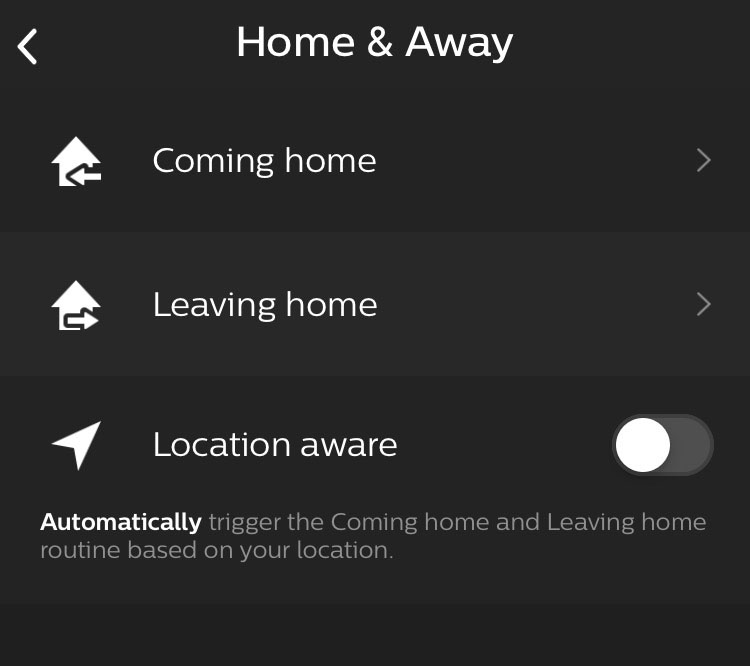 The first step is to download the Philips Hue app. You then need to take the Hue Bridge, plug it into your broadband router and sync it with the app and your light bulbs. If you invest in a Starter Kit, then this will come with the Hue Bridge (which is the 'hub' – basically everything you need to get started), otherwise you will need to buy one separately, to be able to unlock all the functionalities of the lighting.
If you have ever set up smart home tech before, the set-up process will be familiar to you. I didn't keep that close an eye on the clock, but to download the app, install the bridge and have the lights working couldn't have taken more than 10 minutes.
The Starter Kit
With the Kit I tried out, I received three bayonet (B22) fitting bulbs and the Hue Bridge. With everything set-up, the fun began.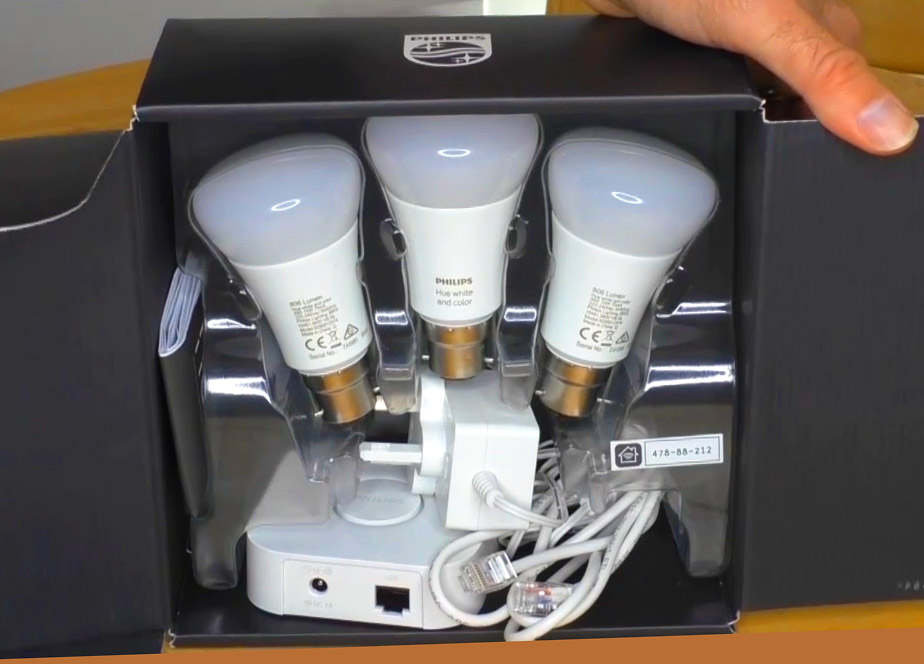 My kids asked some time ago about having a lighting system that could change colour. They now had their chance and we had great fun changing the colours.
A lighting system that only changes colour is very nice, but probably won't keep your home all that secure. This is where I really tested the system.
The possibilities with the app are very impressive indeed. Using the 'Routines' function, you can automate the lights, so they turn on and off at certain times. You can also set timers so the lights come on and off for a set time period.
Using the 'Home and Away' function, you can programme the lights to come on automatically when you aren't around so it looks like someone is in. This would be very useful if you're going on holiday. Turn on your location settings, and it will trigger the coming home and leaving home routine so the lights come on or turn off depending how close you are to home (geo-fencing).
I am always a bit suspicious when apps have so much functionality. Pack them with too many functions, they become difficult to use. Not so with the Hue app, I've found it very straightforward.
Motion Sensor
An accessory you may want to consider investing in for improved home security is the Motion Sensor. I set it up to come on every time someone walks down the stairs. You may find this useful if you have young children who need to visit the lavatory at night.
There's not much more to say about the sensor other than it is reasonably small and unobtrusive. It has worked very well.
Lily Outdoor spotlight
The Lily Base Unit comes with three lights, a power pack and several 50cm cables and connectors. You can either wall mount the entire lot, or you can use the supplied spikes to simply push the lights in to the ground.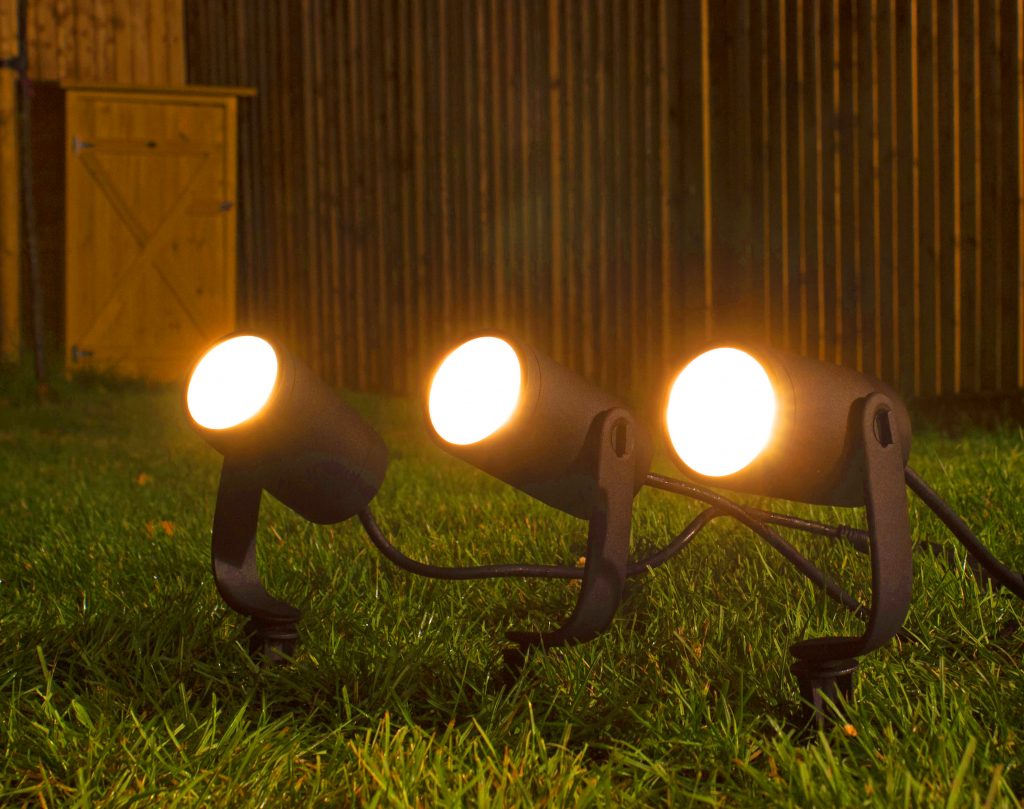 Setting them up was incredibly simple. Once they were in place, my eldest daughter and I had great fun using the app and trying out the various settings. If you need to light up a pathway, the 'Bright' or 'Energise' settings are perfect. If you're simply looking to create some ambiance, something like 'Savannah Sunset' (for a warm orange glow) or 'Arctic Aurora' (for a cooler blue tone) are ideal.
As with the internal lights, you can use the app to turn the lights on and off and set timers for when you know you aren't going to be around.
I have one further thing to say about these lights. They are made from some very sturdy alloy metal, but they are very light. You can easily move them around and because they can be wall mounted or pushed into the ground, they are very versatile.
Concluding thoughts
This was just a taster of the Philips Hue range. There are numerous other accessories and lights and switches including lighting strips, dimmer switches and all manner of bulbs.
You can also sync the entire system with Google Home or Alexa and control the lights via your voice. For the purposes of this review, I have focused on practical applications and how the lights can be used to improve home security.  You can, however, have some real fun and sync the lights to films or music.
In terms of price, at the time of writing, the White and Colour Ambiance Starter Kit that I tested retails at £169.99. If you only want Hue White bulbs (which offer the same functions, just without the colour changing abilities), the price starts from £59.99. The Outdoor Lily Spotlight Base Unit with three lights has a recommended price of £279 (with single additional lights available for £79). Stockists include B&Q, Argos, Screwfix, John Lewis and AO.
I'm always cautious when reviewing smart tech systems. Getting them to do what they're supposed to do is often quite difficult. The Philips Hue system, however, was very easy to use. It has a great array of functionality and I can see it would be a great and simple way to improve your home security.
Disclosure: This article was commissioned by Philips. Thoughts and opinions entirely my own.