Over the years we've eaten out with our children at various food outlets. Like most kids, Helen and Izzy aren't overly keen on spicy food and so a venue we'd never dined at as a family was Wagamama.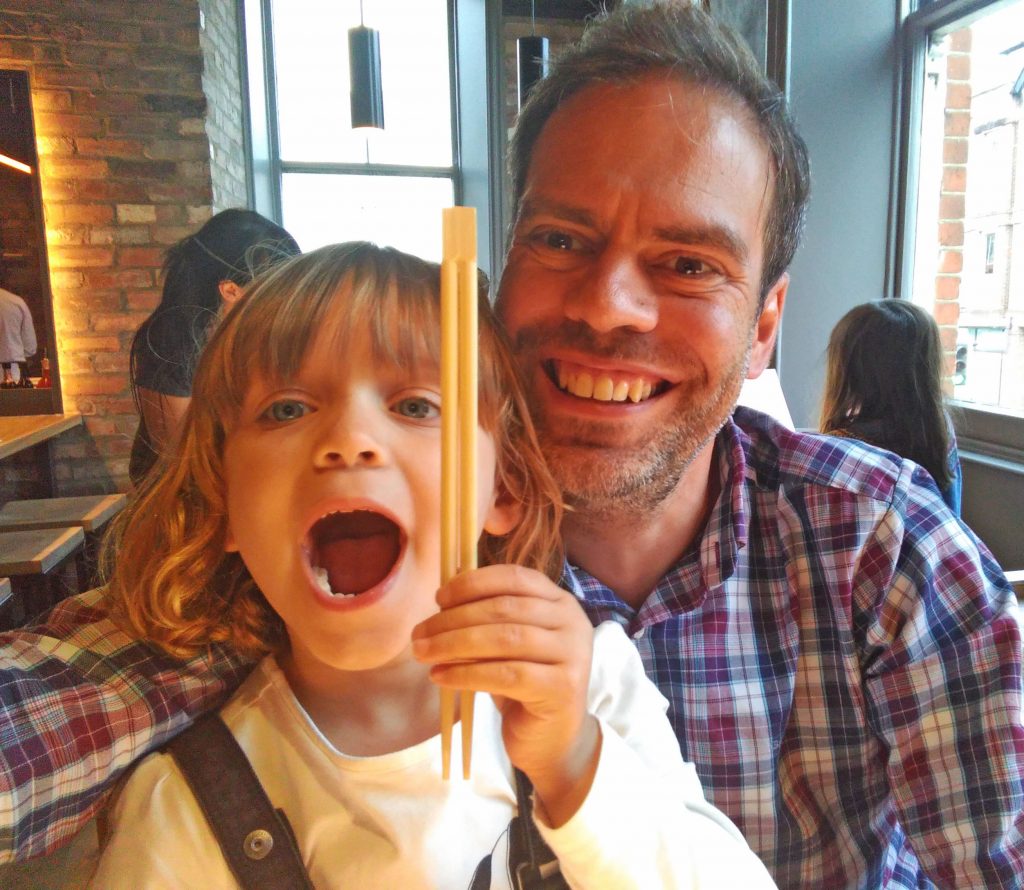 I'll be honest, this, for me, was the source of some pain. It's always been a favourite of mine but since becoming a dad, it's a venue I had rarely ventured into and certainly never with Helen and Izzy.
Asked if I would care to have a meal at the Guildford branch with my offspring, I agreed, albeit with some trepidation. Could they be persuaded to eat the Japanese-inspired food on offer and how would they get on with chopsticks?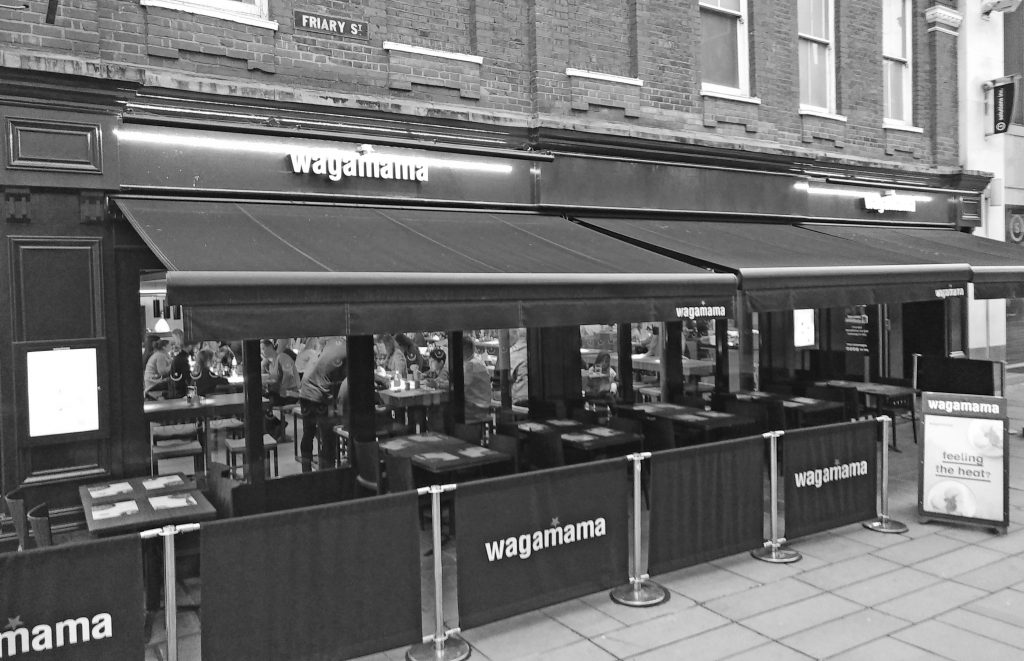 Introducing the KO Club
As I've explained, I hadn't eaten at Wagamama with the kids before. I was, therefore, unfamiliar with the KO Club.
KO means child in Japanese. The Club is a reference to both the kids' menu and colouring and word search etc. that kids receive to keep them entertained while their food is prepared. This being an Asian-themed establishment, the package also includes instructions to create an origami figure, a task Helen enjoyed completing.
Helen, Izzy and I went through the menu together. As I've explained, I wasn't sure how the food would be received so I suggested they both try the grilled chicken noodles at £4.95 a portion. To drink Helen had a combination, which is a mix of freshly squeezed orange and apple juice while Izzy had apple juice, each one costing £1.75.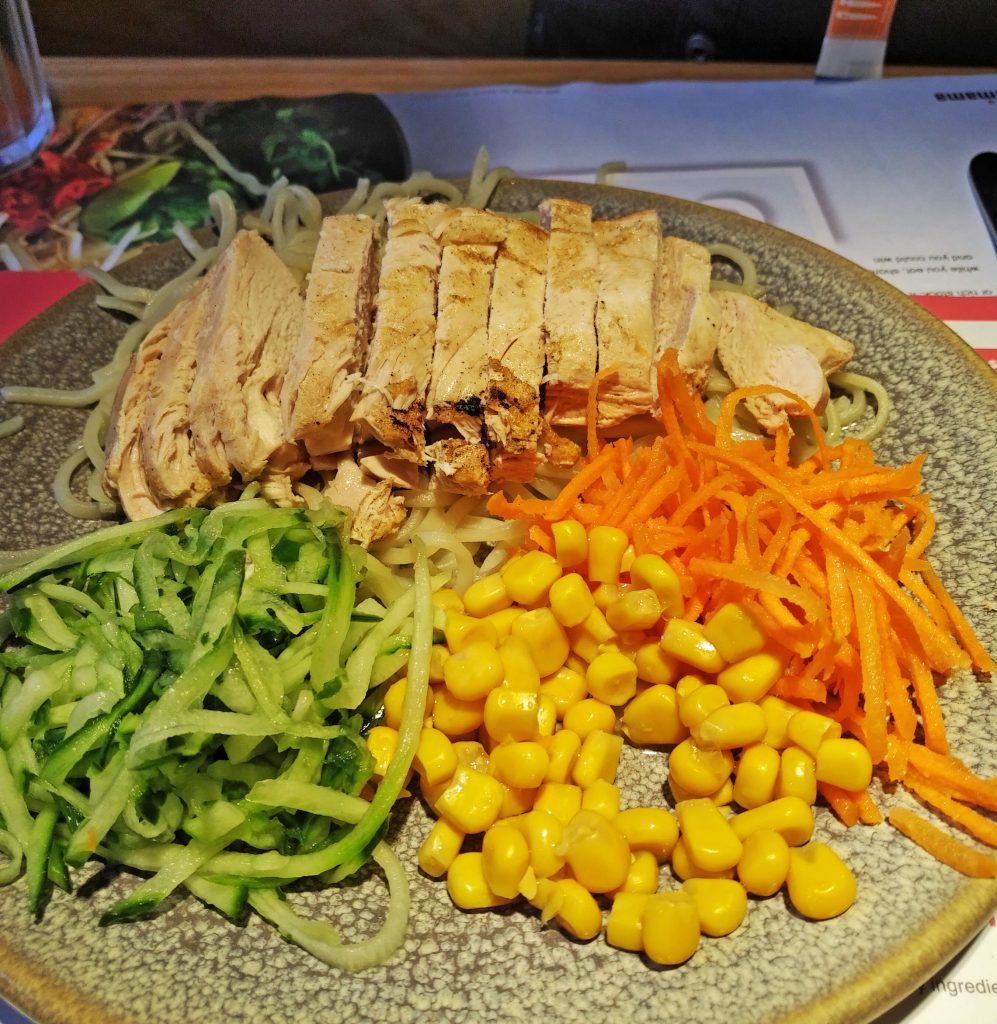 There was a rice dish, the mini cha han, that I think would also have appealed to them both. I was, however, playing it safe.
….and for me
Having not eaten in a Wagamama for some time, I stuck to the classics. I ordered a chicken katsu curry for the main dish at £10.50 and a side order of vegetable dumplings. For the girls and I to share, I ordered a chicken ramen, a chicken and noodle soup topped with peas shoots, menma and spring onion.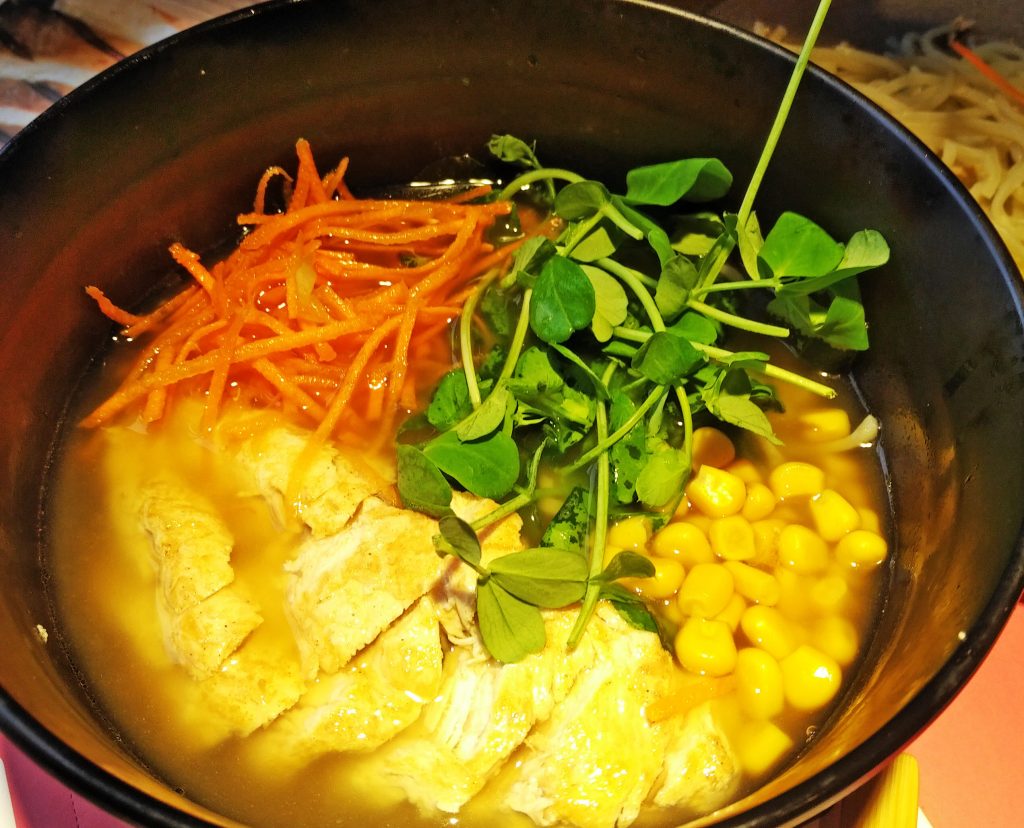 To drink, I had a couple of Kikku ales. Kikku is brewed specially for Wagamama by the London-based Meantime brewery. It contains ginger, black pepper and sesame.  It's a very refreshing drink that goes well with Wagamama's food. Although nothing like a traditional ale, it is a very pleasant drink.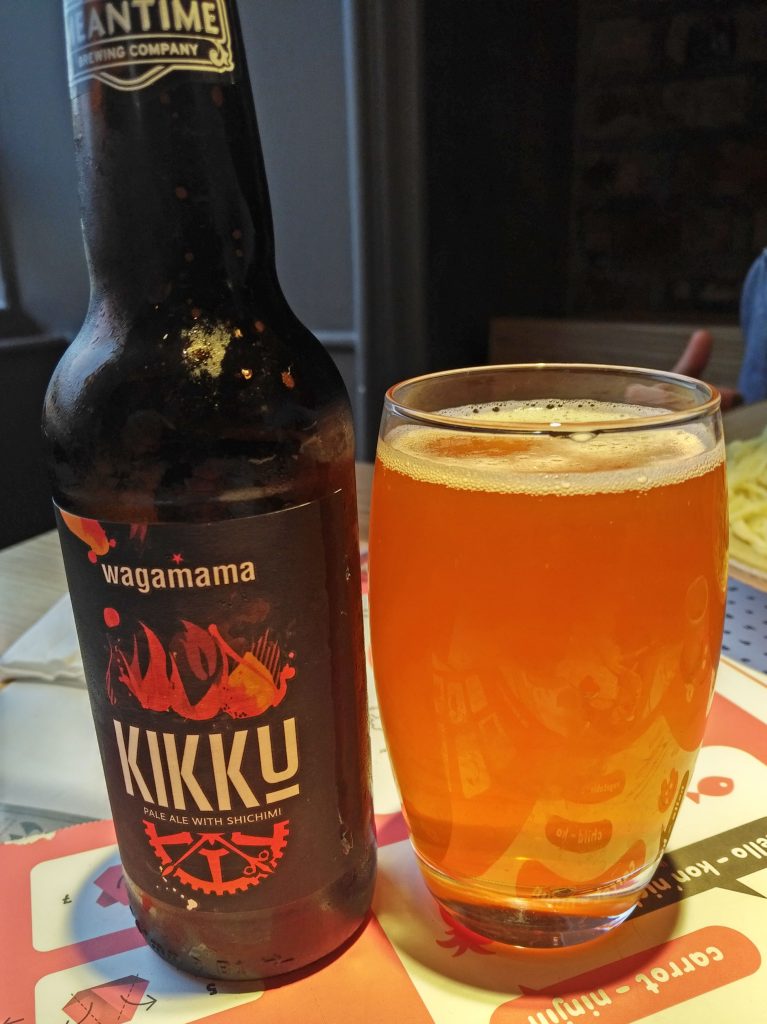 A word from the chef
We were lucky to be joined on the night by Karl Thompson, Wagamama's Development Chef. He gave us a quick demonstration in the kitchen and was on hand to answer any questions we had. While we ate, I asked him about the food's nutritional content. Not wanting to bombard me with detail he explained it is all available online on Wagamama's website (it is, I've checked!).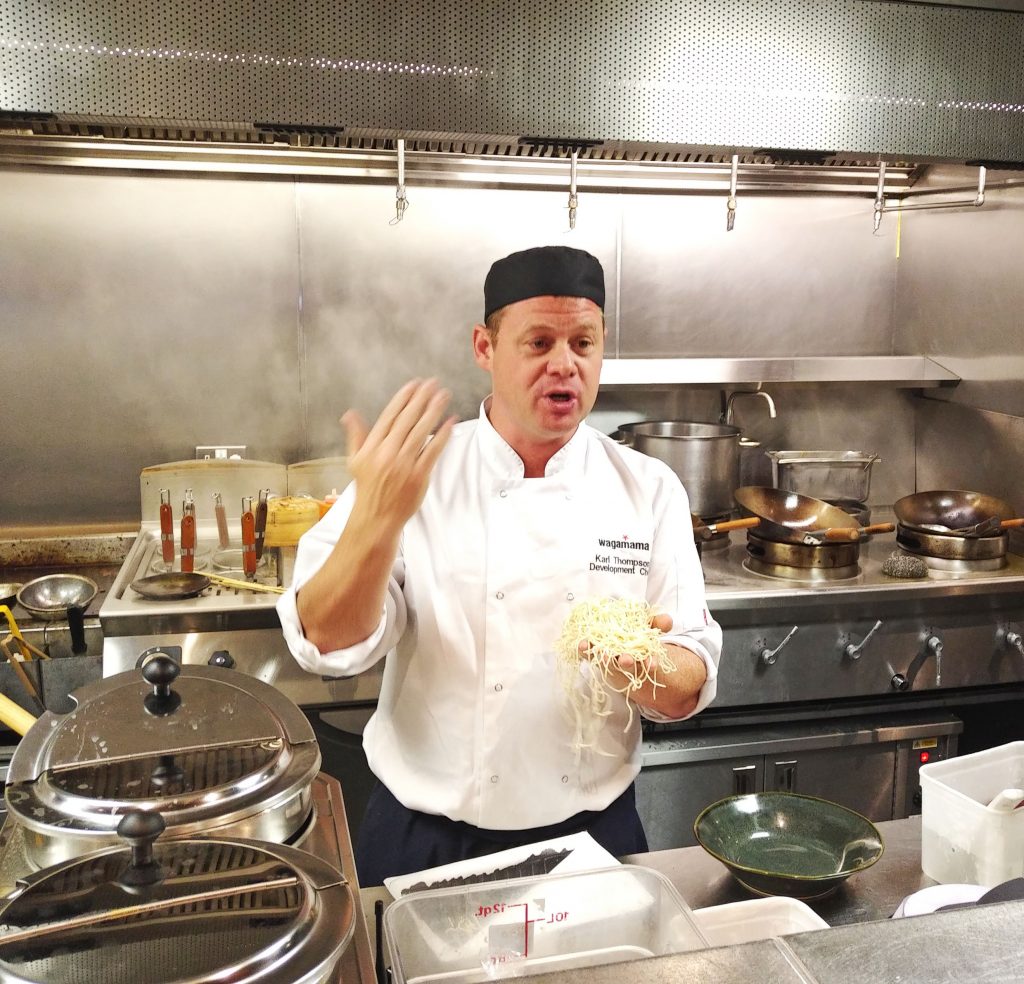 Karl very proudly stated that you will never see a microwave in a Wagamama kitchen. He also told me that Wagamama has a policy that will appeal to mums and dads. If you or your kids don't like the meal, you can simply send it back and choose another dish at no extra cost. How amazing is that?
Let's talk about the food
Let me say that my dumplings were a delight. I polished them off very quickly and then moved straight on to the katsu curry.
I like to make katsu curry myself at home. It was, however, Wagamama that introduced me to this dish and it was as marvellous as ever: well-presented and tasty.
It was the kids' meals that provided the real surprised of the night. The chicken noodles came with sweetcorn, carrots, cucumber and amai sauce. Instead of putting the amai on the food, it was served in a side dish so the kids could decide whether to put it on their food or not.
This turned out to be a great idea as Izzy loved the amai, but Helen wasn't so keen. Izzy, who is the fussier eater of the two, tucked in and did a reasonable job of eating her vegetables and noodles.
Both girls had great fun using the kids' chopsticks. These are shorter and wider that usual chop sticks and are joined together at the top so they look like a large pair of tweezers. They provided endless entertainment for the two of them and it rather put me to shame as I insisted on using a fork!
Helen polished off her entire meal. In fact, she gave it "10,000 out of five," which says a lot.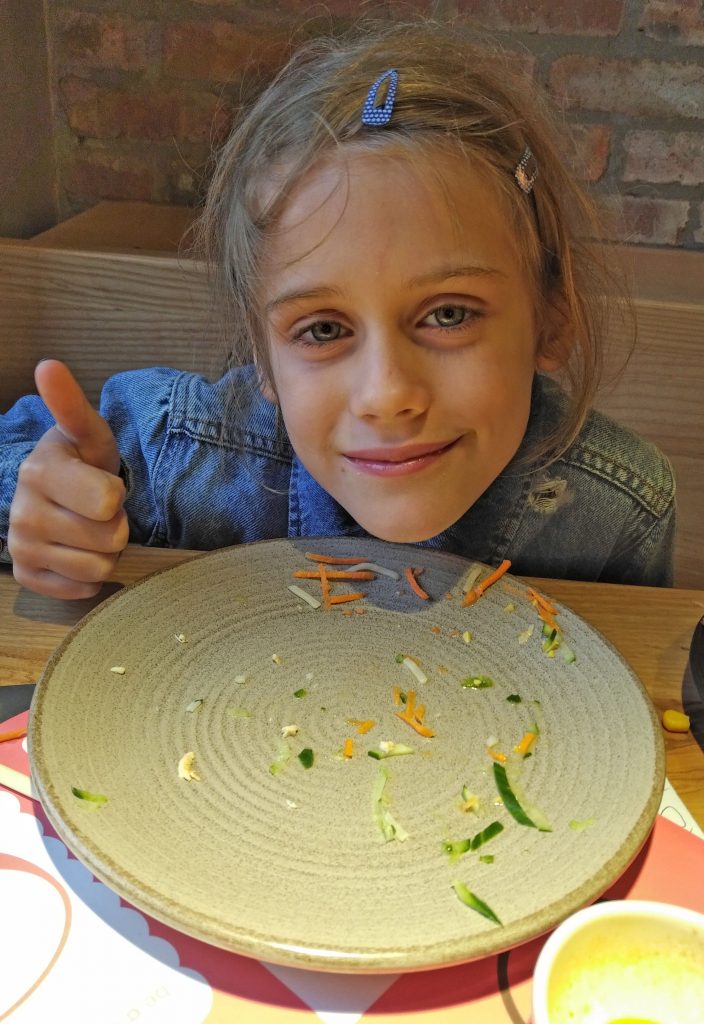 We all tried the ramen soup. Izzy and Helen weren't so keen on it. I gave it a go, but I think by this point I was simply a little full.
Cost
I felt the adult meals were on a par with other chain restaurants. The children's KO Club menu did strike me as a little more expensive than other rival outlets.
That said, the kids were not getting burger and chips and their food wasn't microwaved. They received good portions of fresh vegetables and the fruit juices were obviously very freshly pressed. A touch more expensive, yes, but more than a touch better quality.
Would we return?
It was nice to return to my old friend Wagamama. Better still, it was great to have introduced my kids to Asian cuisine and to come away knowing they will eat it.
Although Izzy may not have been as enthusiastic as her sister, she certainly had no complaints. Part way through the meal Helen stopped eating and thanked me for introducing her to Wagamama. Based on this and the fact both girls are still talking about their Wagamama experience, I would happily take them back.
Disclosure: We were provided with a complimentary meal for the purposes of writing this review.  Thoughts and opinions entirely my own.
Interested in this blog post? Well have a read of these...