If you had told me just a few months ago that I would be participating in National Numeracy Day alongside well known names such as Rachel Riley, Bobby Seagull and Martin Lewis, I would have laughed at you. By my own admission, maths is is not my strong point. Ironically, it's my troubled history with maths that explains how I have found myself getting involved with this wonderful event.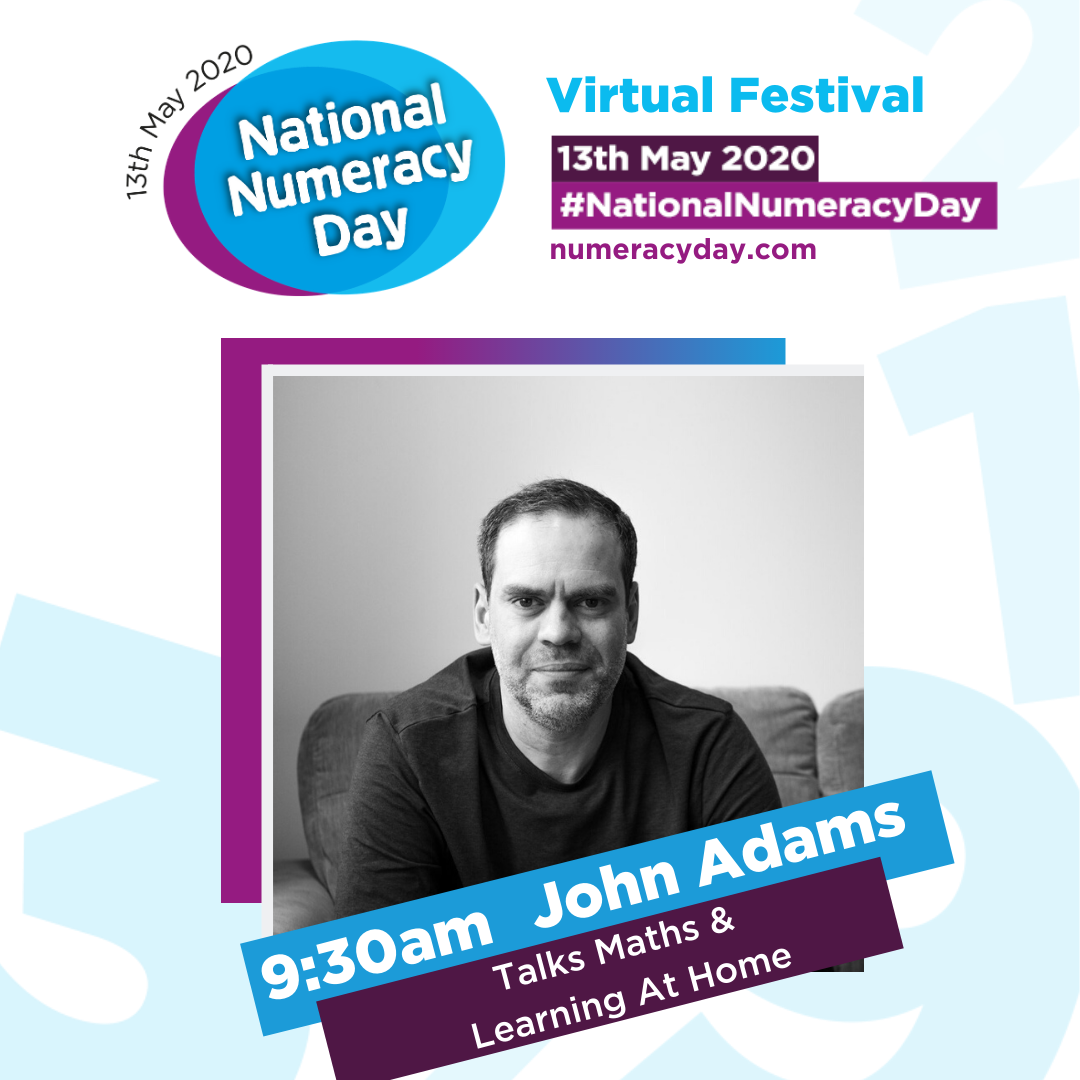 National Numeracy Day, which takes place today (13 May 2020), is organised by the charity National Numeracy. The aim of the event is to improve the nation's confidence in maths.
The centrepiece of National Numeracy Day is a virtual festival running from 8am, until 6pm (we can thank COVID-19 for the fact it's a virtual event). It's split into three sections with the first part of the day focused on helping children with their maths, the second part of the day looking at boosting confidence while the final couple of hours are looking at personal finances.
An incredibly impressive array of individuals has recorded videos that will be streamed during the event. Contributors include broadcaster, maths evangelist and school teacher Bobby Seagull (who is no stranger to this blog), well known broadcaster and mathematician Carol Vorderman, Bank of England Chief Economist Andy Haldane and children's author Lauren Child.
Yes, I have also contributed a video. If you log on to numeracyday.com at 9.30am, you will see me talking about how I handle maths with my own children, plus my less than impressive history with the subject.
Below you will find a detailed schedule of the day's events. Do not fear, however, if you cannot log on during the day. The videos will be available on the website for eight weeks. Alternatively, you can visit National Numeracy's YouTube channel where the videos will be available indefinitely.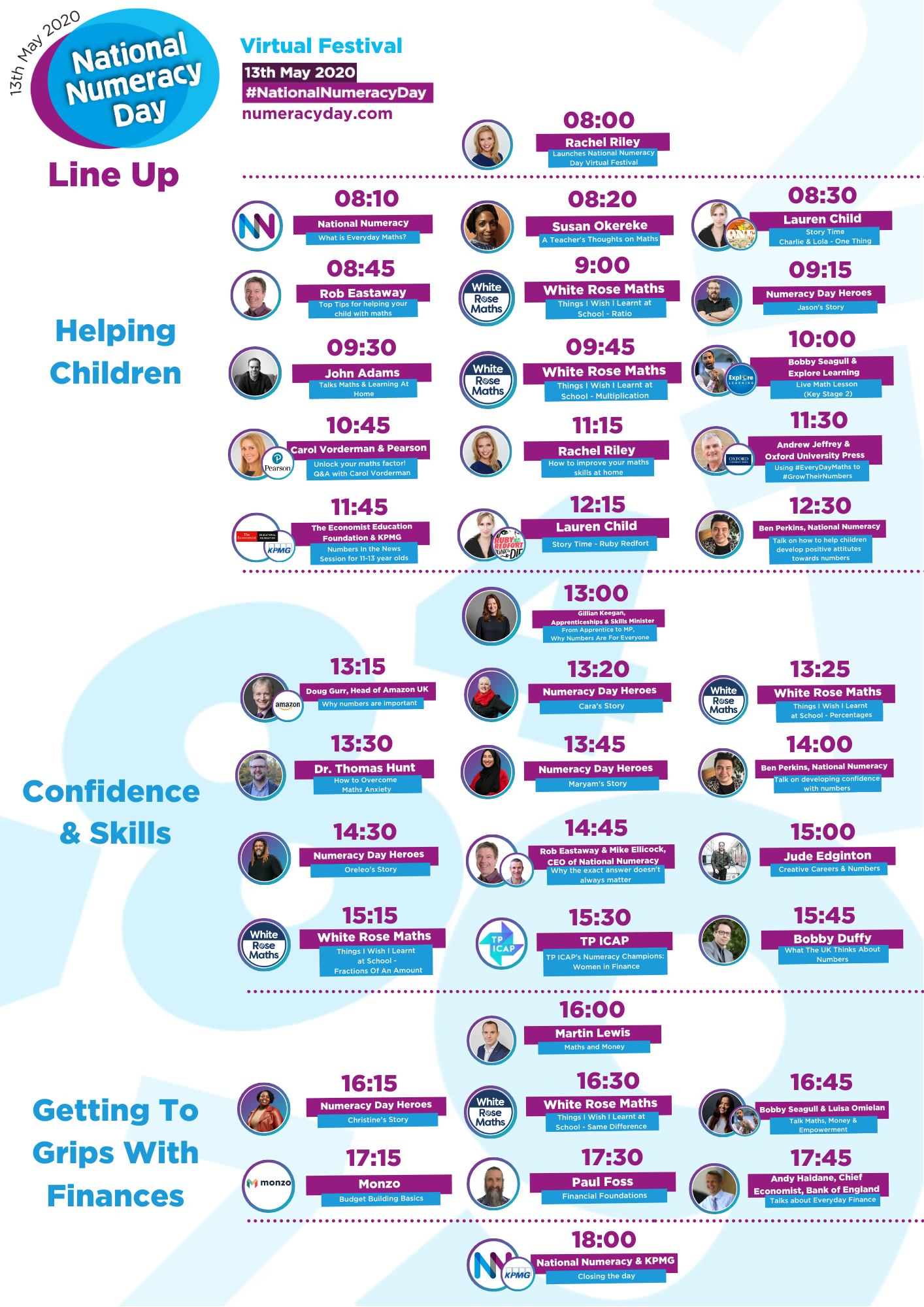 So how did I get involved with National Numeracy Day? Once too often I found myself totally stumped by my eldest daughter's maths homework. Helen is almost 11 years old and I not only felt embarrassed at my inability to help her with her homework, but realised I was setting a poor example as a father.
Not, you understand, that I am pointing the finger at other parents who struggle with maths. I regularly hear of mums and dads who can't understand their kids' maths homework. Among my generation, it was, I'm ashamed to say, considered something of a joke, cool even, to be bad at the subject. It's an attitude we were raised with and I think it goes a long way to explaining why people of my age often lack confidence when it comes to maths.
I decided to do something about it. I took the National Numeracy Challenge, a free online test that assesses your numeracy skills. With the test having identified my weaknesses and noticing how well my children have got on over recent weeks with online lessons and tasks, I hired an online maths teacher. I've only had a couple of sessions so far, but I've already grasped the basics of long multiplication and how to calculate areas, basic maths skills that I've simply avoided having to use all my life.
Long term I hope to retake my maths GCSE as I left school with a grade E. I appreciate that's a bit of a way off in the distance, but I'm really enjoying the subject and I'm delighted to be making a contribution to National Numeracy's Virtual Festival.
I encourage you to watch some of the Virtual Festival videos if you can. Remember, you can watch them afterwards
Interested in this blog post? Well have a read of these...