Over the past year, many mums and dads have been heavily involved with their children's schoolwork, overseeing their remote work because of the pandemic. I suspect many parents got a bit of a wake-up call when their kids asked for help with their maths! As it's National Numeracy Day, I thought I'd say a bit about my recent background improving my maths skills.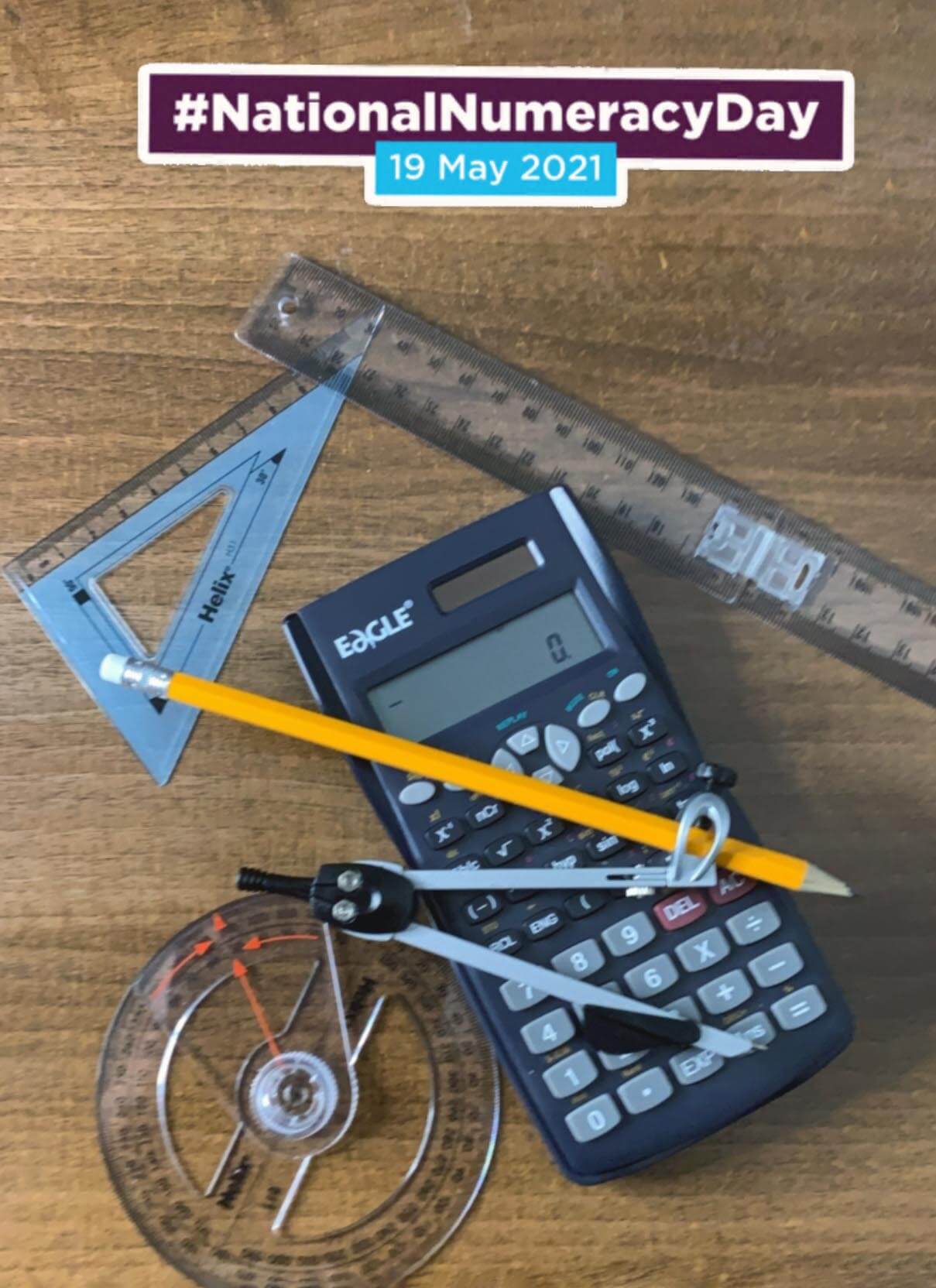 Adding and subtracting fractions
Just last week I asked Helen, my eldest daughter, to show me her maths homework. I wanted to make sure she'd completed some tasks she'd been set.
It took a little while, but eventually Helen appeared with a blue exercise book and showed me what she'd been doing: Adding and subtracting fractions.
I took a good look at the completed sums. They made sense to me and I was genuinely impressed at the work she was doing. It was beyond what I did in Year 7 at school.
As anyone who has followed my maths-related posts will know, my maths skills have not always been the best. In fact, just a year ago, I'd have taken a cursory look at her work, muttered something about how it "looked impressive" and handed the book back to her without having a clue what I was looking at.
GCSE Johnny
Last year I recorded a video in support of National Numeracy Day. I explained that I was studying maths and planning to sit maths GCSE again. Yup, despite having had careers in journalism, PR and as a blogger and content creator, I was going to the trouble of having lessons with a tutor and making preparations to sit the exam as a private student decades after leaving school. Before I explain whether I did resit maths GCSE, I'd better explain a bit about my educational background because it is a bit, ahem, colourful.
I left school with an E in GCSE maths and it's long bugged me. It was the maths foundation paper I sat when I was a teenager. In a very cruel twist that must have caused problems for thousands of people of my age, grade E was the highest you could get on the foundation paper, a ridiculous situation meaning many left school having effectively failed the subject because you needed at least a C for it to be considered a pass.
Having got my E grade, I was left wondering: "What if?" This was compounded by the fact I went on to sit an RSA bookkeeping qualification, passing it with flying colours and I also sat GCSE accounting and passed with a grade B. Surely, I must have some talent at maths?
Over the last year I have indeed fulfilled the challenge I set myself and sat GCSE maths exams. In fact, I've done it three times!
After five moths of study, I first sat the exam in November last year. This was a dry-run for me, a mock if you like. I didn't expect to pass as I hadn't sat a formal public exam since sitting my A-levels over 20 years ago.
Before I tell you what grade I got, a quick word about the updated GCSE grading system. The grading system was changed a couple of years ago. Instead of being letter-based, it's now numeric. The lowest grade is 1 and the highest is a 9*. A grade 4 is roughly equivalent to the old C grade and so a 4 or above is considered a pass.
These days, the highest grade you can get on a foundation paper is a 5. This is broadly equivalent to the old B grade so regardless of whether you sit a higher or foundation paper, everyone has the chance of passing with a good grade.
The result from the exam I sat in November? Sure enough, I got a 3. This didn't come as a surprise, so I immediately entered myself for the January round of exams. I should add this was a partial success. A grade 3 is roughly equivalent to the old-style D grade so I had at least climbed up one grade, even if I missed my target.
Christmas and the re-introduction of yet another lockdown did not help my in my preparations for the exams in January. When I got the results, it was galling. I again passed with a 3, but this time I was one, yes one point, off passing with a 4. It was painful, but c'est la vie.
What did I do? I sat the exam again in April! Well, because of the impact of COVID I did sit an exam, but I also had assessed lessons and did some assessed coursework.
I won't know until August whether I have passed or not. If I haven't, I will do it again. I've come too far down this path not to get to the end.
Improved my maths skills thanks to National Numeracy
Whether it's third time lucky or not, this experience has done a huge amount to improve my maths skills. Part of my motivation was to learn skills so I could help my children with their maths homework, especially Helen who is at secondary school.
I have learned how to do long multiplication and long division. I've learned about calculating area and volume, I've learned the basics of geometry and algebra. I've even had to use a scientific calculator and know my root numbers from my prime numbers!
For many people these will be basic skills. I simply wasn't taught them at school and had my confidence hit hard. I was led to believe I was bad at maths and so gave up on the subject. I was always told my writing skills were good and, lo and behold, I went to become a journalist and latterly a blogger.
I am not alone in being made to feel this way about my maths skills. Having poor maths skills doesn't make you stupid. It probably just means you weren't encouraged and, like me, gave up on the subject.
It's never too late to put things right and that's what National Numeracy Day is all about. Sitting GCSEs as an adult has made me realise that education is a life-long process. Failing a qualification at school shouldn't impact on your life chances.
This year National Numeracy Day is focusing on three things:
Improving numeracy to manage changing finances
Improving numeracy to navigate the changing world of work and
Improving number confidence of children and the adults that support them.
Where did my maths journey start as an adult? On the National Numeracy website. I undertook the free National Numeracy Challenge to assess my skills. This gave me a much better idea where my strengths and weakness were and it inspired me to go for it and study maths once again.
If you're keen on improving your maths skills, take that challenge today. It only takes a few minutes. Who knows, in a year's time you might have learned all manner of new maths skills and be waiting to find out if you've passed GCSE maths.
Interested in this blog post? Well have a read of these...