"Hey John, I'm producing a coffee table book about dads and fatherhood. Perhaps you'd like to be in it? If so, fill in this form and send me some photographs."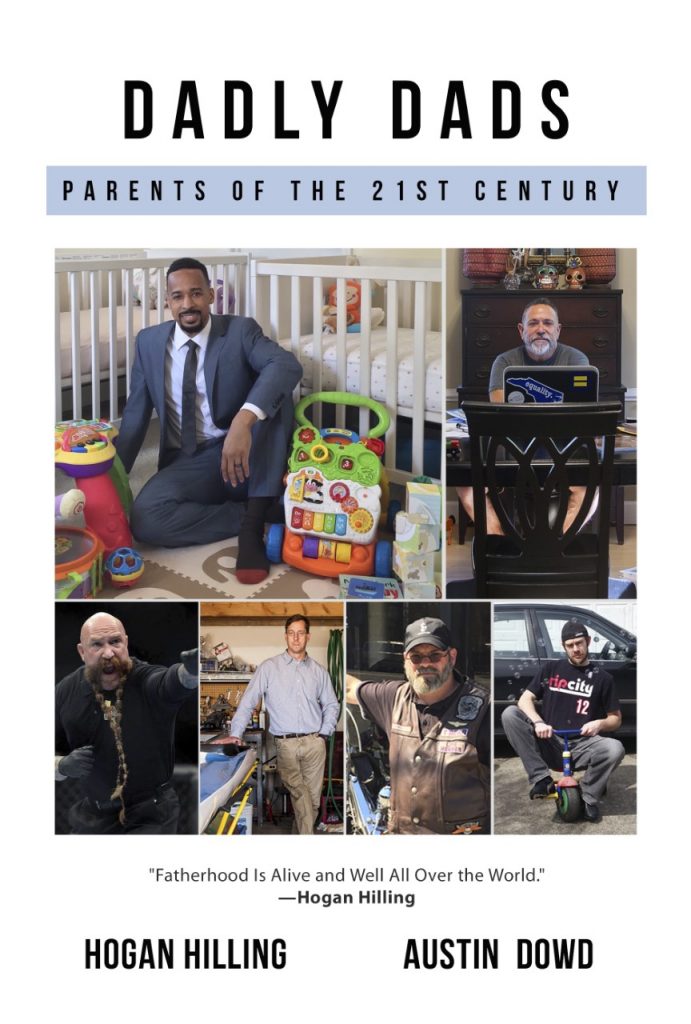 That, dear reader, is an abridged version of some messages between myself and well-known US-based parenting and fatherhood advocate Hogan Hilling. I do love a good book and so I did what anyone in my position would do: I filled in the paperwork.
I also put on my kilt and took myself off to some nearby woodland to get some eye-catching imagery for the photographs. I mean come on, you would have done the same, right?
Being several hundred miles from Scotland, I expected the dog walkers and ramblers to find my behaviour a little odd. To my great relief, they just left me alone and showed no interest in what I was doing.
My submission was accepted, along with submissions from 114 other dads from across the world. The resulting book  of Dadly Dads: Parents of the 21st Century is about to hit the shelves.
Hogan and co-author Austin Dowd spent a little over a year of compiling the book. It will be available from Amazon and Waterstones from 18 June, 2017 with a cover price of about £30 ($US40). Yes, that's correct, the book launches on Father's Day.
Dadly Dads has a very simple aim. It is to promote positive fatherhood.
Hogan explains it thus: "Austin and I hope readers will come to the same conclusion we have about the true state of fatherhood: That the responsible, caring, nurturing, loving, dedicated dads far outnumber the irresponsible absent dads. More importantly that fatherhood is alive and well all over the world."
The book features fathers from the US, France, New Zealand, Brazil, Canada, South Africa and Argentina. It also features fathers from every walk of life and background. There are stay at home fathers, divorced fathers, adoptive fathers, fathers in same sex relationships and even incinerated and previously incarcerated dads.
That said, Hogan has stated the labelling of fathers: "With adjectives like working, at-home, step, divorce, gay, incarcerated, should stop." He says: "We're all just dads!"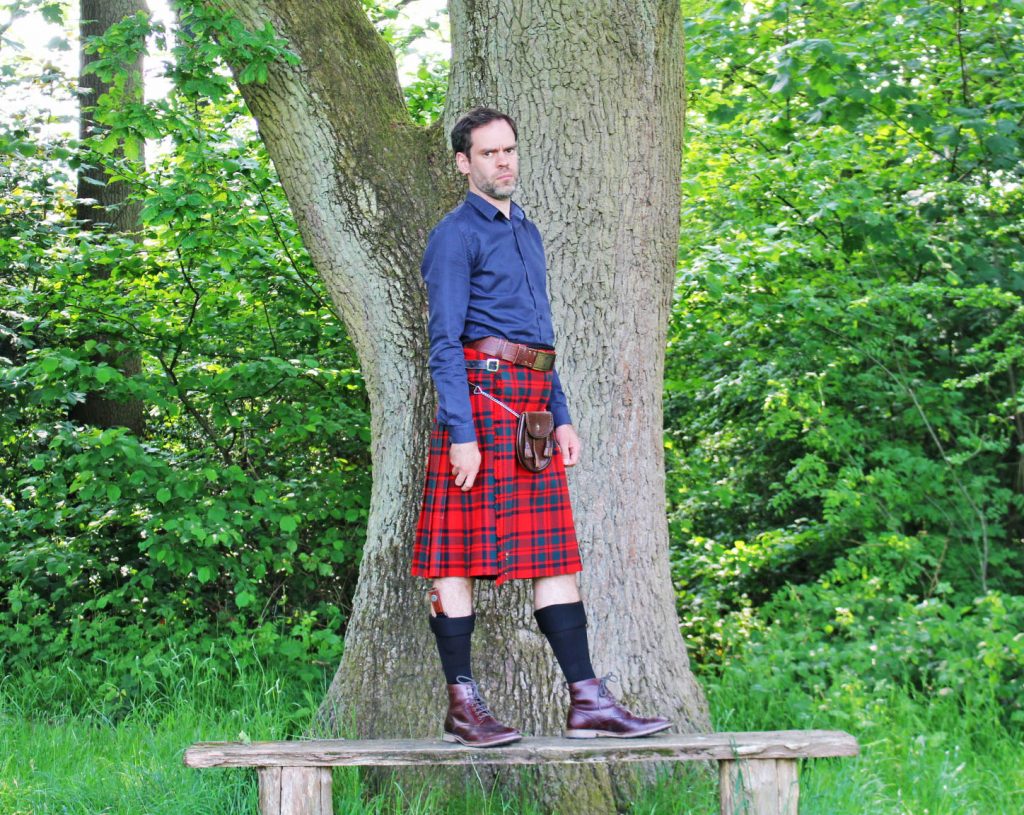 There are several UK-based dads in the book, including a sprinkling from the blogging community. I was delighted to note that Tony Pitt, who writes one of my favourite blogs, The Life of Tont, will grace its pages.
Other blogging dads from the UK include Adrian Dyer, who writes Citydaduk.com and Karl Young, the man behind the Yorkshiredad blog. Both are well worth visiting if you get a moment.
One father who appears in the book deserves a special mention. David Drysdale, from Scotland, was diagnosed with cancer while the book was put together.
Sadly, David passed away some months ago. With the backing of David's wife Misol, he will feature in the book.
From the start, Hogan and Austin have made clear this is a coffee table book. It is not an in-depth analysis of fatherhood.
Each dad only gets two pages and that includes a page of pictures. We talk about what we've learned from our kids, fathers we admire and outline a succesful dad moment, among other things.
I have seen pre-production proofs and I think it's a great, colourful celebration of fatherhood. It also represents the many different family set-ups that fathers come from in the modern world.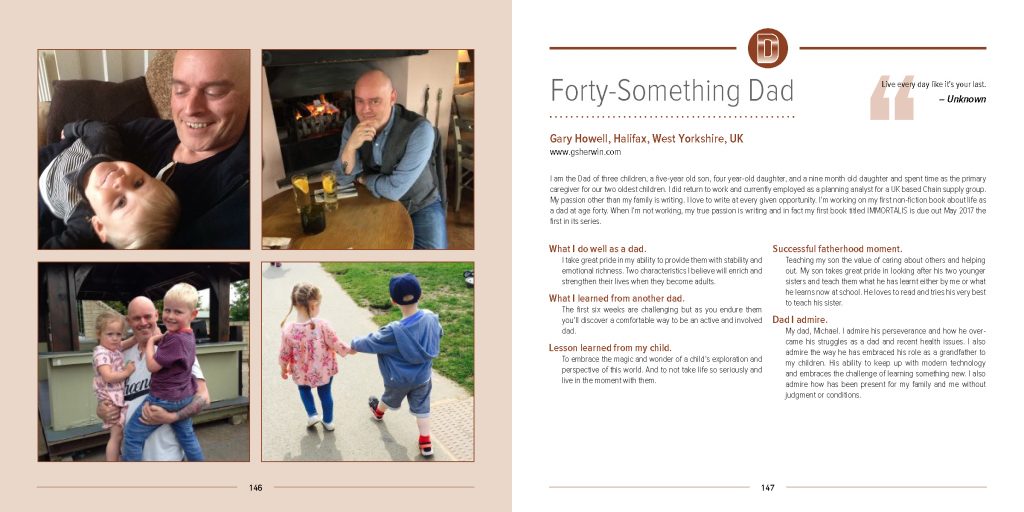 You may ask why Hogan and Austin have produced a book that only looks at dads? What about mothers? It's a perfectly justified question and it was one that had crossed my mind.
As it turns out, Hogan and Austin are in the middle of producing a similar book called Amazing Moms. It is in the advanced stages of production and will be available later this year (watch this space, I'll no doubt write about it).
I should explain about the kilt. It's true, I am not Scottish (although by heritage I am more Scottish than English). My wife, however is a Scot. When we got married I wore a kilt for the evening reception and the garment pictured here is the one I wore.
Having married into Scotland, I have become something of a Scotophile. If you've never worn a kilt and accompanying accessories you just wouldn't get it.
My youngest daughter refers to it as a skirt. I have had to tell her not to say that "In front of your uncle David." If she ever did, I fear David, my brother in law, would give the wee hen a rammy (For those unfamiliar with Scottish slang, that means he'd give her a good talking to).
Enough of kilts and Scotland. I hope you are encouraged to go and buy a copy of the book. As I say, it will be out in just a few days.
Please do keep in mind the Amazing Moms book. I'm sure that will be an equally good read.
Dadly Dads: Parenting in the 21st Century by Hogan Hilling and Austin Dowd. Published by Motivational Press. Available from Amazon and Waterstones from 18 June, 2017.