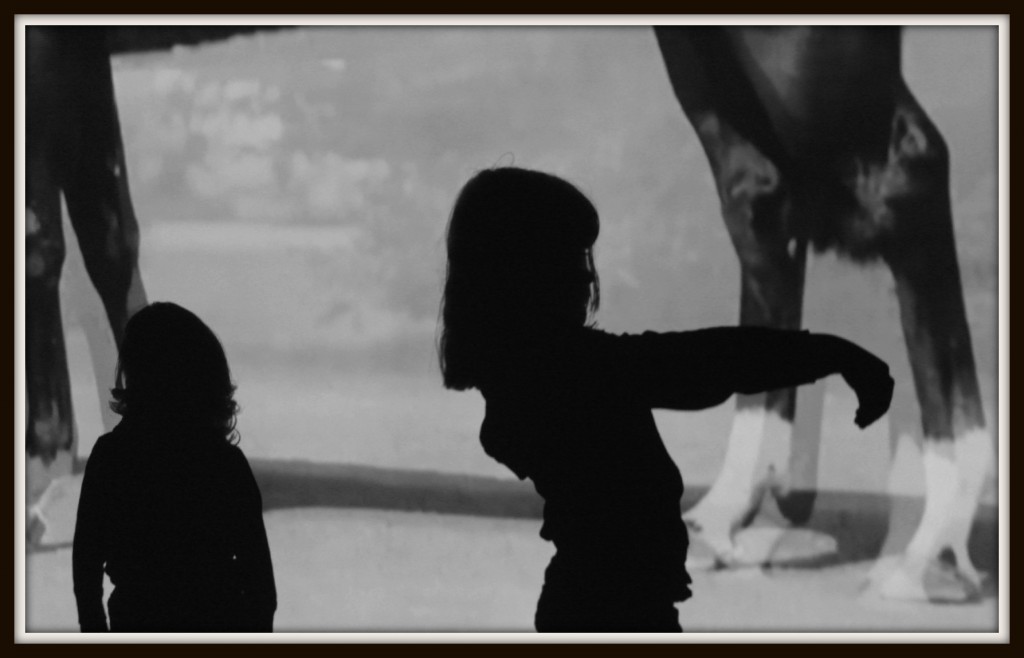 Last week I took the family to East Sussex on its first ever camping expedition. While there, we visited the De La Warr Pavillion in East Sussex.
The pavilion is a renowned cultural centre and within it was an exhibition by cinematographer John Stezaker. In a darkened room, three of Stezaker's films were being shown on a loop.
Toddler Adams and her older sister Helen were fascinated by this, in particular Helen who used it as an opportunity to play shadow puppets. This is probably not what the artist imagined or expected but, hey, they're kids, right? They'll do what they please in these situations.
In this shot, Helen, on the right, is pretending to be a digger in front of a screen showing Stezaker's 2012 film Horse. Toddler Adams, is, I think, simply staring in wonderment at the screen. I like it simply because the two silhouettes are quite striking.
For you detail junkies, shutter speed was 1/20, aperture set at f4.5 and ISO 1600. The original image was colour but I converted it to black and white.
Have you ever taken your kids to modern instillations and how have they behaved? Did they get it, or did it bore them? Or, like my two, did they re-interpret it in their own special way?
Interested in this blog post? Well have a read of these...