Over the past few days, something strange has happened in our household; Elizabeth, our toddler, has decided she likes being in a baby carrier. This is a very welcome development and ends a 12 month drought during which she refused to go in one.
When I say refused, I mean she would scream and flail her limbs around making clear her displeasure. Her reaction was so strong we only tried a couple of times before stashing the carrier away in a little visited cupboard.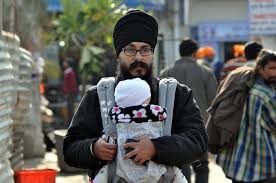 As she is clearly getting bigger and can now walk, I thought the time had come to sell the carrier on Ebay. Before doing so, I had one last try as an experiment. With my wife's help I placed Elizabeth inside it and made sure her arms and legs were in the correct position. She didn't object and so we walked off to the local shops to buy the papers. To my delight the journey passed without incident.
I've never quite figured out why Elizabeth suddenly turned against the carrier. Nothing bad happened and there were no unfortunate experiences. It's odd because when she was very young, she travelled in one regularly.
It was a real shame because her older sister, Helen, might as well have been born in a carrier. As saccharine as it may sound, I loved going out with her strapped to my front and then, as she got older, strapped to my back. We used various carriers up until she was three years old and my back couldn't take the abuse any longer.
There was just a wonderful feeling of being close and it was a fantastic way of calming her down when she was fractious. She would happily fall asleep in it and on the odd occasion, I also managed to get some housework done while she was strapped to me.
I feel like I've missed out on something by not having the same experience with my youngest child. I sometimes wonder if the time the kids were born may have had an impact. Elizabeth was a winter baby so she didn't get taken out as much as her older sister who spent much of her first summer outside strapped to daddy's front.
Now Elizabeth has warmed to the carrier, I shall take her out in it more often. Hopefully she'll come to love it as much as her sister. As the saying goes, better late than never.
Photo credit: Jasleen Kaur Published under Creative Commons agreement.
Interested in this blog post? Well have a read of these...