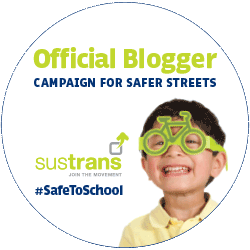 As I mentioned in my previous #SafeToSchool blog post, I am this week going to make an extra special effort to walk, scoot or use public transport when doing the school run. In preparation for this, I did a dry-run on Friday of last week. The journey to school in the morning was great, but the journey home again in the afternoon demonstrated exactly why the #SafeToSchool campaign is so important.
Let's start with the journey to school. Although there was some grumbling from my eldest daughter, we walked to school. About three seconds into the journey she had a change of heart and decided this might actually be fun, especially when she could race daddy, who was having to push youngest daughter in the pushchair.
We raced pretty much all the way to school. There was much laughter and as we got to each road crossing we were able to practise our road safety skills, which was an added bonus. With daughter dropped off at school, toddler and I were able to enjoy a stroll back into town in glorious sunshine.
The journey in the afternoon was an altogether different affair. For a variety of reasons I had to use the car (I know, I know, I feel your disapproval). After a brief spell at the park, we began our journey home and this involved pulling out of a rather nasty junction.
To be frank, my involvement in #SafeToSchool was almost over before it began as I was very nearly involved in a horrendous road traffic accident. I studiously checked the notoriously fast-paced road. A car was approaching but it was indicating left, as if to turn into the junction I was leaving. All was good, so I pulled out and drove on.
Only thing is, there was a horrendous noise behind me. I looked in the rear view mirror and the car that had been approaching was now skewed at 45 degrees across the road, an unceremonious end to an emergency stop the driver performed to avoid my car. Although their indicator had been on, it was clearly stuck on in error from a previous manoeuvre (perfectly feasible on this stretch of road).
Although I had done so in good faith, I had pulled out into oncoming traffic. I suspect the other motorist was speeding but I can't ignore the fact that, had there been an accident, it would have been my fault. The other car would have ploughed into the driver's side of my car, no doubt leaving me injured. It would also have happened very near a school and there were children in the vicinity, not to mention two of them in my vehicle and they, too, would no doubt have been hurt.
It got me thinking about this particular stretch of road. Leaving my own mistake to one side for a moment, it is a very fast moving road and at school drop off and collection time, parents have to walk right alongside it. You see cars speeding, badly parked cars, people dangerously crossing the road with their children and so on. Although I've driven along this road and walked alongside it many, many times, it took this near-miss for me to appreciate just how dangerous it is for children and adults alike.
The Safe to School campaign is run by the Charity Sustrans. To find out more, visit the Sustrans website. Alternatively you can follow the #SafeToSchool hashtag on twitter.

Interested in this blog post? Well have a read of these...