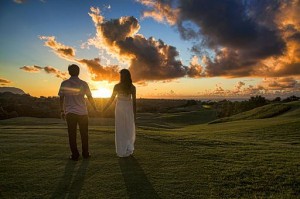 Do you talk to your children about relationships? If so, what do you discuss?
I don't mean friendships, we frequently discuss these things in our household. I mean romance, love, dare I say it sex and all the emotional stuff that goes with it.
I appreciate that I'm maybe worrying about this stuff a bit too soon. After all, my oldest child has only just started in year one and my youngest is still in nappies. Even if it is too soon, I think I'm right to give this issue considered thought and prepare myself for the future.
I won't say too much about my past. Suffice it to say I've been hurt and I've hurt others. While I know you can only go so far in protecting your kids, I'd like to think I can help them avoid mistakes I've made.
When I was growing up, relationships and emotions just weren't discussed in my family. I say that, I recall one awkward conversation with my mother when I was 15 years of age.
She tried valiantly to tackle the issue of contraception when she had a sneaky suspicion I was, ahem, involved with a woman several years older than me. As it happens I wasn't, but that is only part of a grim story that saw me exploited and introduced to some very unsavoury characters. It could have had an awful ending and was exactly the sort of thing involving a member of the opposite sex I don't want my offspring to experience.
It's funny how you recall these moments. I clearly remember that I was reading the Daily Telegraph while my mother was trying to chat to me. It was an article about Bob Dylan and I felt so awkward I didn't want to look up and meet her eyes (A 15 year old Daily Telegraph reading folky. I was never going to have much luck with this older lady was I?)
I like to think times have changed. I want to believe mums and dads in this era are more open to the idea of discussing romantic relationships, emotions, the pit falls, abuse and how to avoid it.
I'm not saying I'll be particularly good at this stuff. Nonetheless, I actively want to talk to my kids about these issues, even though it will mean being open and honest about my background.
How do you handle this stuff? Perhaps you have older children and have been through this? Maybe you have younger kids and, like me, are thinking about how to speak to your children about relationships and emotions? Are you taking the ostrich approach and ignoring discussions about relationships altogether?
Photo credit: Christopher Michel. Sourced from Wikimedia. Reproduced under Creative Commons agreement. For more information about Creative commons and for links to the various licenses, see my Disclosure page.
Interested in this blog post? Well have a read of these...