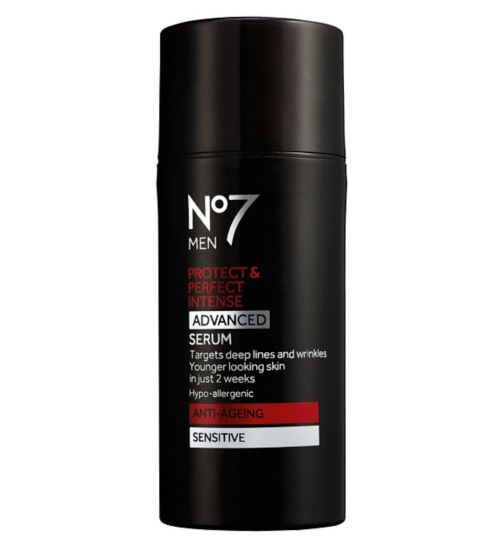 No7 Men Protect & Perfect Intense Advanced Serum is a product with a long name that makes big promises. It claims that after two weeks it can make you look younger and that skin texture will be improved. I gave it a shot, and here's what I thought.
First of all, this is a serum and not a moisturiser. This was the first time I'd ever used a serum so was fascinated to see if it would have any impact.
You may be wondering if there's any difference between a moisturiser and a serum. It's not simply a pretentious turn of phrase, there are quite different. Moisturisers are frequently made up of oil and water and have a larger molecule size so don't penetrate much further than the top level of skin. Serums, on the other hand, are usually oil based and have a smaller molecule size so work deeper into the skin so they can have a bigger impact.
This particular product has been around for some time. That said, the recipe has been altered to deliver better results.
As per the instructions I applied No7 morning and night. Unfortunately my 30ml sample ran out at about day 11! Even so, smaller wrinkles and lines had either disappeared or were less noticeable (yes, I do have a few wrinkles and lines. You can read about my thoughts on ageing here).
According to the box, after two months of continued use, three quarters of men agreed this was the best anti-ageing product they'd ever used. I obviously didn't get a chance to test it for that long, but it certainly had an impact in the short time I used the serum.
If you are wanting to step-up from moisturiser to serum, No7 could be a good starting point. The product is available from Boots. Expect to pay around £24.95 for a 30ml container.
Disclosure; I was provided with a sample of this product for review purposes. Thoughts and opinions my own. To read my disclosure policy, please follow this link.
Interested in this blog post? Well have a read of these...