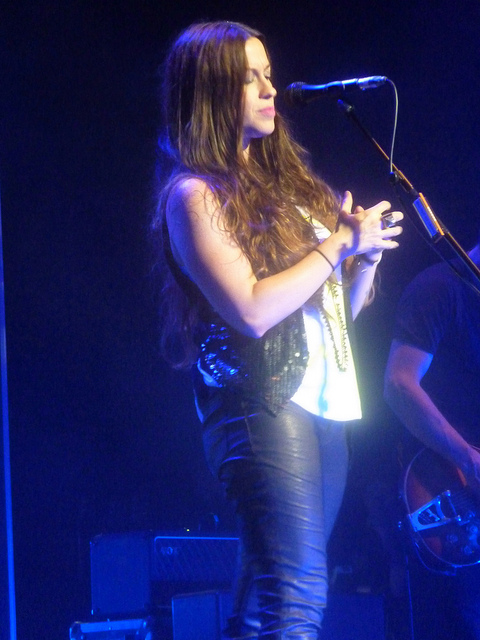 It's funny what can put me in a reflective mood. Followers of my twitter feed may have noticed how excited I became the other week when I discovered that Alanis Morisette's classic album Jagged Little Pill was two decades old.
A whole two decades. In that time I've experienced some incredible highs and lows.
The one thing I can't deny is that I'm getting older. It's not that I have a particular fear of ageing or have suffered because of age, but it's happening.
When Morisette released that album of hers I was 20. I was arrogant, I was going to live forever. I had no children, mortgage or debt. My biggest responsibility was to my employer and that didn't matter. I was in a dead end job and could easily get another one.
Glastonbury Festival was the highlight of the summer and 20 years ago you didn't buy a ticket. Back in those days you went under the fence, over the fence or walked in through a part of the fence that had been knocked down.
Life is very different for me now. I have many responsibilities and obligations, not least to Gill, my wife, and our two beautiful children. Arranging to go out for a meal with Gill takes planning. I can't jump in a car at 11pm and head off to a rock festival in Somerset on a whim, something my friends and I did all those years ago.
Thankfully I am in a good state of health. Time has, nonetheless, had an impact on this glorious body of mine (Glorious because I'm very attached to it. It's the only body I've got, after all). A decade ago I ran the British 10K in 49 minutes. Thanks to repeated ankle injuries, I run a couple of kilometres to keep fit, but that's my lot. I daren't do any more in fear of antagonising one of those old wounds, healed though they are.
My hair is increasingly turning salt and pepper. The last time I grew a beard was, by chance, 20 years ago. The beard was black with a hint of ginger. Throughout June I've been growing a beard for charity and this time around my facial hair has come out almost entirely grey in colour. As for my teeth, I still have them thanks to a rigid dental regime. Even so, many of them have fillings.
Just this afternoon I was putting together a collection of photos for my eldest daughter. There was one picture of Gill and I sat on a sofa with our firstborn just days after she'd arrived. That was almost seven years ago and I looked so young. Time, responsibilities and fatherhood have taken their toll.
Then I look at my children and see how rapidly they're growing up. Truth be told, it's terrifying. I know I have to treasure every moment I spend with them. They aren't going to be so keen on their dad as they get older, especially in their teenaged years.
I accept that I've made it to the mid-point in my life. This doesn't upset me; I believe age has made me more discerning and confident. I certainly can't fight age so I must embrace it.
Looking back on my life 'though, I do sometimes wonder if I squandered some of my younger years. It would certainly explain a few of those grey hairs. Hindsight, hey? It's a wonderful thing.
Pic credit: Oouinouin. Sourced from Flikr.com. Repreoduced under Creative Commons agreement.