Over the years I've reviewed many floor cleaners. With two young children, we make good use of them! The SpotlessGo from Vax stood out for two reasons: 1) It is handheld and 2) It is battery powered, meaning it is versatile, can be used anywhere and is easier to store than most other carpet cleaners.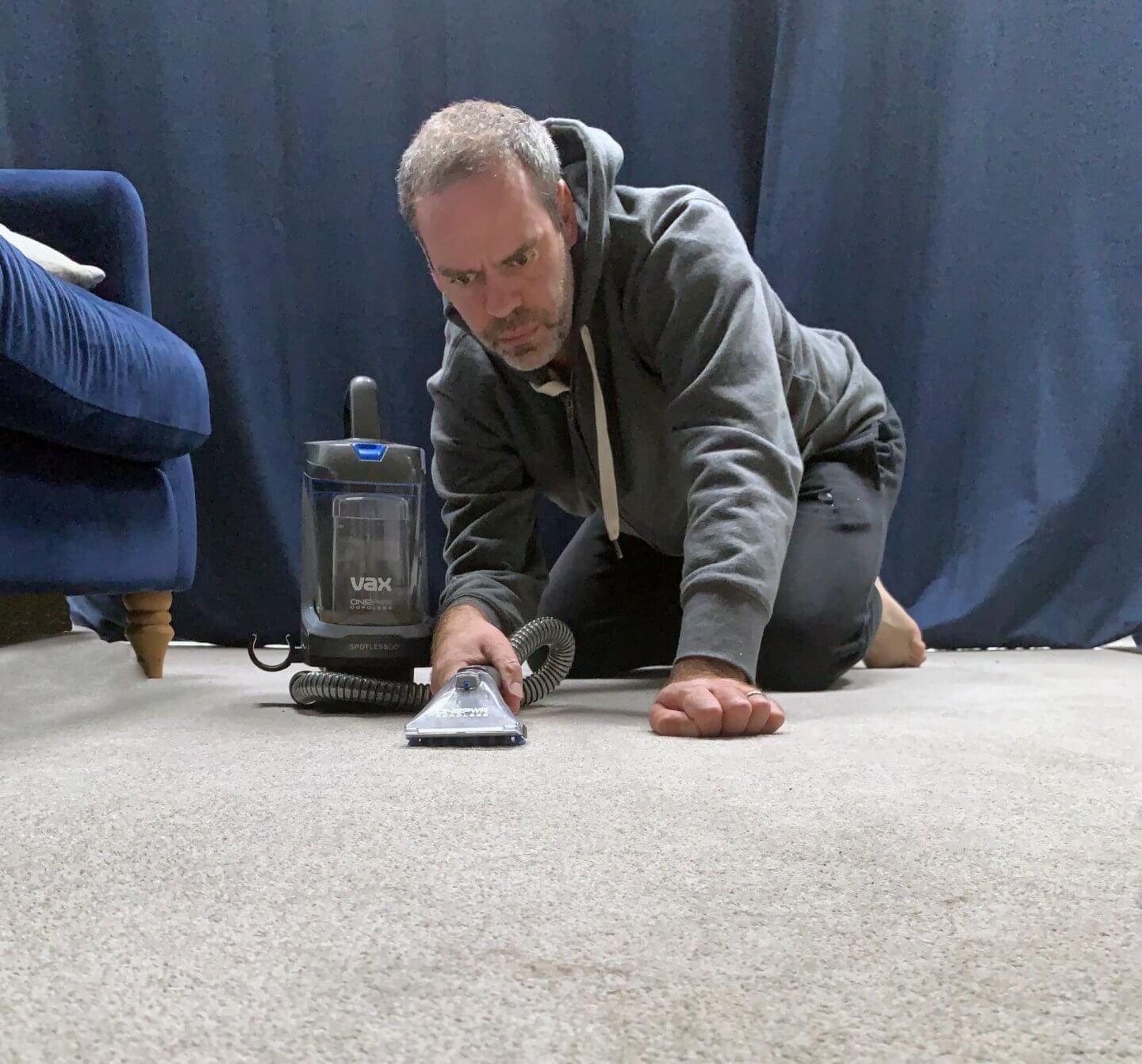 First impressions
Unlike upright Vax products, there's no assembly. As you'd expect for a handheld device, it is lightweight.
I was raring to use it immediately. Alas, I had to calm down a bit as it arrives uncharged so I had to charge the battery up before I could start cleaning up marks on the carpet.
Another thing struck me while I was inspecting the Vax OnePWR SpotlessGo: It can be used on hard floors. Read on to see how I got on using it on different surfaces.
Vax One PWR Range
As I have mentioned already, the SpotlessGo is powered by a lithium battery. It won't have escaped your attention that Vax has given it a funky name: The Vax OnnePWR.
This is because Vax has a range of battery powered items including: The Hand Vac handheld vacuum cleaner, Glide hardfloor cleaner, and Blade 3 and Blade 4 vacuum cleaners. The OnePWR battery can be used in any and all of them so if you want to build up a collection, this is the product for you!
Vax SpotlessGo in use
Once the battery is charged, you slide it in place at the back of the main unit. There's a small tank at the side for filling with warm water and 40ml of cleaning solution.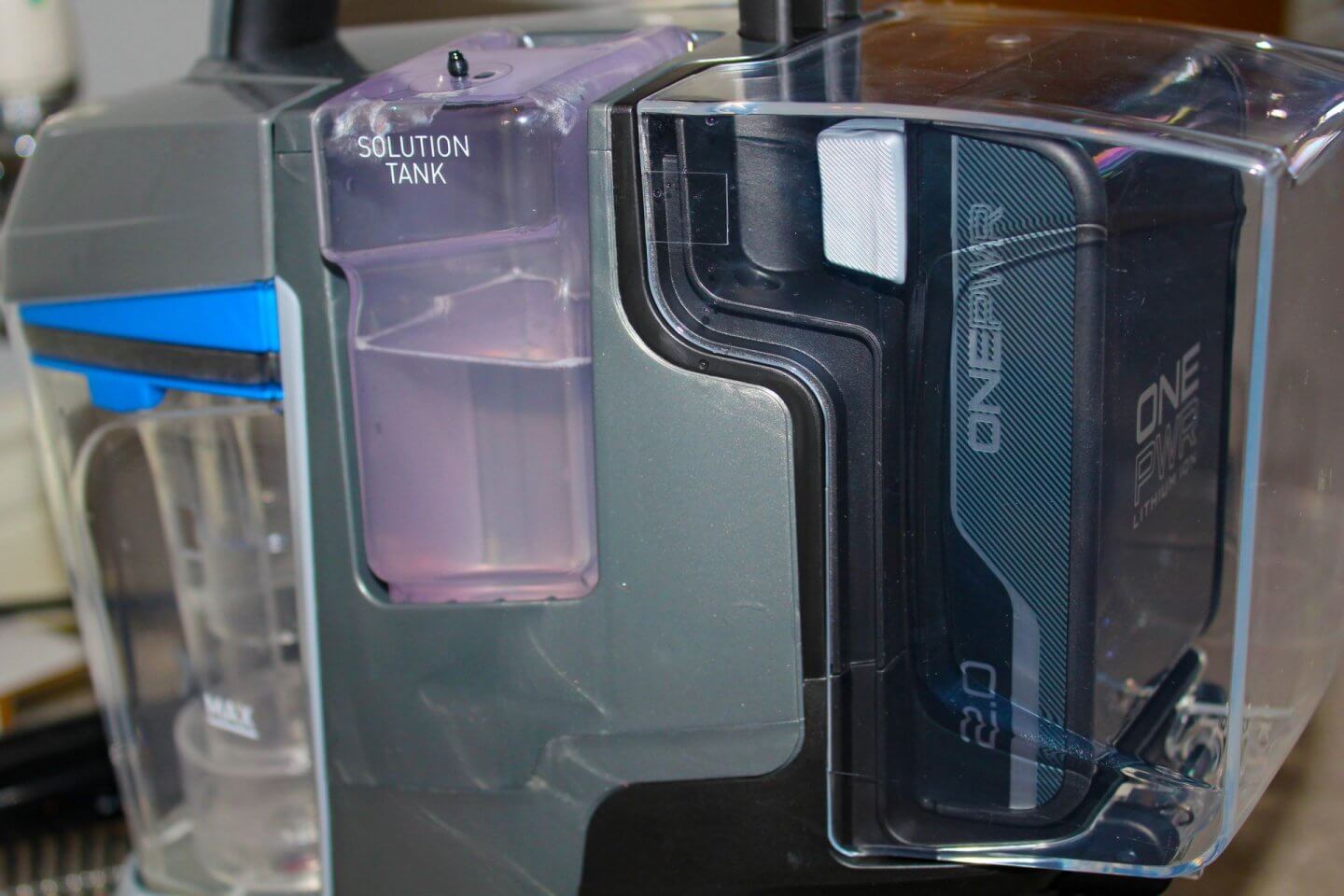 With that all in place, you will want to put the correct attachment on the end of the hose. You have a choice of: Multi-purpose attachment, squeegee attachment and hard floor scrub attachment.
When fired up, the SpotlessGo doesn't quite have the oomph of it's mains powered cousins like the Platinum SmartWash or Power max. That said, the name of this product 'SpotlessGo' gives you a clue to its limitations. It is designed for cleaning up spot stains. For bigger messes, you need something more heavy duty (See my review of the Vax Platinum Smartwash here).
The first thing I tackled was a red wine stain on our carpet (see pictures). I thought I might as well start with something tough!
It cleared quite a bit of the stain out the carpet using the multi-purpose tool attachment, but I wasn't sure it was going to finish the job. It was clear the red-wine droplets were proving a bit of a challenge, so I sprayed some Vax carpet cleaning pre-treatment on the stain and tried again a few minutes later. This time the stain vanished.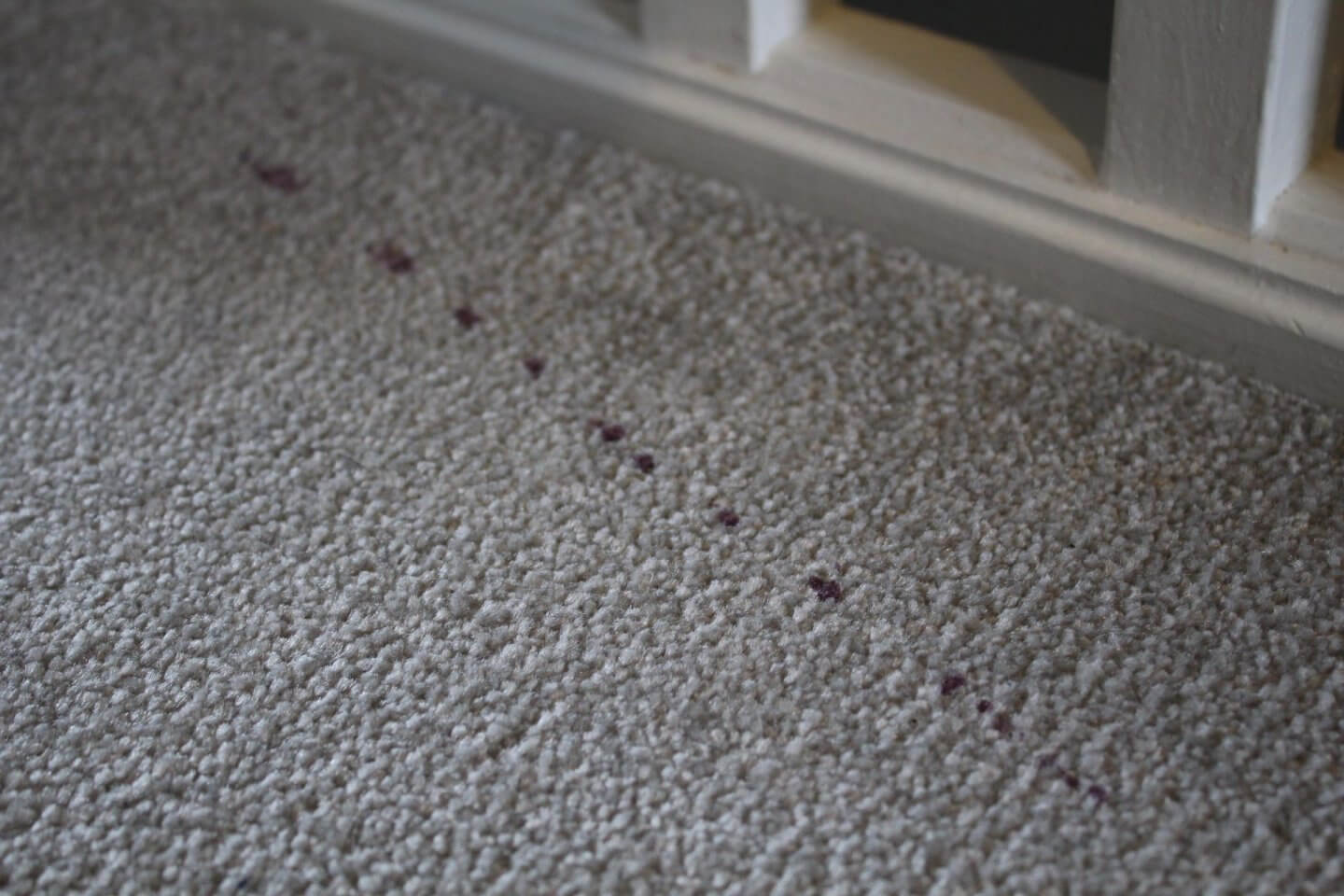 Next job was our bathroom floor where some laundry detergent had been spilled on the tiles. The SpotlessGo did a good job of cleaning the floor and sucking up the water, but I found the squeegee attachment was useless. The design of it meant it struggled to suck up any water.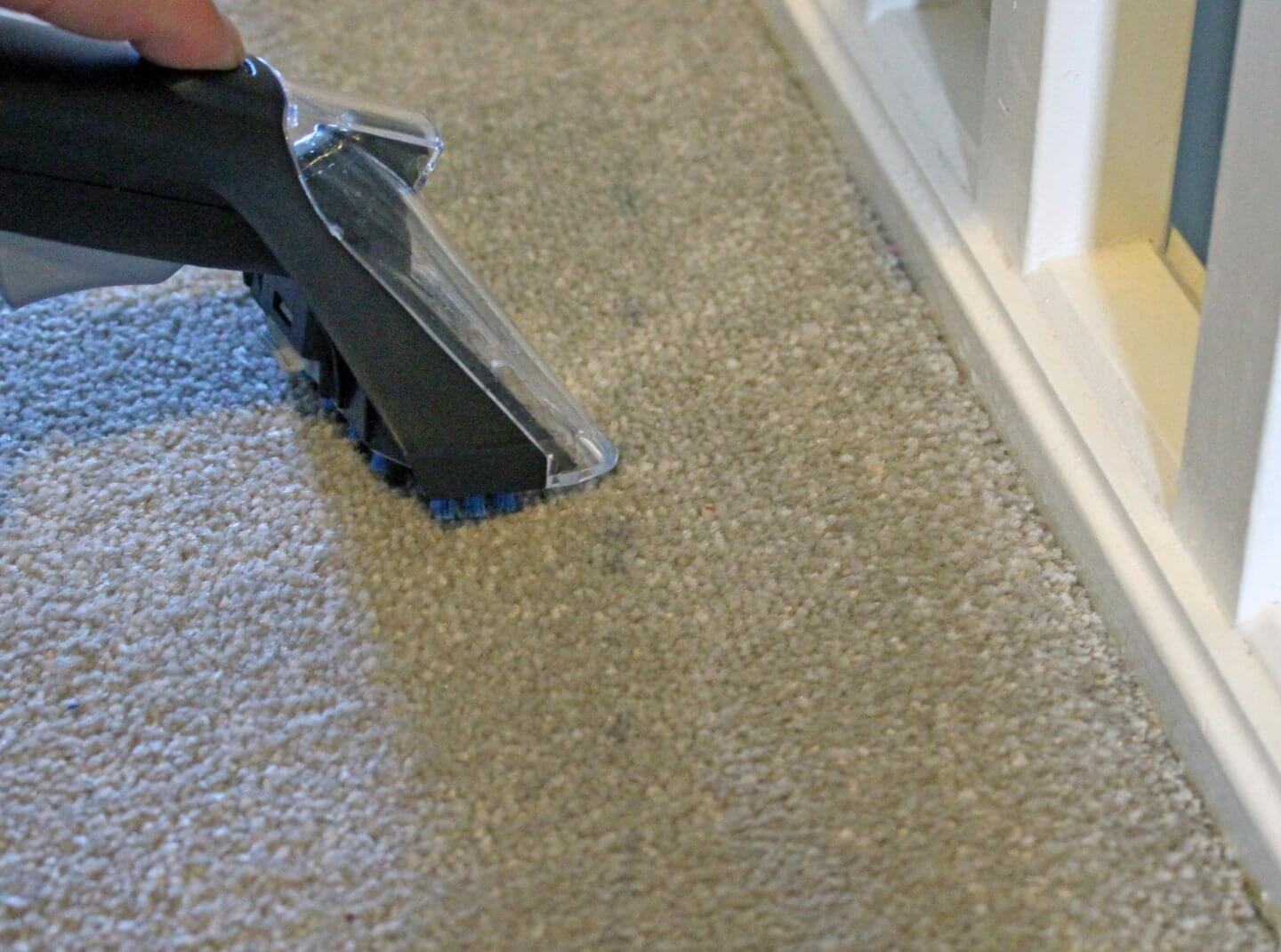 Other spots I successfully cleaned were mud, other spilled drinks and even (sorry to be so candid) cat vomit. It did a really good job on everything although the results were always much better if I sprayed it down with some pre-treatment first.
This isn't always necessary with Vax's mains powered carpet cleaners. Then again, this is a battery powered device so it will have its limitations.
A quiet note about battery life. When charged, Vax says you should get about 15 minutes cleaning time. In my opinion you possibly get a little bit more than that which is a bonus.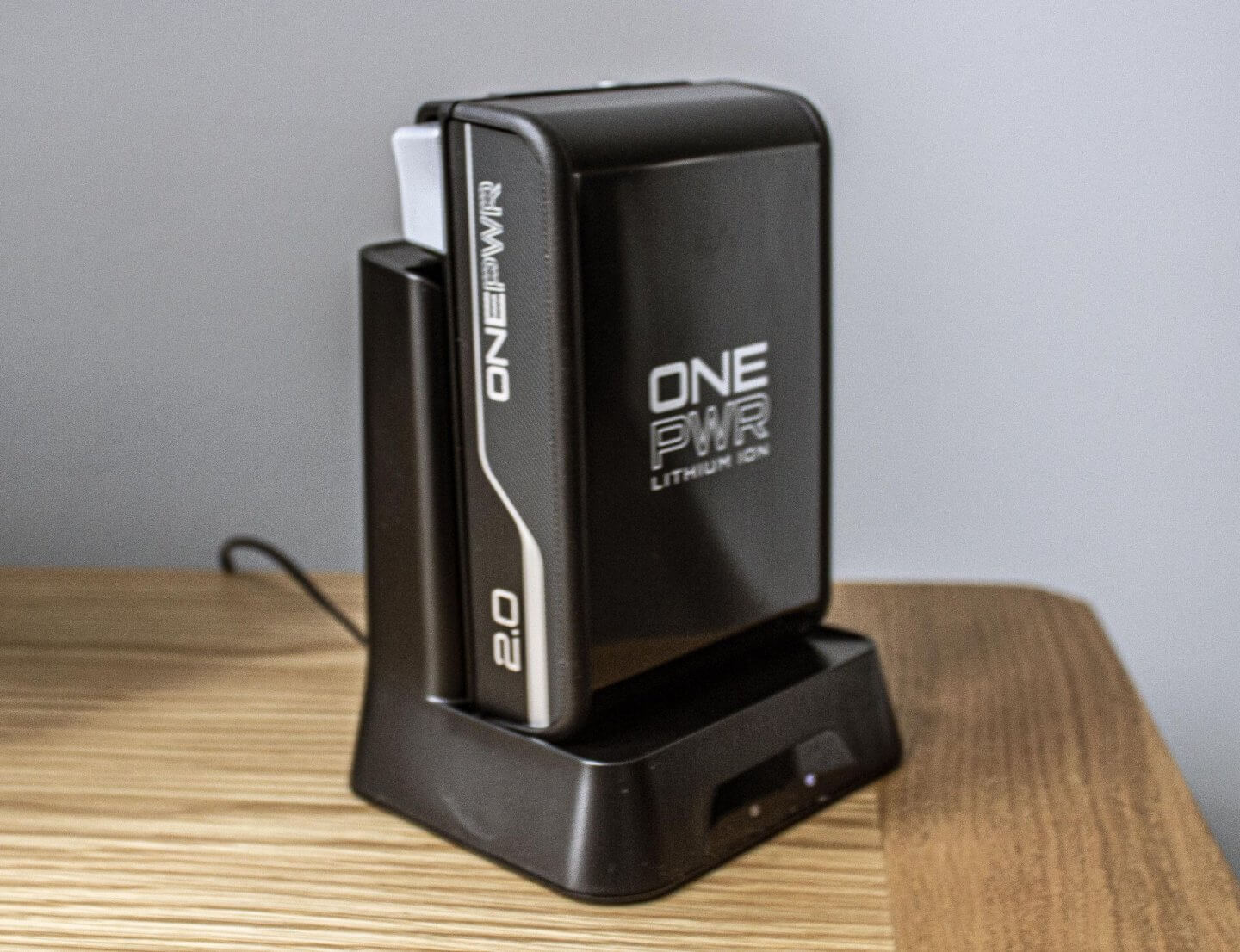 Concluding thoughts, cost and availability
This is a really handy device to have in a family home. I think most people struggle to store both a vacuum and a carpet cleaner in their home so the Vax ONEPWR SpotlessGo is a versatile floor cleaner that makes for a happy medium.
In terms of cost, the SpotlessGo was retailing for about £149.99 at the time of writing. That's about what I would expect for a product of this type. It is widely available from retailers including Argos and Currys.
The one thing I would reiterate is to be realistic about its limitations. This floor cleaner copes very well with small marks and stains. If you need to clean something more substantial, such as an entire bottle of red wine, you'll need a heavy-duty carpet cleaner like the SmartWash or Power Max.
It was a shame about the squeegee, but it wasn't the most important of tools. For cleaning hard floors I didn't find it necessary.
For stubborn stains, use the pre-treatment! That said, it is lightweight, easy to use and has performed well. The SpotlessGo is a good addition for the cleaning cupboard of any family home. For more information, to buy or to find stockists, go online to the Vax website.
Interested in this blog post? Well have a read of these...