Like most people, my world shrunk during the COVID-19 pandemic. I've spent much of the time living in about 10 square kilometres which is why this image is so significant. I took it earlier this week when I paid my first night-time visit to London in 18 months.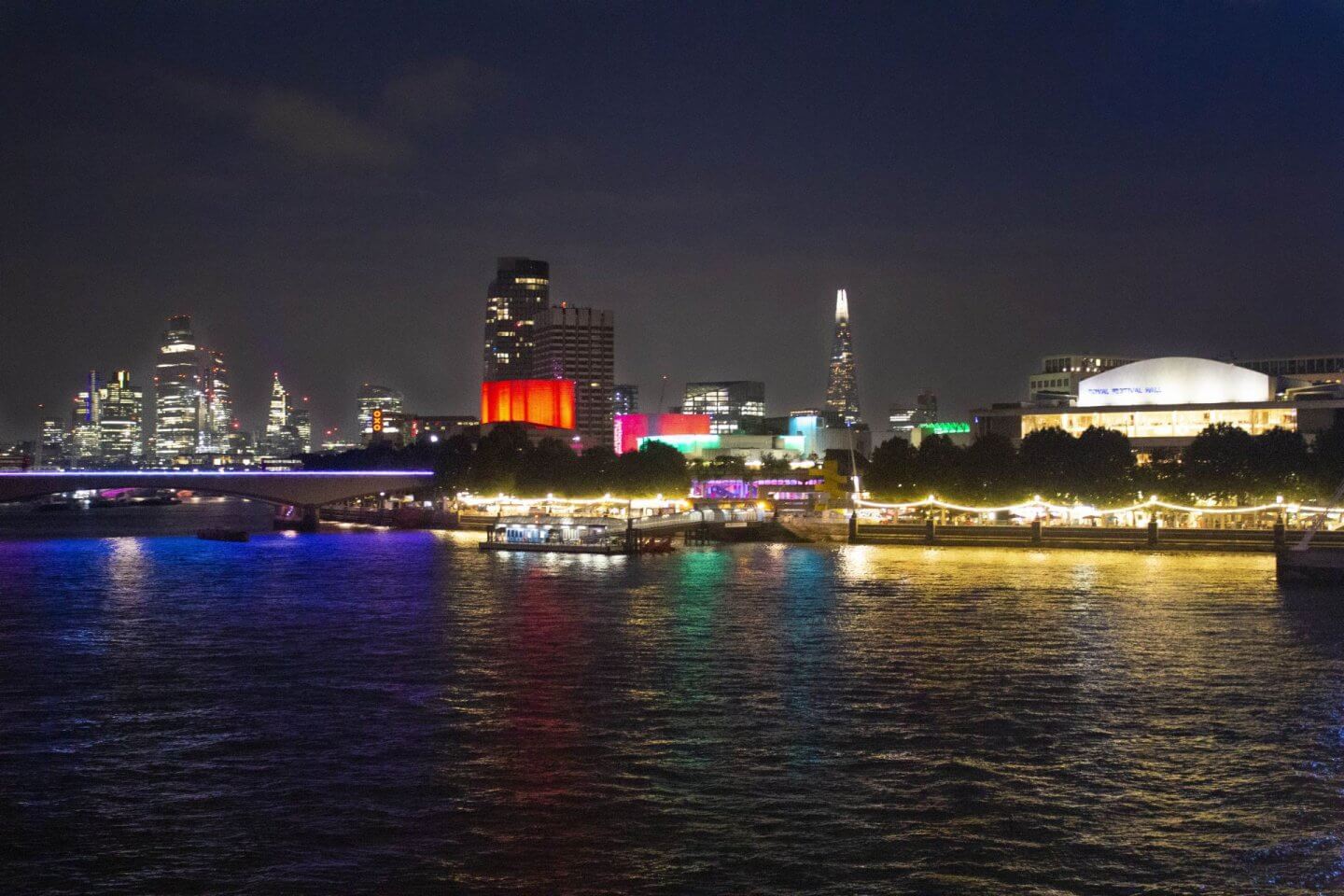 The photograph was taken from the Hungerford Footbridge, a spot I have taken night time images many times in the past. What I'd never done before was take one in this direction, focusing on the Southbank. As I was passing, I noticed all the bright colours and thought it looked pretty. I was rushing for a train so quickly threw my camera into 'no flash' mode (sorry for the geeky detail, I usually shoot in manual mode) and fired off a couple of shots, this being the best.
As for the trip to London, well, it was interesting. I have done a couple of daytime visits to the capital since COVID-19 struck, so visiting during night-time made for an interesting comparison, especially as many restrictions in England were eased back in July.
I was quite surprised at how many people were wearing face masks. On public transport, I'd say more were than were not. Out where I live, mask wearing has become a niche activity. In fact, when I went to collect my youngest child from school on Friday afternoon, I think I only counted two parents wearing face masks. This took me by surprise as I've found the school run crowd to be very conservative until now.
Getting back to my trip to Central London, the city was busy, but noticeably quieter than pre-pandemic days. I had no issues whatsoever getting seats on trains, despite travelling at peak times. Interestingly, pubs and restaurants seemed to be doing a great trade, although it was a pleasant evening which probably attracted more people to the outside seating.
It was also quite odd when I reached my eventual destination and met up with the gang I was seeing. How do you greet people in this era? Are we still bumping elbows or have we moved on to shaking hands and hugging? Every time I met someone, it seemed to kick-off this amusing dance routine as we rhythmically moved our arms around trying to figure out what we each wanted to do!
Have you made any trips out to any big cities yet? If so, how did you find it? For me, this was one further step out of lockdown and adjusting to the 'new normal.' A slightly-less-busy London is probably going to be the way forward and if I'm to be totally honest, I quite liked it. It made me realise just how uncomfortably busy it always used to be.
I can't end this blog post without quickly sharing this link. It's an image I took from the roof of the Southbank Centre when I was previously in London 18 months ago. How typical of me, a former journalist, to have a photographic record of both occasions!
I have added this image to the #MySundayPhoto linky hosted by Darren Coleshill's photography blog. Click here to pay the linky a visit.
Interested in this blog post? Well have a read of these...