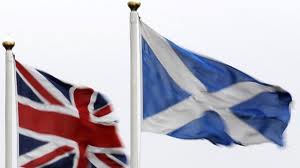 A very interesting report about fatherhood has been produced by the Scottish Parliament in Edinburgh. Known as the Fathers and Parenting Report, the study was carried out by the Equal Opportunities Committee and has concluded that dads don't get a great deal.
It remains to be seen whether the report will actually achieve anything, but it made some pretty hard-hitting observations. For instance, it noted that men have problems requesting flexible working and said more could be done to improve fathers' access to both pre-birth and post-birth classes and support networks. I imagine the majority of fathers, be they Scots or otherwise, will read that last statement and say "what support networks?"
The committee's convener (I love the titles they use North of the border) is Labour MSP Margaret McCulloch. McCulloch summarised the report thus:
"We heard from so many fathers who wanted to take an active part in their children's lives but who felt marginalised by society right at the start of their role in being discouraged from attending pre and post-natal classes and support groups. Yet, we know that by engaging fathers early, they stay involved with their child, even if the parents separate.
"Equally, we were not surprised to hear that the same childcare and flexible working issues keeping women from actively participating in the workplace, also keep fathers from parenting. We are concerned by this imbalance in parental leave and access to flexible working for fathers. These issues must be addressed if we are to improve outcomes for children and parents right across Scotland."
The report made some hard-hitting recommendations. These included:
A national (Scotland-wide) awareness-raising campaign to help raise the profile of men in childcare and teaching
Issuing good-practice guidance on including new fathers in written publications and policies that are not perceived by fathers as tokenistic
Supporting the set-up of new groups and help existing groups to grow and help single fathers and fathers in rural areas.
I don't wish to confuse the issue of fatherhood and the Scottish independence debate, but anyone that knows me will confirm that I'm a unionist with a capital U. Okay, not so much a capital U but a capital U,N,I,O,N,I,S and T. This is what happens when you're (largely) raised in England from a family with a distinctly Scots and Northern Irish background. In fact Scotland's so good I married it.
I genuinely live in fear of Scotland voting for independence. The Scots and other devolved assemblies have often led the way and forced a domineering England down a more progressive path. England needs the influence of the Celts to keep it in check.
This report from the Scot's Parliament is a classic example. Our cousins and friends up north have recognised the importance of us fathers. I'm just hoping the English follow in Scottland's footsteps.
Interested in this blog post? Well have a read of these...