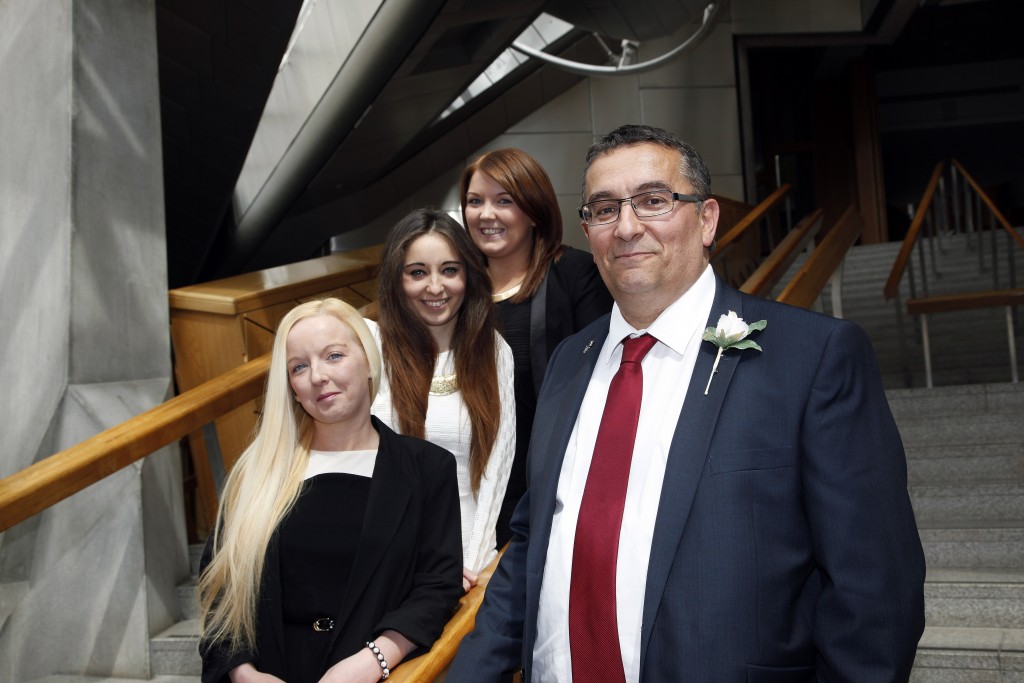 "When we speak about equality and gender, why do we always talk about women and work? We have to talk about men and their role at home. We have got to address the role of fathers at home."
Wow, quite a bold statement for a politician to make, yes? What's more, it was delivered with incredible confidence.
The quote comes from Christian Allard, Member of the Scottish Parliament representing North East Scotland and a member of the Scottish National Party (SNP). Allard is also a member of Holyrood's Equal Opportunities Committee and I was speaking to him, in part, to find out if any progress had been made since the publication of the Fathers and Parenting report that was published earlier this year.
As an England-based blogger, there were two further reasons I wanted to speak to Allard. The first inolves a heavy dose of self interest. I have a Scottish wife and so we watch what goes on north of the border closely. If Scotland were to go independent, we'd have to think about the future, what it might mean for this family and which side of the border the best opporunities might lie.
Secondly, and more importantly, the SNP's profile has blossomed following the recent independence referendum. It's no secret the Labour party is facing all manner of problems both in Scotland and the rest of the UK.
If, as some pollsters predict, large numbers of SNP MPs are elected in next May's general election, the party will be in an incredibly powerful position. It could have a huge impact on UK social policy, not just in Scotland.
On that final point, Allard is optimistic, but cautious.
"We do hope so (to be in an influential position). The electorate will dictate after the Westminster election. It may be the first time that things have been so open."
And what of the Fathers and Parenting report? Has any progress been made on this? The report itself made a number of recommendations including;
A Scotland-wide campaign to raise awareness and the profile of men in childcare and teaching
Issuing good-practice guidance to ensure new fathers are included in written publications and to make sure policies are not perceived by fathers as tokenistic and
Supporting the set-up of new groups and help existing groups to grow and help single fathers and fathers in rural areas.
Allard confirms some action has been taken. Publications produced by Holyrood or used in schools must now have a more balanced representation of gender.
"It should not always be a mother pushing a pushchair or a man sitting behind a desk," says Allard who adds that "it is an important attitude" and agrees that massive cultural change is needed to break down gender stereotypes.
Allard also adds that more fathers groups have been set up and in areas outside of Scotland's cities. Interestingly, he says the need is for fathers groups that are distinct from mothers or parents groups.
Allard's background puts him in a good position to highlight issues affecting fathers. His wife passed away at a young age in 2000 leaving him to raise their three daughters singlehandedly.
He faced a number of battles, not least a fight to receive the Widowed Parent's Allowance. Bearing in mind we're only going back 14 years, this benefit was, astoundingly, only paid out to mothers who lost their husbands. Allard put huge effort into fighting for the right for widowers to receive the payment and eventually the rules were changed.
Although Allard has a very powerful story to tell, he says this has nothing to do with his role on the Equal Opportunities Committee or Fathers and Parenting report.
"It was an accident that I ended up on the Equal Opportunities Committee. It was not anything to do with my background."
On the subject of Allard's background, he is also something of a rarity at Holyrood. He is French and moved to Scotland when he was in his twenties. He hasn't felt the need to take up British citizenship and says Scotland is an "inclusive" society.
While I'd question the idea that Scotland is some kind of inclusive utopia (to give one example, sectarianism can still be an issue north of the border, much more so than in England), it is fascinating that someone like Allard can hold such an influential position in Holyrood. Can you imagine an individual with a French accent delivering a speech in the House of Commons?
Allard says the House of Commons is not the place for discussions about equality. "Its is an old boys club," he states, reflecting an opinion I have heard from other politicians.
For a brief moment conversation turns to my family and the way my wife and I have structured our lives with me staying at home while Mrs Adams works full time. Allard remarks that; "This is welcome and needed. We need it so it is not the mother who has to go part time or stop her career. It should have nothing to do with gender."
Although I remain unconvinced Scottish indpendence is a good idea, I've long accepted that many of Scotland's issues with the union are based on solid foundations. The growing popularity and influence of the SNP is no surprise to me. Speaking to Allard was a very refreshing change and it shows there is some real talent in Holyrood (and no doubt Cardiff and Stormont also).
The next election may return some very interesting individuals to Westminster. I may not agree with all they stand for, but if some of them hold similar views to Allard it may be a great thing not just for us dads but for families and parents as a whole. Who knows, maybe the emergence of a strengthened SNP will force the hand of dominant rivals to give more thought to equalities issues. It's a nice thought isn't it?
Like this blog post? Well click here to read my recent interview with Deputy Prime Minister Nick Clegg. You may also want to read 'It was all part of the plan', a short story I wrote following the Scottish independence referendum.
Pic credit: Andrew Cowan/Scottish Parliament.
Interested in this blog post? Well have a read of these...