As a confirmed country boy, I do love a farm visit. It runs in my blood, the older generations of my family having had strong connections to the National Farmers' Union. Despite my rural upbringing and love of the countryside, I had never visited a berry farm until I was recently asked along to Hugh Lowe Farms in Kent to learn about the strawberries and blackberries grown there.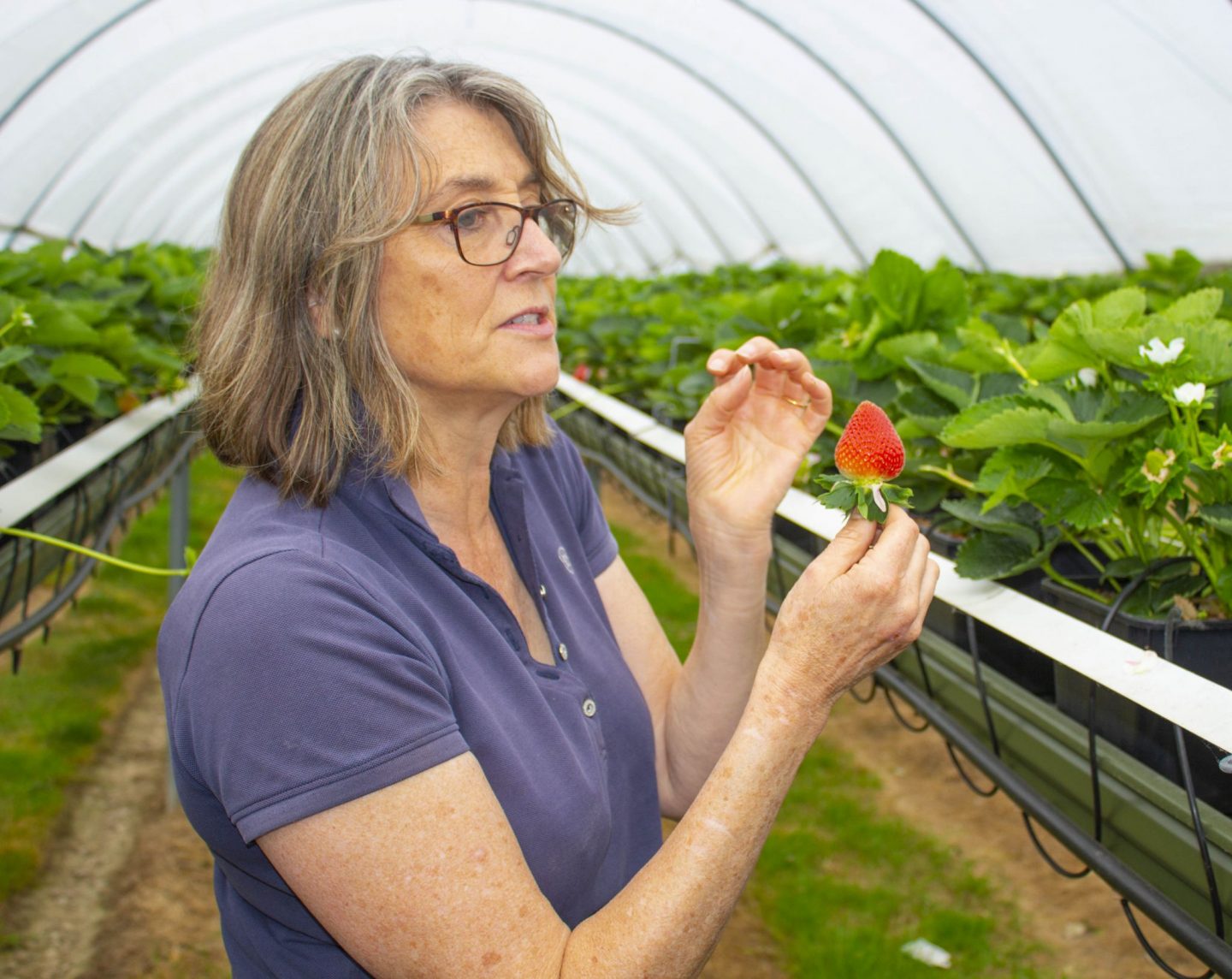 The purpose of the visit was to learn all about how these fruits are farmed, plus the nutritional value of strawberries and blackberries. For those of you who, like me, also have to encourage your children to eat a healthy diet, I was also served various berry-infused dishes and you'll find a couple of easy recipes below that you will hopefully find inspiring.
What you need to know about strawberries
I am going to start by telling you about the nutritional qualities of berries. For any mum or dad trying to get their family to eat a healthy diet, this is probably of most interest.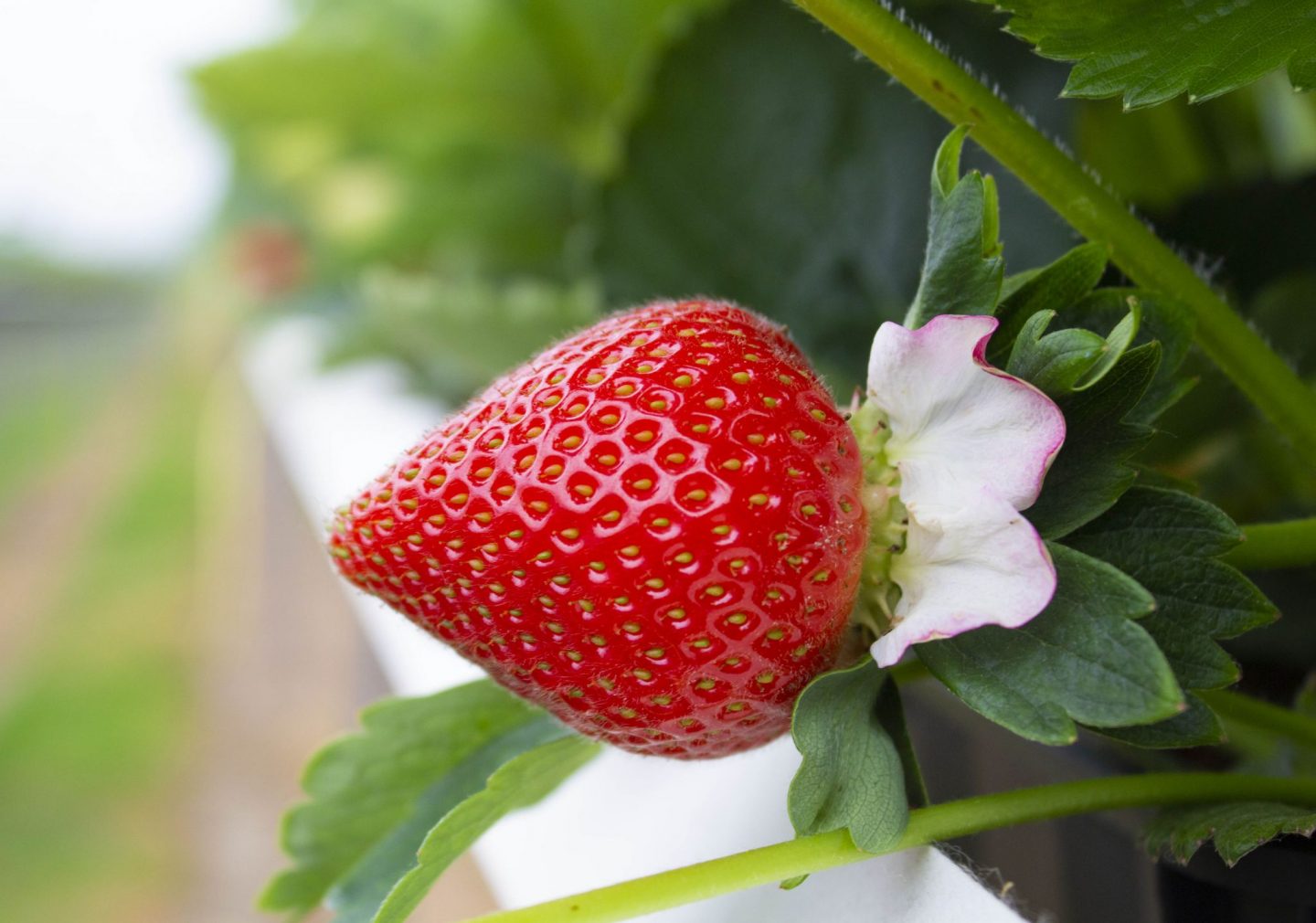 Berries are at the lower end of the sugar spectrum. They are also rich in polyphenols which are micro-nutrients that can improve gut health and help with weight management and so on.
Blackberries in particular contain chemicals that help reduce cardio-vascular disease. They can also help reduce inflammation so can be beneficial for anyone with joint issues.
Strawberries, meanwhile, contain more vitamin C than oranges. They also contain lycopene which is particularly beneficial for us men as it helps with prostate health.
I could carry on, but I think you get the point. Berries are a superfood and I have to confess I wasn't aware of quite how beneficial they are.
Hugh Lowe Farms and its strawberries and blackberries
Hugh Lowe Farms is a big operation. We were shown around the farm by Marion Regan. The farm has been in her family for over a century and she runs it with her husband, along with nearly 700 staff.
Berry farming in Kent is huge. At one point during our visit to the farm, we were taken up on to a hill where you could see out across the surrounding countryside. It was full of polytunnels and glasshouses belonging to Hugh Lowe Farms and other growers. It was quite a sight to behold.
Hugh Lowe Farms grows a variety of strawberries under the Jubilee Selections banner. The main varieties are Jubilee, Elizabeth™ and Zara™. Hugh Lowe Farms isn't alone in growing these varieties. A handful of other growers around the UK also produce Jubilee Selections and they can be found in the premium sections of major supermarkets such as Sainsbury's Taste The Difference and Tesco's Finest plus in Waitrose, Morrisons and M&S.
The Jubilee Selections range is available from May until September. The Zara variety has a longer growing season and is renowned for its sweetness, deep red colour and is available until October.
Hugh Lowe Farms also grows Driscoll's Victoria Sweet Blackberries. These berries stand out because they have a natural, sweetness which some say is reminiscent of red wine.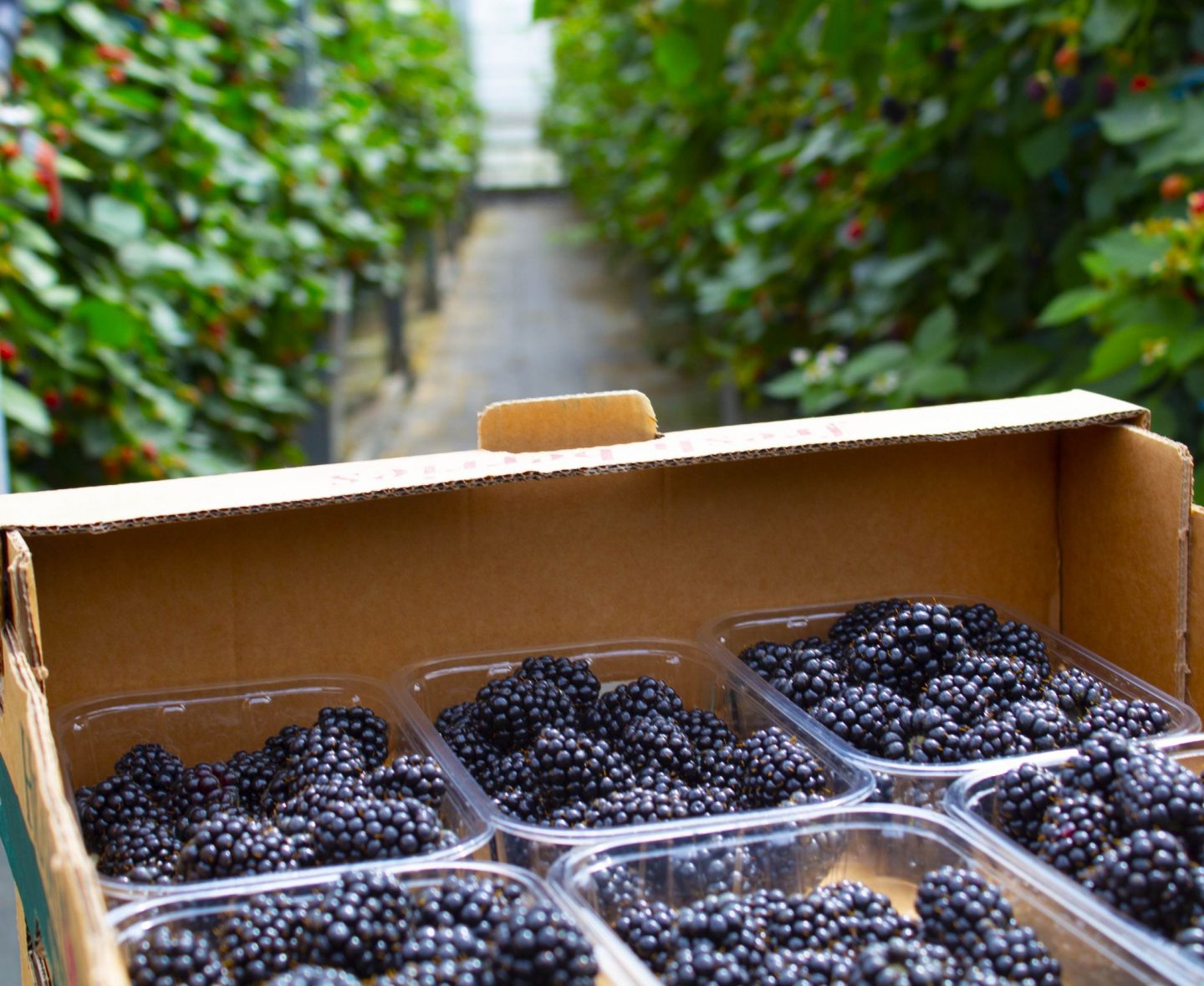 This variety is available from May to October and is available from the same outlets as the Jubilee Selections strawberries. Unlike the strawberries however, you may also find Driscoll's Victoria Sweet Blackberries in health food shops.
We spent some time picking these blackberries while I was visiting the farm. It is a very skilled task and every berry has to be handpicked at just the right time to ensure peak ripeness.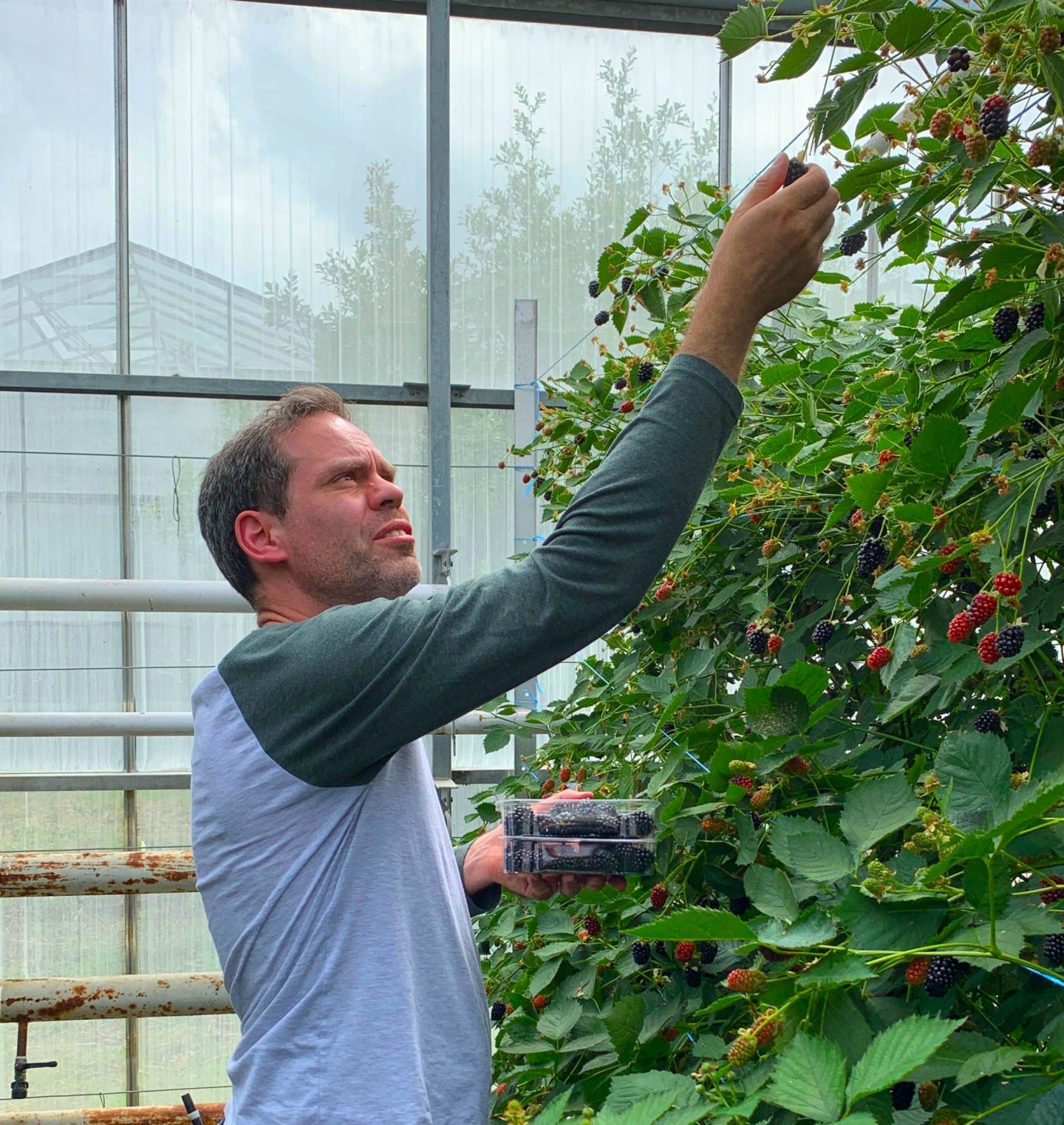 Strawberry and blackberry recipes for you to try
I could have gone to town here and given you recipes for blackberry pie and that kind of thing. As I'm a busy father, often trying to feed a family in a hurry I thought I'd provide two incredibly easy recipes that you could easily try yourself at home. 
Strawberry and feta salad
Yes, you read that correctly: Strawberry and feta salad. While on the farm tour, Marion provided us with a lunch that had been lovingly prepared by her family. This was one of the dishes we were given and it has to be the ultimate mix of sweet and sour but it works beautifully.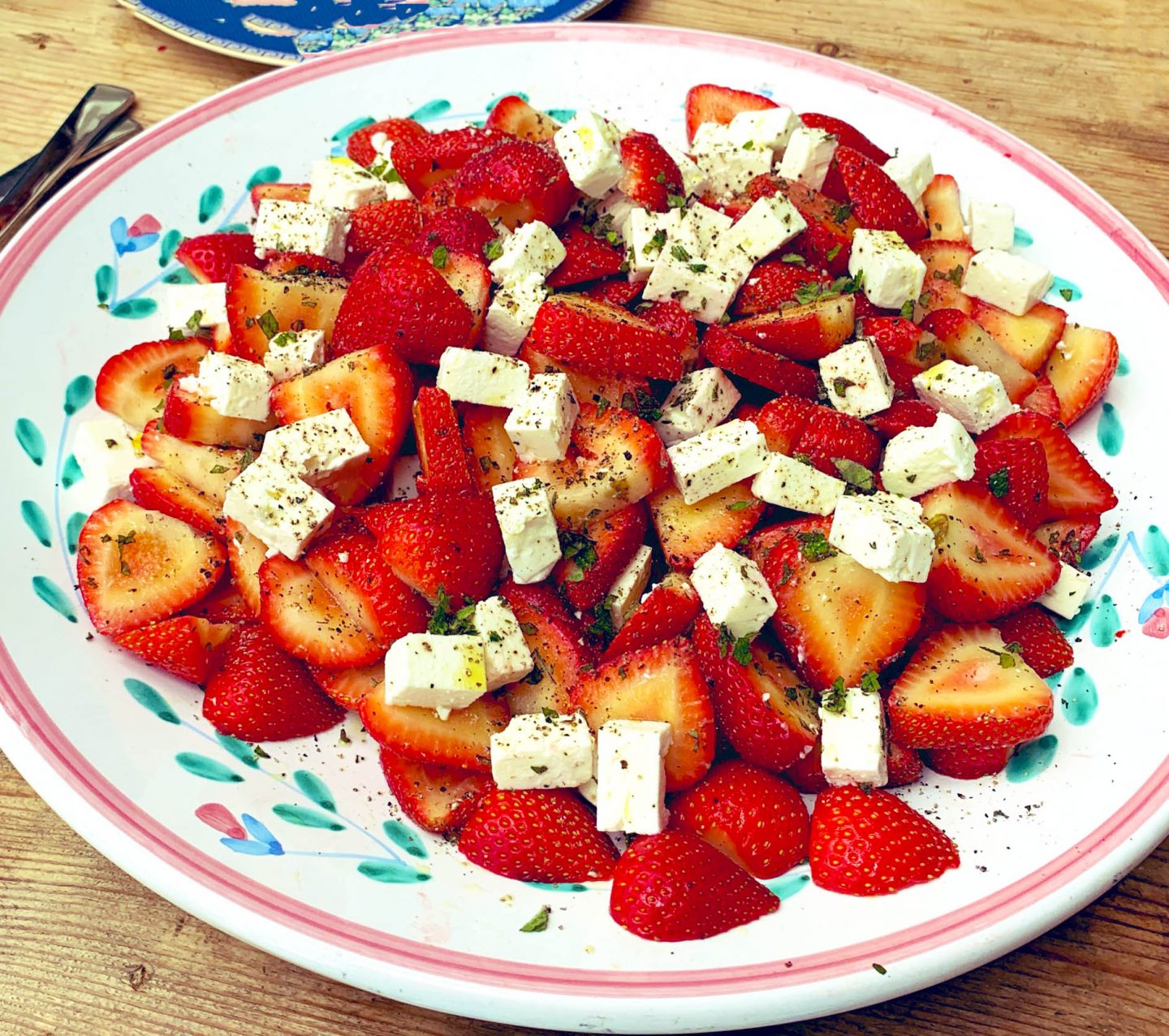 You will need
Around 350 grammes of strawberries
Around 200 grammes of feta cheese
About 50ml of Good quality olive oil, a tablespoon of balsamic vinegar and a pinch of mixed herbs.
This will serve around four people.
Method
Cut the top off the strawberries and half / quarter them as necessary
Cut the feta cheese into small cubes and mix the berries and feta in a bowl
Mix the olive oil, balsamic vinegar and mixed herbs and stir them vigorously to create a dressing
Pour the dressing over the fruit and cheese and serve.
Blackberry ice cream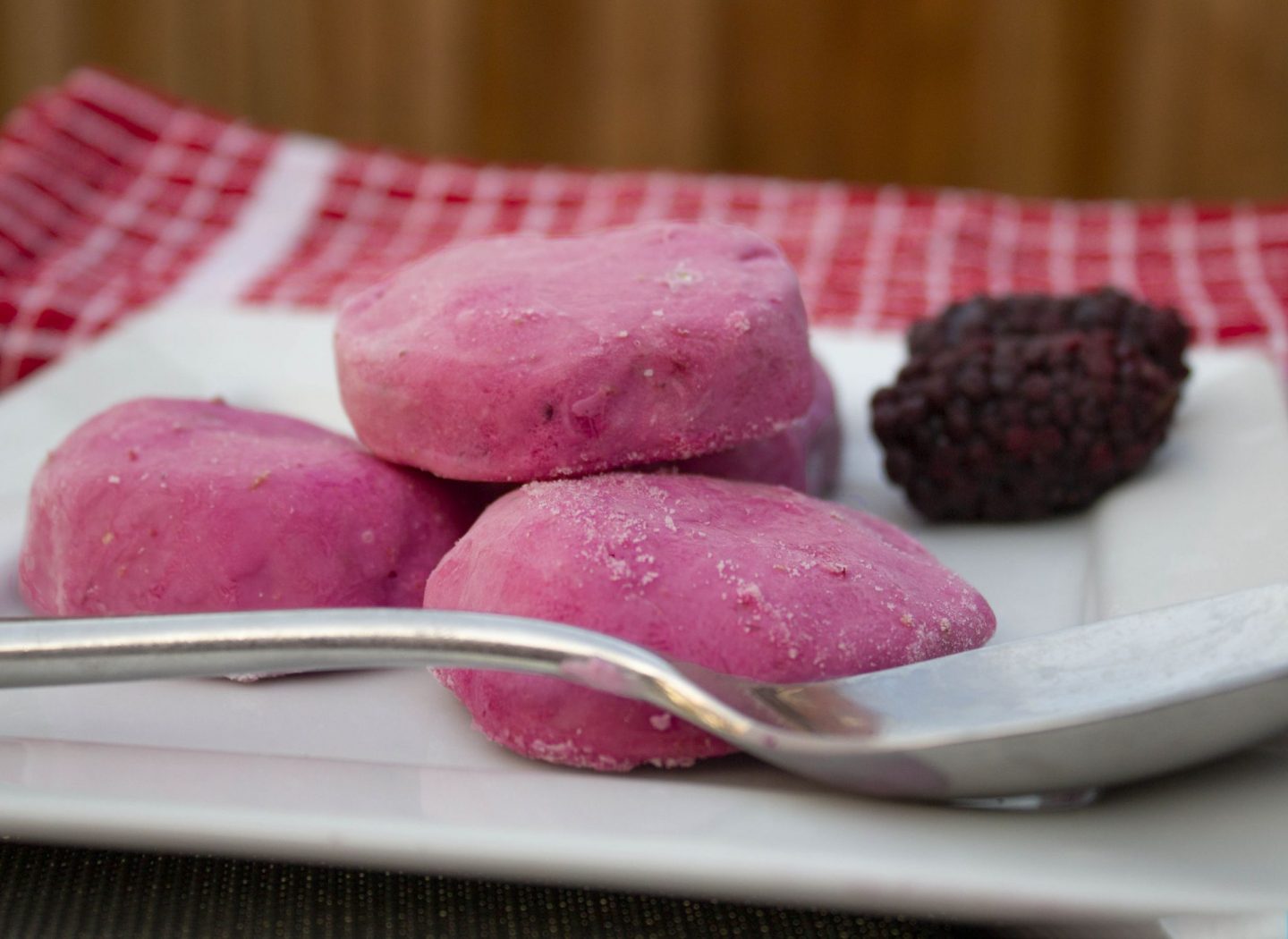 This is a soft ice cream loosely based on a Jamie Oliver recipe. My kids, Helen and Izzy love it when I make this with strawberries but on this occasion, I am substituting the strawberries for blackberries.
You will need:
Around 100 grammes of blackberries
500 grammes of Greek-style yogurt (I recommend low fat but that's up to you!)
Optional: A tablespoon or two of honey
This will serve two to three people.
Method
Wash the blackberries and then place them in your freezer until they are frozen solid.
Pour the yogurt into a blender. Slowly add the blackberries and blend. You may not need to use all of them so add them slowly.
If you want to make the ice cream a bit sweeter, add the honey.
When finished you should have a soft, blackberry flavoured ice cream. As mentioned above, you can use strawberries instead, so this is a versatile recipe.
More recipes and information
You can find more strawberry recipes by following this link to the Jubilee Strawberries website. If you want to know more Driscoll's Victoria Sweet Blackberry recipes, these can also be found online.
If you have any berry recipes to share, do please leave a comment below. Alternatively, if you have any questions about berries, pop them below and I shall endeavour to get answers for you.
Disclosure: This commissioned post was produced in association with Jubilee Selections strawberries and Driscoll's Victoria Sweet Blackberries.
Interested in this blog post? Well have a read of these...