This is an article I wrote for an old blog back in 2011. I stumbled across it on a USB stick the other day and rather liked it so here it is again, repeated for your pleasure.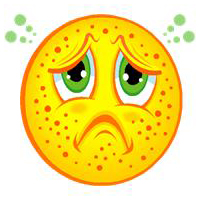 The little one fell asleep on me a few minutes ago. It was one of those serene parental moments that I love and I'm sure I'll never forget.
You see poor little Helen has chickenpox. It's been going round her nursery for weeks so it was only a matter of time before she got infected herself.
With my wife having left for work, I got Helen up this morning. I'd given her a bath, got her dressed, given her breakfast and so on. Not surprisingly she wasn't on the best form so there were some tears and demands for cuddles.
After a while I found myself sat on the sofa with the little one on my lap. I wasn't playing any music and the television was turned off so all I could hear was the sound of Helen breathing. It was deep and quick and her head was against my chest.
After a few minutes I remembered there was a BBC2 documentary I wanted to watch. If the little one was quiet and happy sitting on my knee, why not watch it?
Something persuaded me not to turn the television on. Life is busy enough, I thought. I'm always rushing round and busy so why not just enjoy the peace, sit with Helen for a little while and do absolutely nothing. That's exactly what I did.
After a few more minutes I looked down and saw, to my amazement, that she'd actually fallen asleep. This happened all the time when she was a new-born but I honestly can't remember the last time she fell asleep on my chest. It must have been more than a year ago.
I knew that I'd have to take her upstairs and tuck her in to bed, but for a few minutes I just kept her there and enjoyed the calm, peaceful atmosphere. To Helen it probably doesn't mean a great deal and has probably been forgotten already. To me, emotional old fool I can be, it was a very special moment indeed.
Interested in this blog post? Well have a read of these...