I'm a bit slow off the mark to comment on this subject, but I am wondering if the Government's proposals for childcare might include a little nugget that we should applaud. Before I launch into this subject, let me make clear that I'm against plans to increase childcare ratios.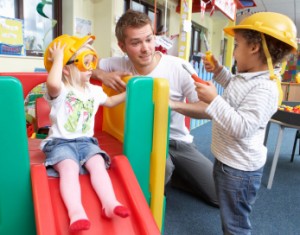 It's no huge surprise that parents, academics and even childcare providers themselves are up in arms about the idea. Just yesterday my wife and I visited a couple of nurseries and opposition among staff to the increased ratios was fierce. Let's not, however, forget that increasing rations is just one of the planned changes.
I was invited onto a local radio show to discuss the proposals with the delightful Laura Henry of the Childcare Consultany. While preparing for the interview I stumbled acrossa report produced by the Daycare Trust and the TUC called Raising the Bar.
Admittedly the report dates back to 2007 so it is a little old, but it revealed that just 2% of childcare workers in England and Wales are male. Part of the reason for this is that men see it as low paid work with a low status. Okay, so men are possibly behaving like snobs. On the other hand, let's not pretend the industry doesn't have an image problem; childcare is seen as low status work and so it's no surprise men avoid it.
Despite men's reluctance to join the industry, 77% of parents thought it would be a good thing for more men to work in childcare. This opinion was particularly strong among lone parent mothers who wanted positive male role models for their children.
You're probably wondering what this has got to do with the proposals that the coalition Government of 2012 has placed on the table. One of the aims is to professionalise the industry and ensure those working within it have basic GCSEs and encourage childcare operators to hire "highly trained" staff.
Maybe I'm looking at the world through rose tinted spectacles, but if childcare is professionalised and child minding gains a higher status, would more men enter the industry? I would certainly like to think so.
As a parent, I don't like the fact that nurseries are pretty much exclusively female-only work zones. Anyone that's done something as simple as a Myers Briggs test will know that you need diversity on any team to make it successful. As such, a female-only working environment can't be healthy.
What do you think? Should child minding be professionalised? Would you like to see more men working in the industry? Crucially, would you be comfortable with a male child minder or nursery nurse looking after your child?