Over the summer months, we watched with amusement as trampolines started appearing in our neighbours' gardens. My daughters, Helen and Izzy, made it quite clear they wanted a trampoline of their own and so it worked out very well when I was given the opportunity it's to review a TP Hip Hop trampoline.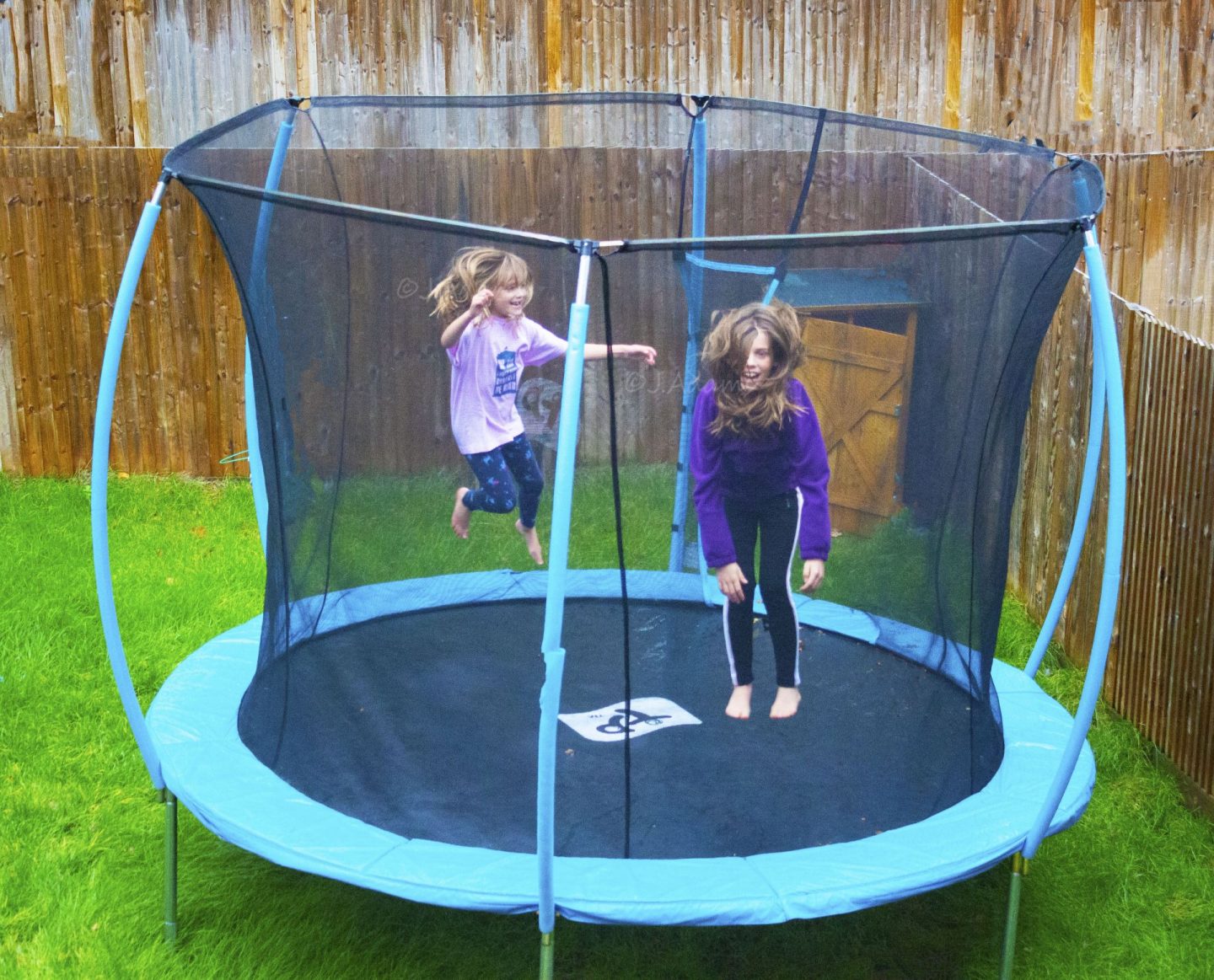 Long-term readers of this blog will know I have a patchy track-record with trampolines. This was an opportunity to put things right for my family.
Product details
TP toys has a variety of different styles of trampoline among its product offering from smaller items designed for toddlers to 'premium' trampolines for older kids who know what they are doing. We were reviewing the 12ft (366cm) Hip Hop trampoline from TP's classic range.
This product is available in three different sizes: 8 foot 10 foot and, you guessed it, 12 foot. I will simply say the 12 foot trampoline is big!
Building the TP Hip Hop trampoline
As you may expect, the trampoline arrived flat packed. Tools were provided to help with the trampoline's construction.
You start by building the base, then attach and stretch the elastic before fixing the padding in place and building the netting. To go from start to finish took a couple of hours and while I was able to do some of it on my own, I did require assistance when putting the frame together and building the netting.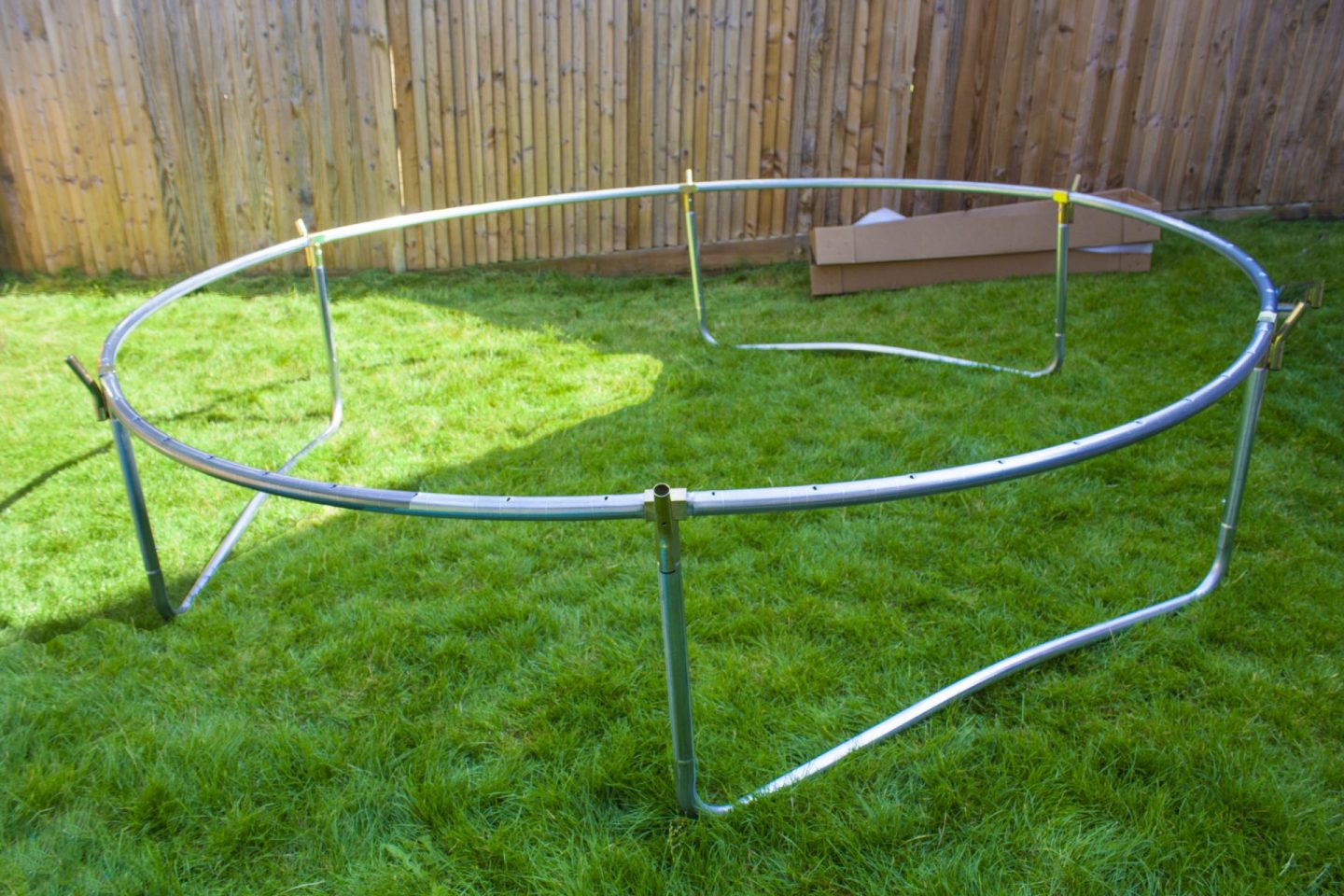 The are two points you should keep in mind when building the trampoline. Firstly, follow the instructions carefully when putting the padding in place. It needs to be in place before you put the netting up because you build the netting around it.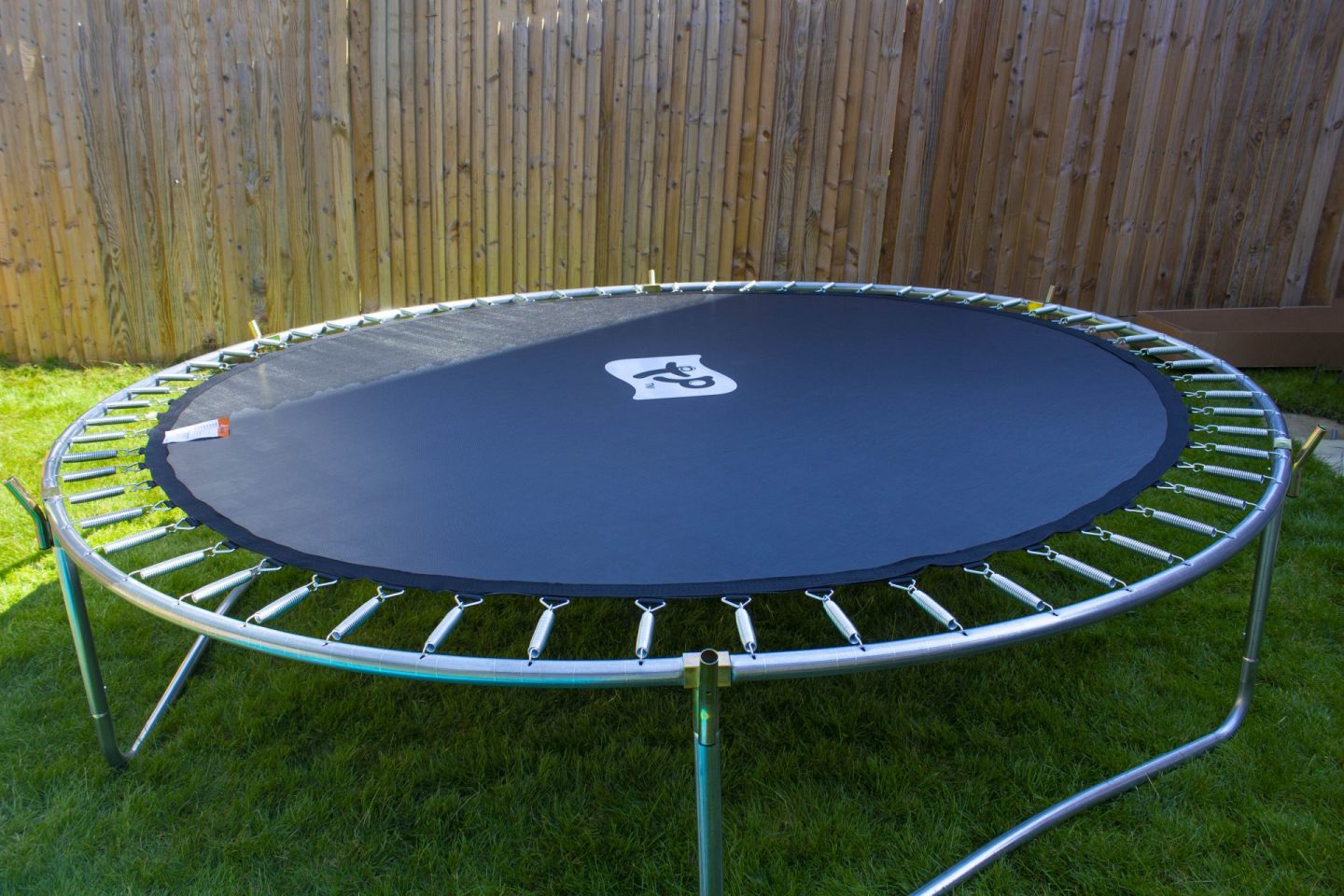 Alas, I misread the instructions. As a result, I had to partially deconstruct the netting so I could put the padding in place and then rebuild the netting. It wasn't my finest hour!
Secondly, the netting is held in place using a think nylon thread and you have to sew it in place. Don't get the wrong impression, this isn't some delicate sewing project. It is, however, the most time consuming part of the process and I confess, wasn't much fun to do. That said, the netting hasn't moved at all since it was sewn in place.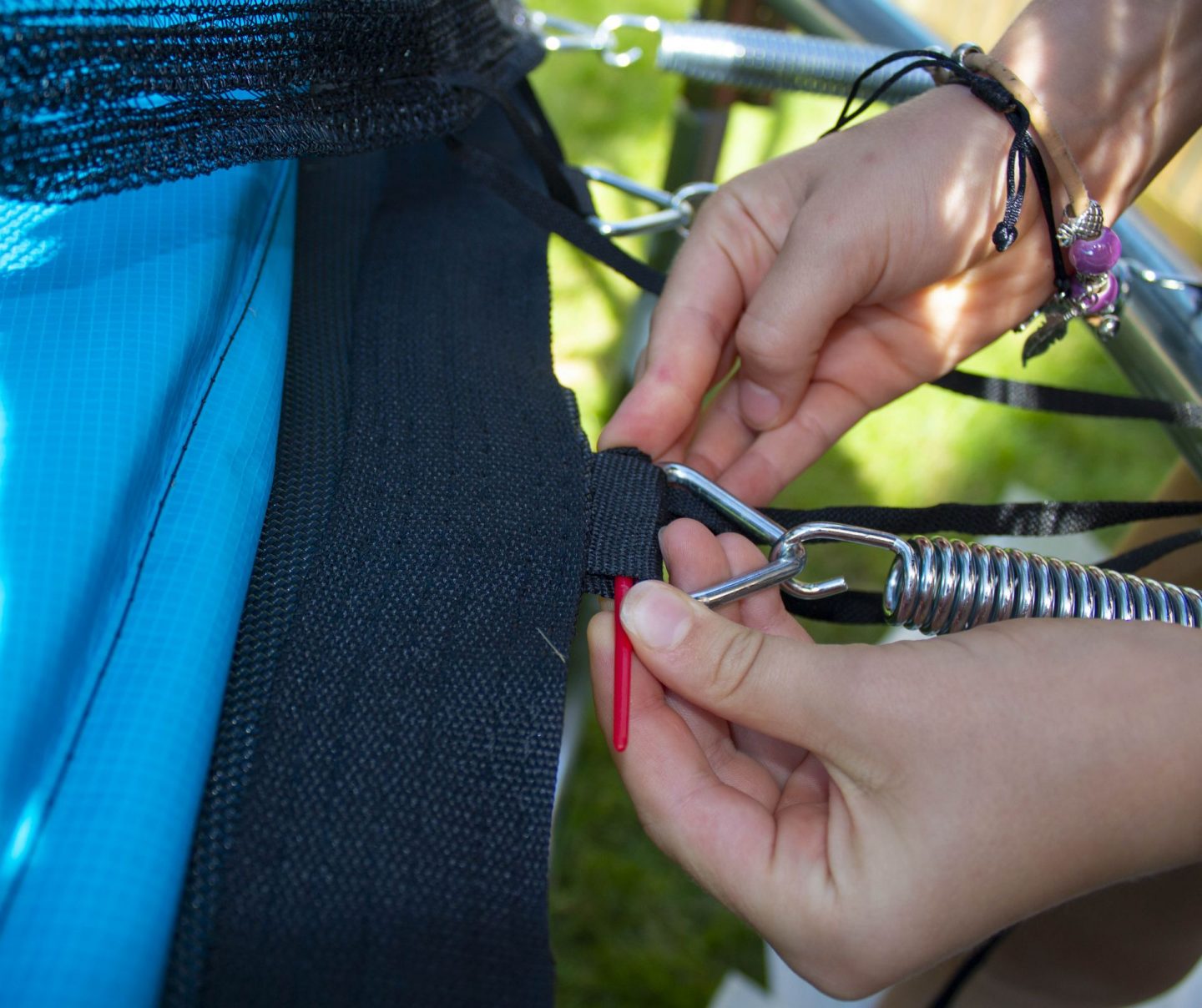 The TP Hip Hop trampoline in use
I can't claim to be a trampoline expert, but I can tell you the trampoline is bouncy! Helen and Izzy, who are considerably more used to using trampolines, also tell me it is: "Cool"
Izzy expanded on this by explaining she likes the size of the Hip Hop trampoline and said she's able to jump higher than on any previous trampoline we're owned. She also sung the praises of the trampoline's door, or entrance way, which I give more details about in the next section.
My kids are aged six and ten and are quite experienced gymnasts. For them, the 12 foot trampoline is probably the correct size (even if it has taken a ginormous chunk out of our garden!). We could probably have got away with the 10 foot version but for kids of their age, I wouldn't go any smaller than that. If you have younger kids you might get away with the 8 foot version, but do consider all of this before making your purchase.
The TP Hip Hop trampoline design
The Hip Hop does have a couple of nice design features. Firstly, it's been designed so the frame and springs are on the outside of the jumping area. This reduces the chances of the kids having an accident as they can't crash into anything made of steel.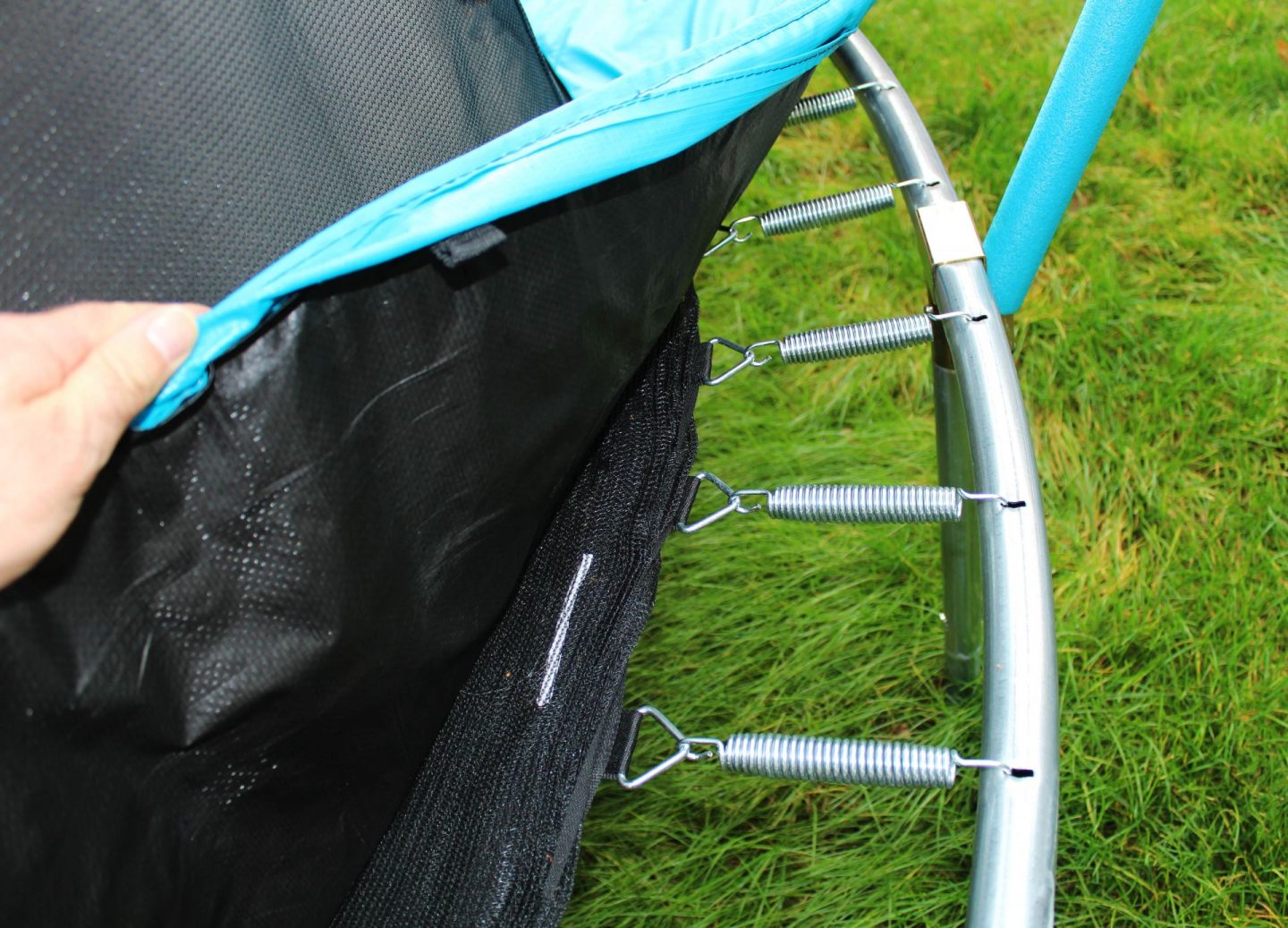 On the kids' old trampoline, the frame and springs were on the inside. Although they were covered in padding, I never felt this was ideal.
Also, you don't open a zip to enter the trampoline. There's a special entrance way, almost like a tiny tunnel you have to make your way through. As I've mentioned, Izzy is a big fan of this. Its design reduces the chances of having an accident as children can't bounce out of an unzipped door while people are climbing in and out.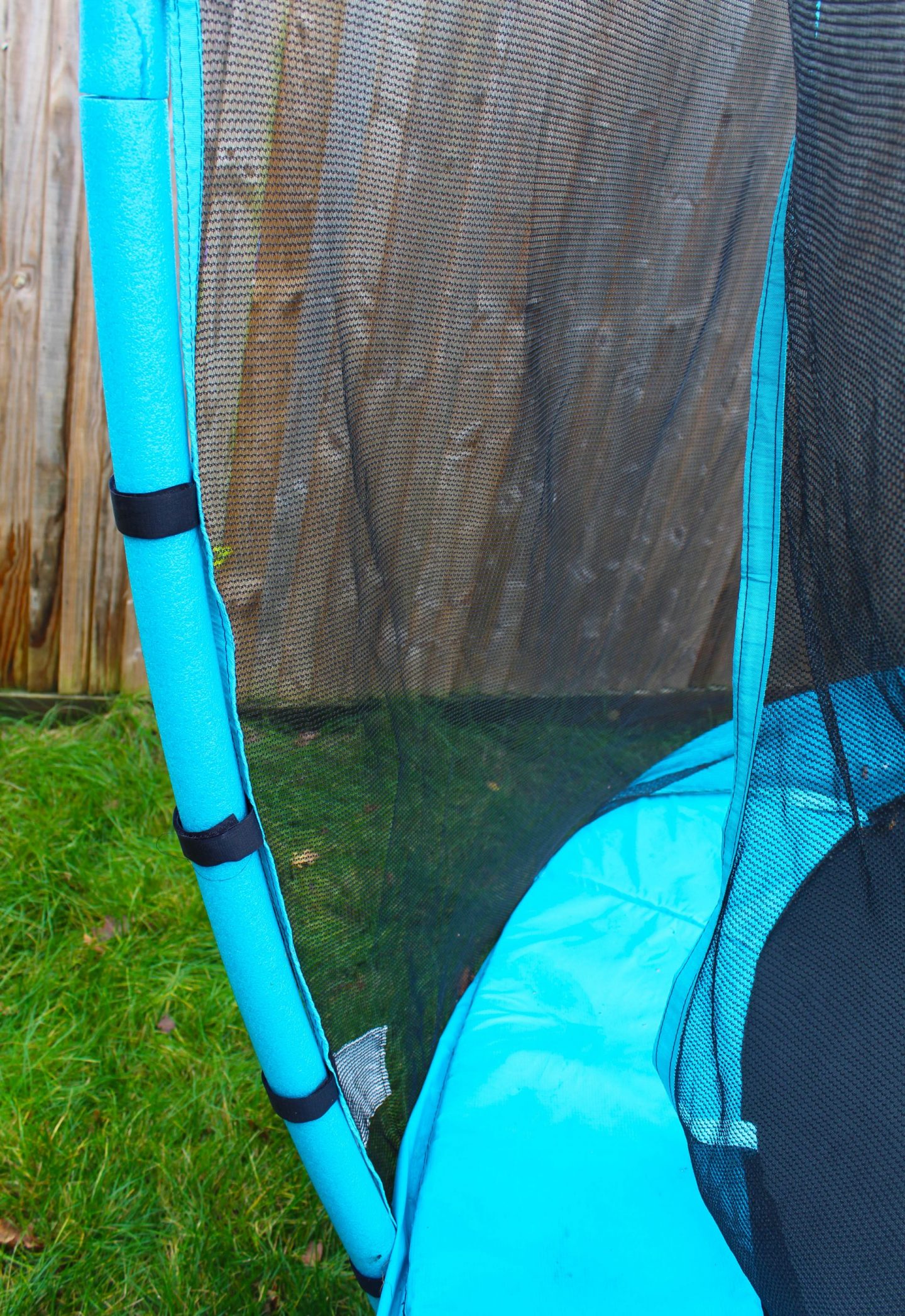 Final thoughts on this TP Toys trampoline
The TP Hip Hop trampoline is a solid trampoline. My kids absolutely love using it.
Price wise, at the time of writing the hip hop starts at £179.99. The 12 foot version we tried out was selling for £289.99 at the time of writing. It is available online direct from the TP Toys website, along with TP Toys' other products.
Building it is straightforward. That said, do allow a couple of hours and keep the points I raised about the padding and sticking in mind.
Safety wise, I liked the trampoline's design. The safety features are better than a number of other trampolines I have seen on the market.
Finally, do keep the trampoline's size in mind. Make sure you purchase a size appropriate for your needs and keep in mind the poles that hold up the netting are wider than the base.
Very best of luck with your trampolining endeavours. Happy jumping!
Disclosure: I was given a TP Toys Hip Hop trampoline for the purposes of writing this review. Thoughts and opinions are entirely my own.

Interested in this blog post? Well have a read of these...