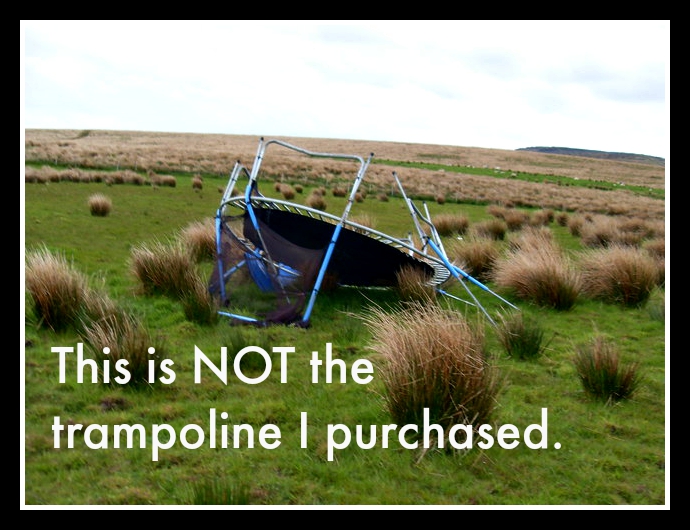 Those of you that follow me on twitter may have recently noticed some curious tweets relating to a trampoline I bought for the children and the trouble it caused me. As trampolines are in the news at the moment, this seems to be a good time to tell you what happened.
The story is rather like a fairy tale. It started off with joy and happiness and oozes positivity and promises of adventure. Then something unexpected happens and the outlook is bleak. Finally a couple of muscle bound heroes arrive on the scene to put everything right, leading to a happy ending.
Yes, okay, I'm all about equality so don't like the idea of muscle-bound men saving the day. On this occasion, however, it happens to be factually correct so we'll all just have to roll with it.
Part one, promises of adventure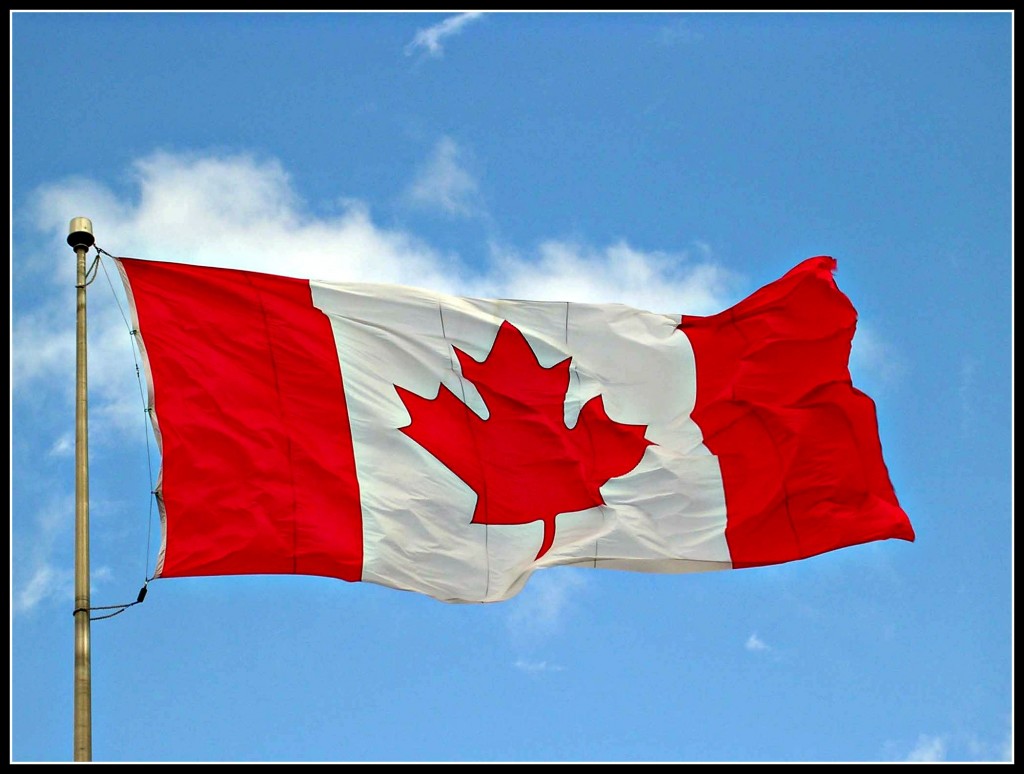 If you can picture the scene, we live on a quiet suburban street. The family that used to live directly opposite have two daughters, slightly older than my six year old.
I would frequently walk out of the house and see the neighbours' kids playing on a massive trampoline in their back garden. The sight of them playing was a constant reminder that my kids had outgrown their trampoline.
On one occasion a couple of months back, I got speaking to their father, we'll call him Steven. He explained the family would soon be emigrating and seeking out new adventures in that most dreadful of Queen Elizabeth's dominions. A nation state riven by petty rivalries that make the recent Scottish independence referendum look a kids' birthday party. Yes you guessed it; Canada.
Okay, I jest. I have travelled to Canada a few times and love the place. If I were to emigrate anywhere, Canada would be somewhere near the top of the list.
I wished his family well. We promised to say goodbye properly before they left.
The unexpected event
A few days after this conversation, I had an idea. If the family was moving to Canada, what would be happening to the gorgeous trampoline in the garden? Was it causing them a headache knowing what to do with it? Perhaps I could offer a solution.
Next time I saw Steven, I asked if he'd consider selling it. A deal was struck, I was getting a well-maintained, full size trampoline with one previous owner for £20, a tenth of what he paid for it. It was a bargain and I was very happy.
The day came when I had to collect this beast. This is where things went more than a little awry.
I had assumed this trampoline was a large, but simple, trampoline sitting on easy-to remove legs. I was going to take the legs and safety netting off and simply roll it down the path running along the side of our house, which is just big enough to accommodate a wheelbarrow.
In fact this item sat of a rigid steel frame. The steel frame, which was welded in place, featured wheels and a winding mechanism so you could fold the trampoline up, like a butterfly's wings, and wheel it away for storage.
It was too late to back out of the deal. I had to smile sweetly as Steve and I rolled it across the road to our house. Realising there was almost certainly going to be a problem with this beast's size, I wanted to get rid of Steven as quickly as I could. I said Steve must be busy, to leave the rest to me and thanked him for the trampoline.
He was very busy indeed and needed no further excuses to leave me to it. He dashed back across the road to continue packing. I dashed into my house to get a tape measure.
The path down the side of our house turned out to be 60cm wide. The rigid, welded-in-place steel frame at the bottom of the trampoline measured 80cm.
I had a problem to which there was no immediate solution. I had little choice but to get a bike lock and chain the trampoline to a hedge. This trampoline sat outside the front of our house while I figured out what on Earth I was going to do. Steven and his family, meanwhile, left for a new life and new adventures on the other side of the Atlantic Ocean.
The muscle bound heroes who put everything right
I came up with a solution pretty quickly. Our next door neighbours have a path down the side of their house that is more accessible. I was going to ask them if we could carry the trampoline down there and lift it over the hedge between our two houses.
They agreed and Oliver, as we'll call him, volunteered to help. What a guy. The two of us, however, would not be enough. We'd need at least one other person.
Enter our good friend Howard. He was able to help. The only thing is, Oliver had a holiday planned and Howard wasn't always available. In addition to this, the weather turned foul on one or two occasions when this job could have been done.
For about a month that trampoline sat in our front garden, chained to the hedge. It didn't exactly do much for the street's aesthetics or, I imagine, property prices.
Even so, the day eventually came. After all that fuss, we had the trampoline in place in about ten minutes. Although it did require the three of us, it was remarkably simple!
Thankfully the kids love their new trampoline. They play on it most days and it's a joy to watch them having fun outside on their new toy.

The moral of this story
Wherever you go in life, whatever you do, always take a tape measure with you. It could save you a lot of trouble.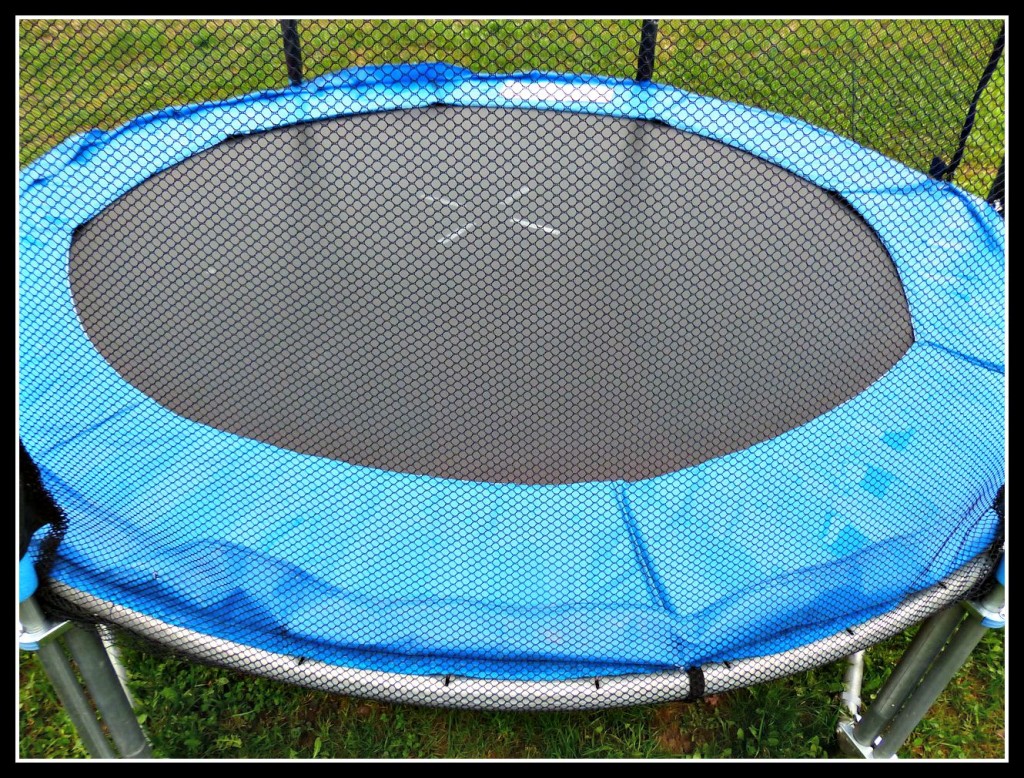 Pic credits: Broken trampoline; Kath Jones, sourced from Geograph / Canadian flag; Jared Grove, sourced from Wikipedia / trampoline, Hans, sourced from Pixabay. All reproduced under Creative Commons agreement.
Interested in this blog post? Well have a read of these...