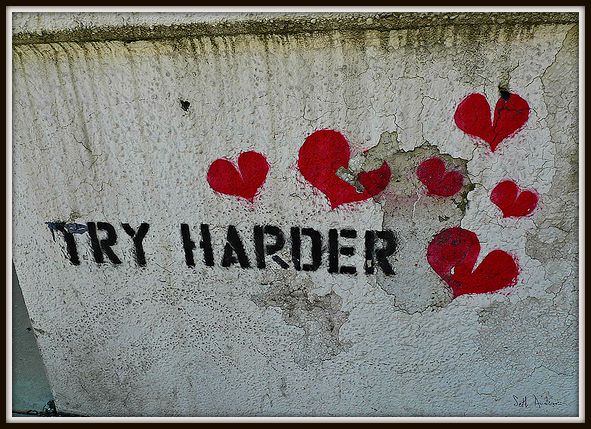 As the end of the school year has neared, I've been getting reflective about my parenting skills. Like most mums and dads, I've maybe got a bit lazy about one or two things as I gear up for the summer holidays.
I've come up with a list of things that I think I need to work on. If written in a school report, I think the comment would be "must try harder"!
Here's what I'm going to be doing. Please do have a read and tell me what you also plan to work on. Maybe we will inspire each other.

Improve my children's diet
On the one hand, I don't feel I need to be too hard on myself. Helen and Elizabeth start every day with fruit and they get fruit and / or vegetables at lunchtime and in the evening. The only thing is, I've stopped experimenting. I used to ensure there was real variety in their meals and introduce them to new foods but this hasn't happened in months. I've trotted out the same, safe, dishes time after time. They get their five a day (…most days) but I need to make sure it comes from more varied sources. Who knows, I may even get them eating salad.
Do more sports activities with the kids
I think my strong point is encouraging the kids to play outside and lead a healthy lifestyle. They swim, they cycle, they walk etc. Neither my wife nor I are particularly good at picking up a bat or ball and playing sports activities with the kids. I think we should do a bit more of this.
Be more organised with homework
By and large, we're pretty good at persuading Helen to do homework. As the end of term has neared, however, I can't deny standards have slipped. Over the summer I think we may invest in a proper desk for her to work at in her bedroom so she can escape her ever-curious younger sister who tends to wade in and break Helen's concentration.

Speak more French
I have French heritage and family. Although I'm far from fluent, I always used to speak to the kids in French and nurture an interest in the language by playing games in French and getting them to listen to French podcasts etc. Helen has a grasp of the basics but little Elizabeth hasn't progressed beyong "s'il vous plait". There are members of my family that speak three, four, five…upwards of ten languages. To get your kids to grasp a language you have to start very young and I've let this drop right off the radar. We must get back on track.
Get those stabilisers off the bike
Where we live is very hilly. It's not ideal cycling territory and so Helen doesn't get taken out to ride her bike that often. Many of her friends have been cycling without stabilisers for ages. I think the summer holidays are maybe the ideal time to work on this.
So tell me, do you have the end of term vibe? Have you got a bit lazy about anything? What are you going to change? Maybe you're brave and think your routine is perfect? Leave a comment below, I'd love to hear.
Pic credit; Seth Anderson. Sourced from Flikr.com and reproduced under Creative Commons agreement 2.0. Image has been cropped slightly and placed in a frame by John Adams.
Interested in this blog post? Well have a read of these...