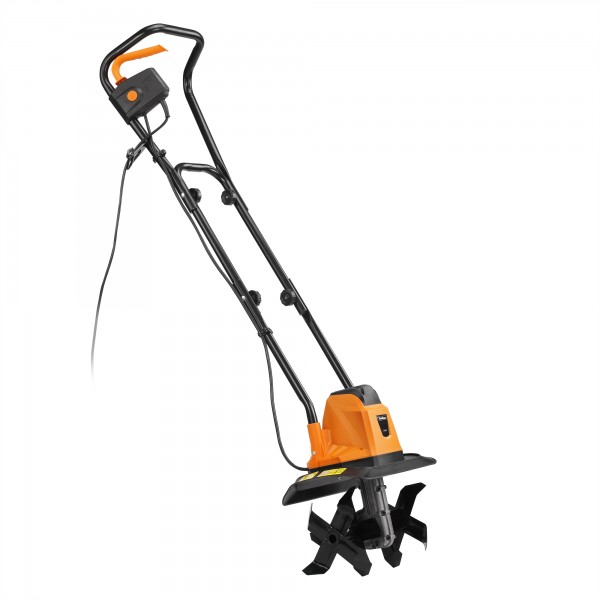 This is one of the more random product reviews I have undertaken. It is, however, no secret that I am a keen gardener. Not only do I enjoy growing vegetables but I like to get the children involved so they can see where food comes from.
With that said, this tiller is part of the VonHaus range available from Domu.co.uk. On arrival I had to assemble the handle, but this only took a few minutes.
I'll be entirely honest. It didn't strike me that this product would be particularly powerful. Although it has a 1,050w motor it looked very small and I wasn't sure it would pack much of a punch.
The tiller has a safety switch that must be pressed before you pull back on the handle and engage the engine. Once I'd figured this out and got it going, I was very surprised at how powerful it was.
To simply break the soil you allow the tiller to move forward at its own pace. To really churn things up, however, you pull the tiller towards you. Using this approach it did a fantastic job. In fact soil was sent flying all over the place at times!
I was also very impressed at how easily the tiller handled stones buried in the ground. A few large ones came to the surface while I was using it but the machine either chopped through them or simply left them on the surface.
My vegetable patch is not very big and aside from a good potato crop it wasn't used much last year. The soil desperately needed turning. I also threw some soil improver onto the patch and let the tiller work this into the ground. I had the lot done in about 10 minutes.
I think this would be suitable for anyone with an average or small garden. It's done wonders to mine and I will, very shortly, get to work planting this year's vegetables in soil that has been wonderfully tilled.
I liked this tiller. It's done a great job in our vegetable patch and I will use it again in future. Expect to pay £59.99.
Interested in this blog post? Well have a read of these...