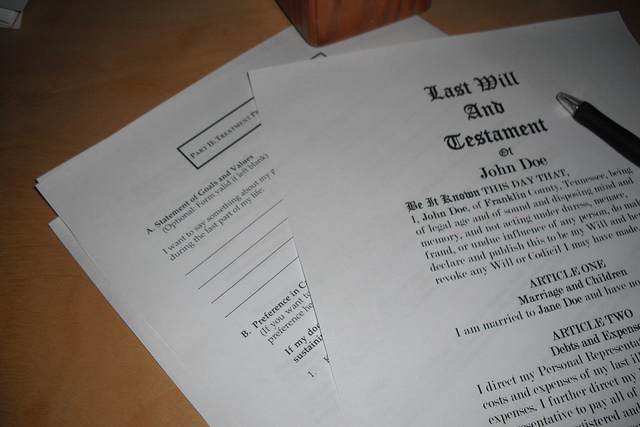 I have been slightly melancholy over the past few days. The reason; my wife and I have at long last employed a will writing specialist and are making plans in case something awful should happen to us. I'm not so bothered by the fact I'm staring my own mortality in the face. It's the thought of not being around for my family and daughters that has left me feeling more emotional than usual.
Needless to say, we should have got wills written years ago. To be honest, we should have done it when we were expecting our first child.
It seems, however, that we are not alone. Last week's Sunday Times included a feature about wills that stated three in four people aged between 16 and 54 do not have one (the figures apparently coming from the Law Society).
When we completed our house purchase, the solicitor, a guy I've known a good few years, said "I now want you both to think about wills." I was quite nonchalant about the whole thing. As far as I was concerned, it was very straightforward; if I died, all assets would pass to my wife and children and if Mrs Adams died, everything would come to me and the kids.
The solicitor then hit us both with a verbal sucker punch. I can still remember his words; "It's all very well if one of you dies, but what if you both die?"
That comment caught me completely off guard. It was a scenario I had never even considered and I just didn't know what to say in response.
I had suspected he would get a commission payment or finder's fee for passing us on to his practice's will writing specialist. Even if he was, his words certainly concentrated my thoughts.
I began to process and compute all the possibilities of what might happen to our daughter (we only had the one at the time) if Mrs Adams and I were no longer around. It's not a pleasant thought, but a simple car crash is all it would take to leave our kids without parents.
I've witnessed enough car crashes to know it could always happen. Just off the top of my head I can think of four road traffic accidents I've seen, three of them pretty big ones.
If the unthinkable happened, then what? The financial aspects of our wills should be relatively straightforward. In a bizarre way, it's not actually about inheritance. It's the other aspects that have left me melancholy. It's about providing security for the kids and expressing a wish as to who they should live with, what we would like provided for them and so on.
Truth be told, it's a grim process. Needless to say, I'm hoping that none of this actually comes to pass. Even so, I'm glad we're putting a plan in place in case it does.
Writing a will may be messy, but I have come to appreciate that dying without having one in place could be absolutely disastrous for those left behind, especially our offspring. They're the reason we're doing this. A little melancholia is a tiny price to pay for their security if the worst ever happens.
Pic credit: Ken Mayers. Image sourced from Flikr.com and reproduced under Creative Commons agreement 2.0. For more information about Creative Commons and links to the various agreements, please visit my Disclosure page.
Interested in this blog post? Well have a read of these...