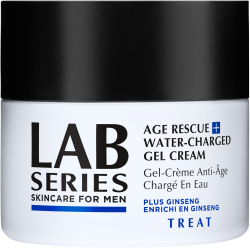 Over the past couple of weeks I've been trying out a couple of products from the LAB Series skincare range. One was a moisturiser the other, in deference to the weather, was a lip balm. Here's how I got on.
LAB Series age rescue + water-charged gel cream
As LAB Series was created by the same family of companies that produces the superb Clinique skincare range for men, I had high hopes for this product. I wasn't disappointed.
This moisturiser has been designed to "combat the first visible signs of aging skin". It features a number of traditional ingredients but is combined with water and silicone to seal in the hydration and fight wrinkles, loss of firmness and a fatigued look.
I can't list all the ingredients as there are so many. Included on the list, however, are; ginseng root extract, yeast extract, cranberry fruit extract and caffeine.
According to the marketing material, you can expect two sensory experiences. There is a "first burst" as the cream is absorbed into the skin. A few seconds later, there is a second "refreshing burst" as the water in the cream hydrates the skin.
Personally speaking, I have experienced no "burst". That said, having been using it for a couple of weeks I have definitely noticed a difference to my skin. It's very rare indeed for me to be able to say that, especially after such a short space of time. Wrinkles (yes, I have one or two) are less prominent and my skin has looked a lot healthier.
This gets a big thumbs up from me. Expect to pay £45 for a 50ml tub.
LAB Series Pro LS lip tech balm
Over the winter months I rely on lip balm and also the occasional bit of hand cream. I like to consider this a testament to living an active lifestyle as opposed to being un-masculine!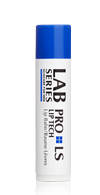 This is a relatively new addition to the LAB Series range having only been introduced this October. Ingredients include; hydrogenated vegetable oil and vitamin E to moisturise, beeswax to reduce shine and shea butter to soften the lips.
I've found it to work very well.If you've been outside and your lips are a bit rough you only need to apply it the once to revive them. Unlike similar products, you don't have to keep applying it once you've started using it.
Expect to pay around £8 for a 4.25g tube.
Both products are available from House of Fraser, Debenhams, Boots and also from the LAB Series website.
These products were provided to me for review purposes. All thoughts are my own. To see my disclosure policy, please follow this link.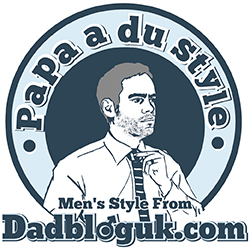 Interested in this blog post? Well have a read of these...