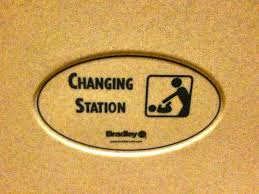 I received a tweet earlier today from the marvellous @LauraChildcare. She wanted to tell me about a campaign in the United States for more baby change facilities in men's lavatories. This may seem like quite a mundane topic, but the response to a couple of tweets from me, plus a quick look at some online for a, reveal this is a debate that stirs-up incredibly passionate opinions among parents.
I'm going to wade in and say this can be a major problem, but possibly not for reasons that are immediately apparent. Only very rarely have I been unable to find a changing station. In most public buildings change stations can be found in the disabled lavatory. This is where the problems arise and I'll give a couple of practical examples.
On one occasion I had to change the baby in London Victoria train station. After searching high and low, I discovered the changing facilities were in the disabled lavatory. I had to yomp right across the concourse (not a short distance) and ask someone for a Radar key so I could let myself in.
Once inside, I was staggered. It was absolutely gigantic. In fact it was so large I am surprised it didn't have its own rail station.
On another occasion, I had been enjoying a post-swimming snack with my eldest daughter in the bar of a large, family friendly pub. She needed the lavatory (okay okay, this isn't a baby changing story but stay with me, it is relevant). She wasn't old enough to go on her own and so the best idea was to take her to use the disabled facilities.
The staff couldn't find the Radar key to open the door and I grudgingly had to take her to the gents. As I say, that wasn't a baby changing issue, but the principle remains. There were no baby changing facilities in the gents so what if my baby daughter had been with me and she had a soiled nappy? More worryingly, what was someone with a disability expected to do?
The examples above raise a couple of issues. Firstly, you cannot assume pubs etc will let you into the disabled toilet, especially if they have unwittingly lost the key. Second, should individuals with disabilities really have to wait to use the lavatory while a baby is having his/her nappy changed?
In my experience the best baby change facilities can be found in places where they've been removed from the lavatory altogether. I can think of a couple of motorway service stations with brilliant stand-alone change stations in a completely separate room. If I were to issue awards for such things, however, I'd give it to the Buchanan Shopping Centre in Glasgow. Not only is it very heavily used by mums and dads, but, as an added bonus, the legendary Whisky Shop is a short lift journey away.
In summary, yes, I would like to see more baby changing facilities in gent's loos. I'd also like to see more stand alone changing facilities that could be used by mums and dads.
One final note to anyone thinking of providing some kind of public change station. I've just googlewhacked "wall mounted baby changing station." You can buy one for £140, including VAT. That's a small price to pay for customer loyalty and it's the kind of thing people remember.
Photo credit: Shane Becker. Reproduced under Creative Commons agreement.
Interested in this blog post? Well have a read of these...