I am today launching a new, weekly, feature on this blog. Inspired by the reaction to my recent posts about baby change facilities for men, I am going to post pictures of various examples where I find them. You can see the previous posts here and here.
This is a topic that people seem to get really passionate about. Having spotted one of my earlier posts, I was recently interviewed about my experiences on BBC Radio Jersey. It turns out parents on the island are very underwhelmed at the facilities provided for them and so a campaign has been launched to improve what is on offer. I've also seen some amazing discussion threads on Mumsnet dedicated to baby change facilities (a staggering 5,020 search results on this subject).
The aim of this new feature is to highlight instances of good and poor practice and to demonstrate how difficult it can be to find good quality facilities as a dad (or indeed, as a mum. I've seen some very poor examples laid on for us all). I will also have some fun along the way and highlight some of the funnier things I come across.
I'll kick this feature off with a picture I took in a Costco outlet the other day. This was a change facility laid-on in the gents so it was specifically meant for the dads.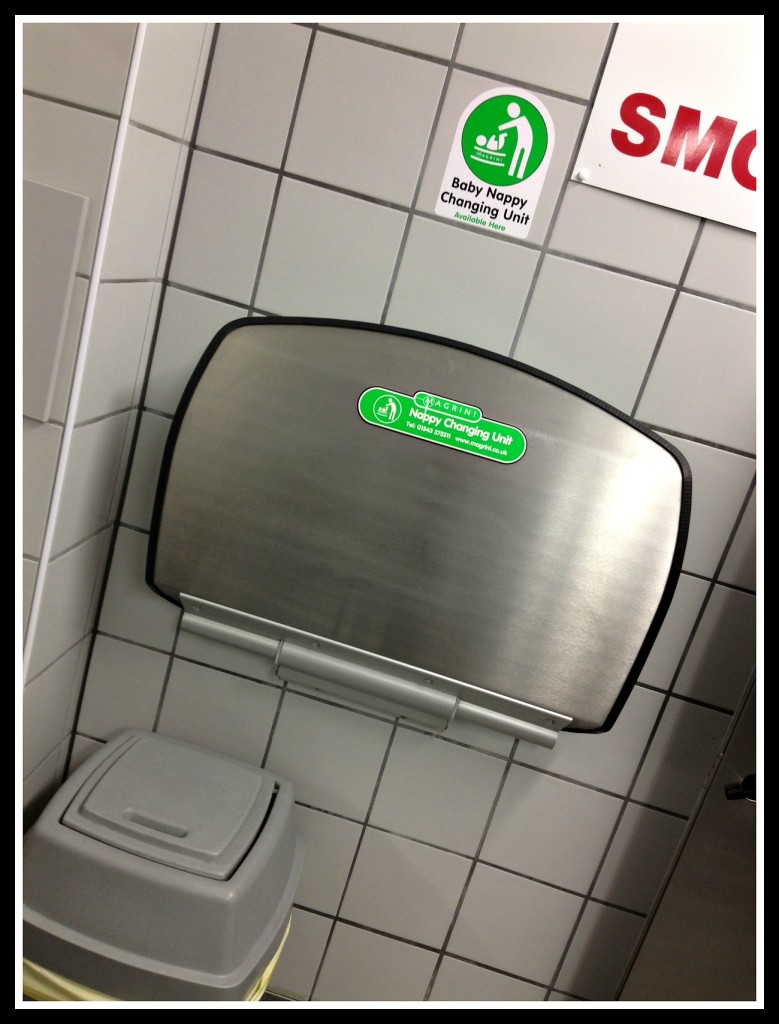 Just look at that table. You'd need to use a tractor to drag that thing off the wall; it's incredibly sturdy. Note also the gender-neutral sticker denoting it as a change table.
This particular item was brushed steel. Although you can't see it from the picture, it fitted perfectly with the surrounding decor as the cubicles and urinal facilities all had the same finish (can I just point out at this point that my tongue is firmly in my cheek). The decor reminded me of a horrendous nightclub I would occasionally visit in my teens and twenties.
Note also the bin. Although standard in most facilities, I have seen them with no bin, thereby forcing you to spend the rest of your day burdened with a soiled nappy.
I wouldn't have expected anything quite like this in a retail warehouse. I was, however, quite impressed. Sure, it could have been improved by adding a table for the changing bag. That said, this changing unit was ginormous. I think you could easily have placed one on the table along with your child.
I give this example seven out of ten. I have seen better elsewhere with free wipes and sanisiters etc but credit where it's due; at least Costco placed this where dads could use it. Those are my thoughts, but what do you think? Please leave a comment below with marks out of 10.
Interested in this blog post? Well have a read of these...