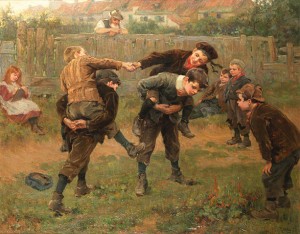 A little while ago I wrote a blog post about the challenge my wife I faced keeping our children entertained over the Easter holidays. We'd spent a fortune over the Christmas break and didn't want to make the same mistake a second time.
The post attracted a response from the delightful Maren Wryn. Maren, who lives in Oregon in the US, said; "My mom used to entertain us (me & my 2 years younger brother) by requiring us to "go outside, now!" We were responsible for everything else after that."
I'm sure that we can all relate to this to a greater or lesser degree. I grew up in a very rural location with two (considerably) younger brothers. There was no soft play, no cinema for Kids AM viewings or Monkey Music. I was sent out with a bike / tent / go kart / bow and arrow and left to my own devices.
I'm not a doom and gloom merchant. I think this healthy approach to parenting is more widespread than is acknowledged.
I do, however, feel that us parents are under intense pressure to keep our children occupied all the time and this can often involve spending money on expensive activities (can I just do a quick plug and mention that I'm presently doing the World Cancer Research Fund's #MoveMoreChallenge. Read about it here).
Popular opinion would suggest this is because us parents are paranoid about health and safety and so don't want our kids out in the street or park without a chaperone. Maren's comment got me thinking and I questioned whether this is the case. I've come to wonder whether there are so many unhealthy activities available at home that we're all spending money to get the kids out of the house and, well, active?
When the school holidays come around, are we dashing off to soft play centres to keep our children away from the iPad? Are we booking intensive swimming courses at half term to keep youngsters away from the Wii?
Are we all doing the wrong thing with the best of intentions? Wouldn't a swift game of Simon Says achieve much more?
Of course, my children are still very young. A more experienced parent may have a completely different point of view. I'd be interested to hear what you think. Do you do your utmost to keep your children entertained or do you leave them to entertain themselves?
Interested in this blog post? Well have a read of these...