When it comes to jewellery, us men are at a bit of a disadvantage compared to women. I know men that really go to town when they buy a watch because it's one of the few pieces of jewellery they can wear.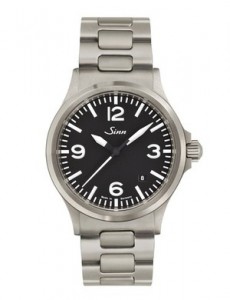 I have to confess that I am one of those people that likes a good watch. These days I spend so much time entertaining children or doing household tasks that I rarely put my watch on my wrist but when I do, it feels great.
Just the other day I was introduced to a new and very stylish brand of time piece. The company is called Sinn Watches. It's a high-end brand with a price tag to match but they are wonderful looking products.
In many respects these watches are ideal for the modern father. For all intents and purposes they've been designed with extreme sports aficionados in mind so they not only look good but are incredibly hard wearing. I mean what can an extreme sport throw at a watch that a young child can't?
The company itself was founded in 1961 by an individual called. Helmut Sinn. Helmut liked extreme sports and he specialised in 'blind flying'. For those uneducated in such matters (this includes me) this is when you fly relying on nothing else but cockpit instruments and use no visual references.
It turns out that Mr Sinn was unhappy with the navigation clocks he was using. Proving that necessity is the mother of invention, he started to make his own but quickly diversified into making watches as well.
It's a rather nice story and one that has done the rounds. I mentioned it to a friend of mine who happens to have several hours flying experience. Sure enough he was familiar with the tale and had been thinking of getting a Sinn watch himself. Unlike me he's not a dad so he can look stylish without looking harassed at the same time!
This post was written in association with watch retailer Page and Cooper.
Interested in this blog post? Well have a read of these...