I have a confession to make. Until a couple of months ago, I had never owned a Dyson vacuum cleaner, let-alone a cordless one like the V8 Absolute.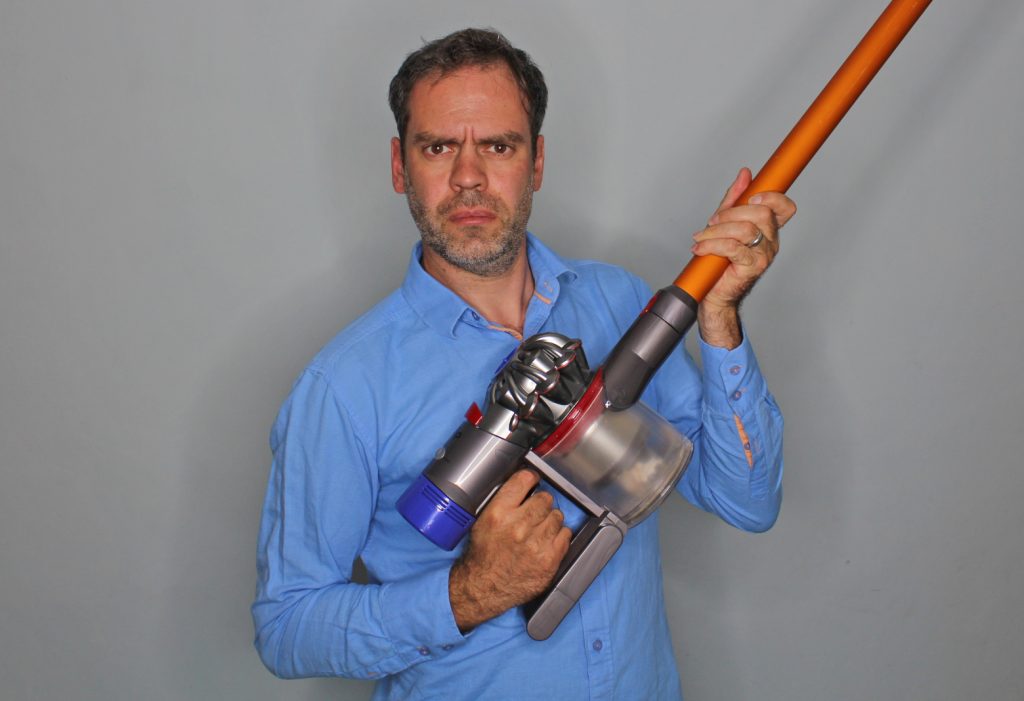 In fact, I was a little suspicious of Dyson. Could the company's products really be as good as I'd heard?
A vacuum cleaner is, after all, simply a domestic appliance. It's something that gets stored away when not in use, it's not like an oven or a fridge that are at the centre of domestic life and which can ruin or improve a room's ambiance.
The Dyson V8 Absolute then entered my life. I wasn't convinced it could be anything like as good as the upright, mains-powered vacuum cleaner we own.
The upright was a special offer purchased from a supermarket. Although cheap, it's so powerful I'm pretty sure you could create your own weather system simply by turning it on and pointing it towards the sky (not that I've tried, that's far too risky). Yup, the Dyson V8 was going to have to do a lot to impress me.
First impressions
The Dyson V8 Absolute was very well packaged. Held in my hands, it was instantly obvious how to use it: you simply depress the trigger in the handle and it comes to life.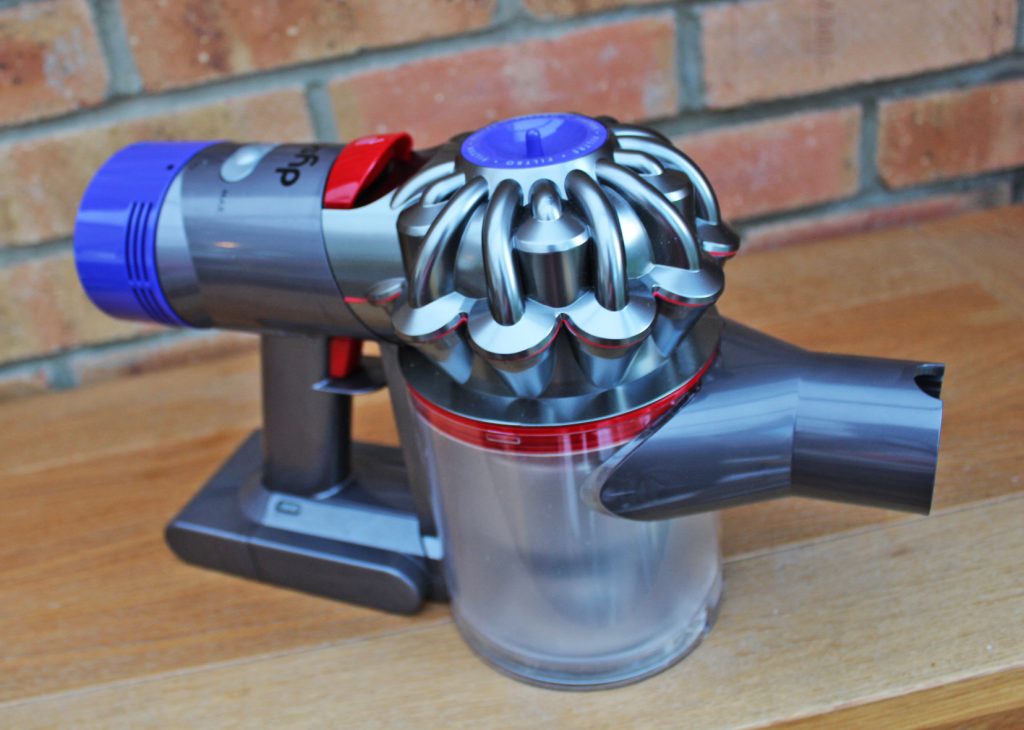 There are two power modes, normal and max. There is a big difference between the two and I tend to use max.
The other thing that struck me was the device's weight. At only 2.6 kilograms it is much lighter than any vacuum I'd used in the past and I instantly got the impression it would be very maneuverable.
I was not disappointed when it came to maneuverability. Free of a cable and light in weight, you can use the Dyson anywhere at any time. Without the extension tube, it makes for a great hand-held device ideal for using in confined spaces such as a car.
Put to the test
I thought I would devise my own test to see how well the Dyson V8 Absolute worked. How would it perform if I tipped the contents of a tea bag on the floor, sprinkled some flour around and finished off by adding a spoon full of instant coffee?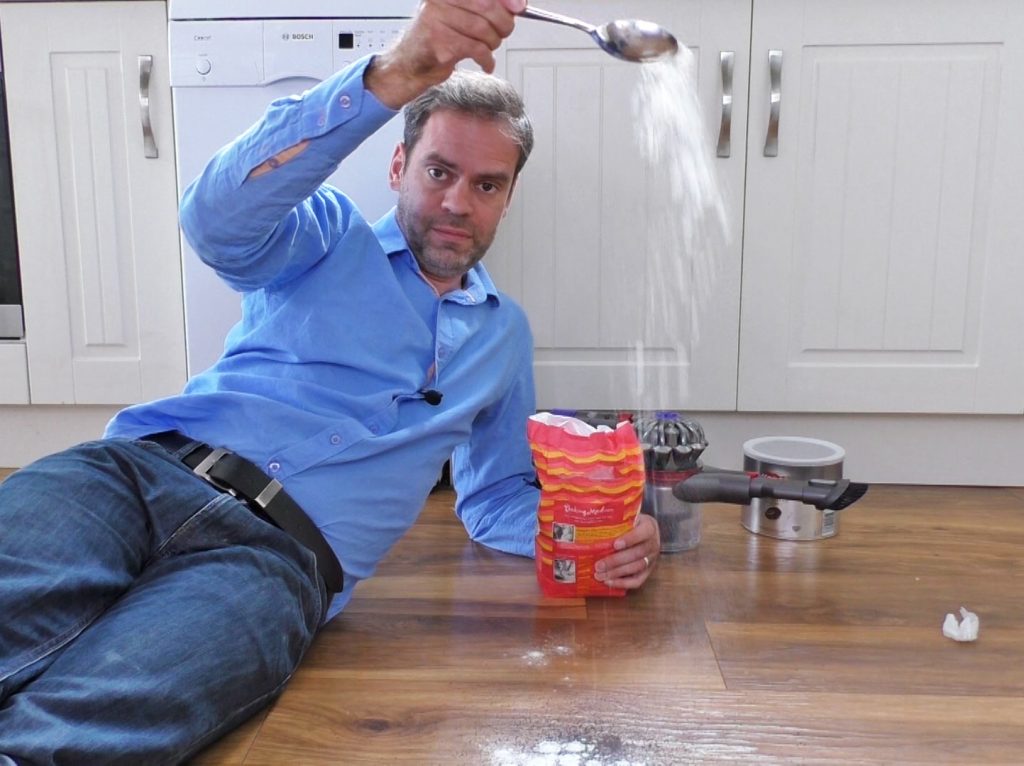 This is exactly what I did and I put together a video of my exploits. I encourage you to watch it to see how the Dyson performed. Go forward to three minutes if you want to watch the fun stuff.
Thoughts on performance
We have been using the V8 for the best part of two months. In that time, our upright vacuum hasn't been used once.
This, I think, tells you all you need to know. Free of the cord, it is very simple to use anywhere. The maximum battery life is apparently 40 minutes if used on normal mode but as we leave it on charge, we've never run the Dyson flat.
Be it on carpet or our hard-surfaced kitchen floor, the Dyson V8 has completed every cleaning challenge thrown at it. It's also very light so even our kids have had fun vacuuming the floor.
Other features to be aware of
As you would expect, this product comes with a variety of attachments. There are a couple of floor-cleaning attachments, a crevice tool and an upholstery tool plus an orange extension pole (visible in the top picture). All attachments clip into place with ease.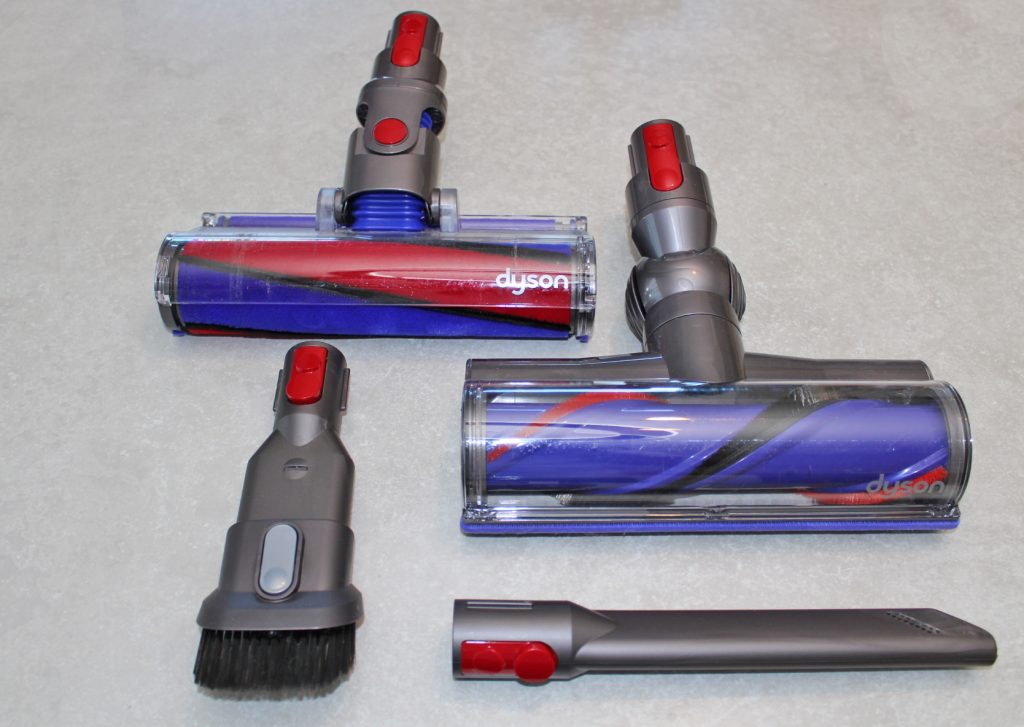 The bin is quite small at 0.5litres. I tend to empty the bin every time I use the V8.
Some may find the constant emptying a bit of a chore. Personally, I like it. The bin is completely transparent so you can see exactly how much dust and muck is in there. I think seeing what is in there, rather than the bin's size, is what compels me to empty it so often.
The bin is also very easy to empty by pulling on a red handle on the top of the device. Dyson calls this the hygienic dirt ejector and I demonstrate its use in my video.
It's easy to see why it was given this name as you don't touch the contents of the bin at all. It all drops out the bottom and you then clip the base shut and on you go.
The Dyson V8 Absolute also has a wall-mounted storage and charging unit. Unless in use, this is where our's rests, although it does only provide storage for a couple of the attachments so you will need to put the other pieces elsewhere.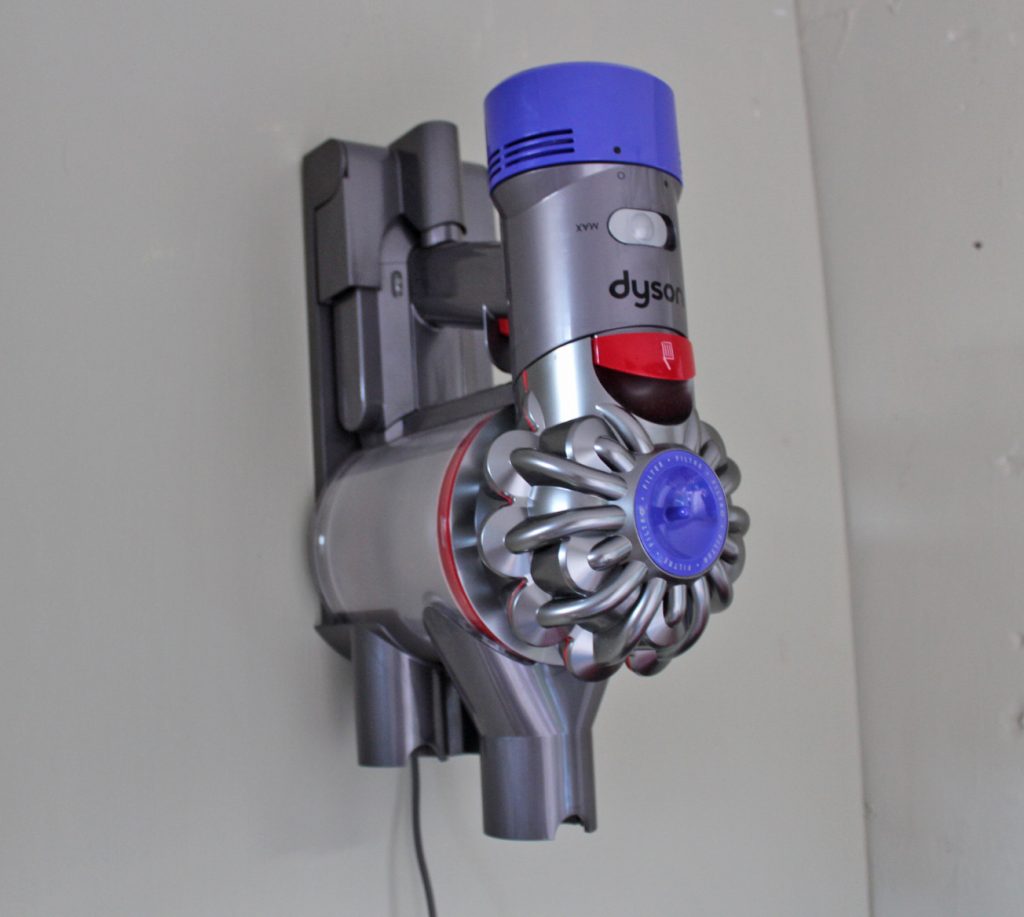 Cost
This is a Dyson  so it's a highly engineered product with a corresponding price tag. At the time of writing it was listed on the Dyson website for £520. That said, I have seen it for sale elsewhere at considerably less so do shop around.
Final thoughts
I challenged Dyson to impress me and persuade me it was worthy of all the fuss. The V8 Absolute has done just that.
The maneuverability is what impressed me most. The V8 has done everything our redundant upright vacuum cleaner can do and we haven't experienced any issues with the battery going flat.
It would be nice if that wall-mounted unit provided some additional storage for attachments, but that isn't a deal-breaker for me. The Dyson V8 Absolute also comes with a higher price-tag but you can tell this is a quality item.
It's a great product, I would recommend it and yes, I do get quite excited when I have to use it. Oh, and should you know of anyone looking for a cheap, used, upright vacuum cleaner with one previous owner and low mileage, do let me know. Our old one is looking for a home.
Disclosure: I was provided with a Dyson V8 Absolute for review purposes. I was also compensated for my time producing the accompanying video. Thoughts and opinions entirely my own. 
Interested in this blog post? Well have a read of these...