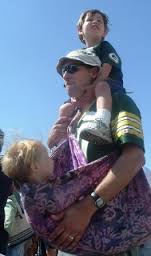 Did you know Wednesday was International Men's Day? If you're one of the 0.5% of the population that was aware of this fact then I salute you for being so switched on. Unfortunately it doesn't attract quite the same attention as International Women's Day.
The theme of this year's event was working together and I've spent the past couple of days pondering this. It really got me thinking hard and I feel the need to celebrate and acknowledge the efforts of the stay at home dad (SAHD).
For whatever reason, I've noticed a sudden rush of SAHD's following my blog and commenting on it. I have no idea why this is, but I have a simple message for all them; you are awesome. By taking the main role in raising your children you are doing a huge amount for gender equality. As a stay at home dad myself, I know it isn't easy and guys in this role have considerably less support, especially social support, than mums.
Hold your horses 'though! I don't just wish to celebrate the SAHDs. As I said above, the theme of this year's International Men's Day was working together. If there's something I've personally come to recognise recently, it's the huge effort and sacrifice my wife makes to provide for this family. I therefore think it's right and proper to celebrate efforts of all the breadwinning women that live with, and rely on, a SAHD to keep the household running.
My wife is out of the front door before seven am and commutes for three hours a day. There are times she isn't back home until seven pm and I can see how tough and tiring this is for her. Like many other couples across the world, we work together to raise and nurture two beautiful children. Taking on the breadwinning role while also being a mum of two young kids is something that attracts comment. This point has to be celebrated and acknowledged.
Let's return the focus to SAHDs for a moment. Not all SAHDs are fortunate enough to have a partner to rely on. Around eight per cent of single parent households are headed by a man. In percentage terms that may be a small figure, but that represents 186,000 households across the UK.
I have the greatest respect for all single parents, be they mums or dads. I have no idea how they do it. I certainly don't wish to downplay the immense efforts made by single parent mums but 186,000 families is not insignificant.
I don't care if you're male or female, mum, dad or child free. I think the majority of people simply want the world to be a better place and we should all be working together to achieve this. I would personally feel much happier if we had an annual equalities day instead of a day for men and a day for women. In the meantime, however, spare a thought for the undoubtedly tired, harassed and simply amazing stay at home dad.
Pic credit: B Cantrall. Published under Creative COmmons Agreement 3.0. For further information and for a link to the agreement please see my disclosure page.
Interested in this blog post? Well have a read of these...