This post was inspired by #ThePrompt linky hosted by the Mumturnedmom blog. The prompt word on this occasion was Christmas, no huge surprise bearing in mind the time of year. Click on the badge at the end to visit the linky.
I have an uneasy relationship with Christmas. On the one hand I think it is an excellent reason to have a party and get together with family and friends. On the other, I am very uncomfortable with the way the event has been commercialised beyond recognition and every year I feel like I haven't done enough to mark the true meaning of the season.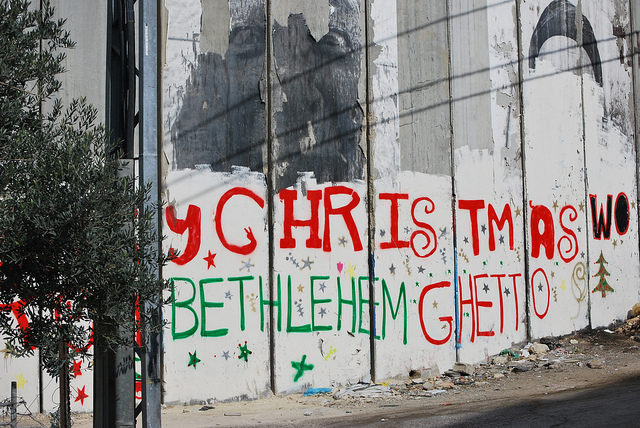 I'll give an example of that last statement. Over recent weeks I have visited Central London several times and been shocked at the number of homeless people on the streets. It seems to me there are many more rough sleepers than a decade ago.
At this time of year, when it has, at times, been bitterly cold outside, I have found myself thinking I should really purchase and distribute blankets or food for these individuals. Needless to say I have done nothing of the sort. Instead my money has been spent on hampers of beauty products and other gifts that aren't really essential.
So that's one reason I feel uneasy. Another is that many of the Christmas traditions we follow are, ahem, questionable.
About 20 years ago I spent some time in the Middle East. I visited a number of countries that would be best avoided in the current climate. Along the way I spent a little time in Egypt and Israel where many of the biblical stories took place.
It inspired me to learn more about the region and its history. To this day I can often be found reading books about theology, theological history and the Abrahamic faiths (Judaism, Christianity and Islam).
Although I didn't visit Bethlehem or Nazareth, I saw enough of the region to appreciate that snowmen, red Robbins, holly bushes, elves, turkeys and roasted chestnuts have little connection to Christmas. Most of the region is desert, when it snows it makes the international news and the average daytime temperature in December in Bethlehem is a comfortable 14 degrees Celsius (rising to 30 degrees in summer). That's before you consider the state of Middle Eastern politics (see the image of the so-called Peace Wall above).
The one tradition that has some basis on early Christianity is, believe it or not, Father Christmas. It's based on an early bishop known as Saint Nicholas (Santa Claus in Dutch, can you see where this is heading?). Saint Nicholas came from a wealthy background and, at night time, he dropped gifts of money down the chimney of houses of those he knew to be in need. Coming from Turkey (not the North Pole), houses had a completely different design with the staircase on the outside and so this was a relatively simple operation that didn't require reidndeer or magical sleighs.
Okay, so European traditions have been moulded and adapted to celebrate Christmas and that is no bad thing. Even so, some of what we consider Christmassy is more than a little off-piste. I can think of no better example than the booze-fuelled office party, something I once looked forward to but am delighted to have no part in these days.
I don't mean to be bah humbug. As I said at the start, Christmas provides a wonderful reason to get together with family and friends. It's the one time of year when most of us make a Herculean effort to meet with and contact friends and family we rarely see.
The gifts may not be necessary, but they are generally given with the best intentions and after considerable thought. Even if I find myself feeling guilty for not making enough of a charitable effort, there are many people that do go out of their way to help those in need at Christmas and their efforts should be recognised.
Whatever you're doing, however you're celebrating, whether secular or religious, I wish all the very best for Christmas and a healthy and prosperous 2015. Oh, and just so you know, I will be publishing one further blog post about the holiday season in a few days time. It's a bit of a rant against one particular tradition that I don't understand at all and will have a particular appeal to wine lovers. You have been warned!
Pic credit; Bill Rice. Image sourced from Flikr and reproduced under Creative Commons 2.0 agreement. For further information about Creative commons and links to the various agreements, follow this link.
Interested in this blog post? Well have a read of these...