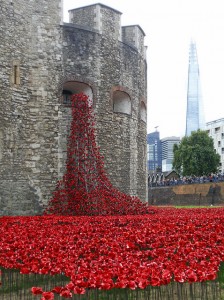 My eldest daughter has been set some special homework this week. With it being Remembrance Day and the centenary of World War I, she and her school friends have been asked to find out what role their families played in the conflict. I'm sure I'm not alone in this and that many parents have been researching and retelling war stories with their children.
Although I know a few tales, I haven't been much use with regard to WWI. I've had to bend the rules and told her what I know my family did in both WWI and WWII. As I have some French heritage, I've been able to tell her one or two stories involving my French family which, I think, provides an entirely different perspective.
These stories have kept her gripped. She's fascinated in them and has been asking me to tell more and more of them.
In some respects I'm not too surprised. As a young boy I was fascinated by my grandfather's exploits fighting the Japanese alongside the Ghurkhas in what was then Imperial India (modern day Pakistan).
I was retelling these tales just yesterday, fitting, what with it being Armistice Day. As I was doing so, I realised this stuff is absolute gold that should be shared. Below are three stories. There are others but family politics dictates I'm best keeping them off the blog (sorry).
I hope you'll agree this is a fascinating insight into what just one family went through in these conflicts. The stories I don't know about must be legion.
Please do leave a comment or two at the end. I'd love to think this post might inspire others to tell their family's stories too.
1) The flying ace
As a young boy I lived with my grandmother. Every now and again she would get emotional when talking about her brother and the reasons for this went over my head. With the benefit of age, I have a suspicion she was trying to shield me from what actually happened to him.
During WWII he was in the Royal Air Force and held the rank of Flying Officer. He was part of a Pathfinder crew.
Pathfinders were generally considered the best of the best and had a very risky role. They flew over enemy territory ahead of a bombing raid. Their job was to identify targets and drop flares so the bombers had a better idea what they were aiming for.
My family was, still is, immensely proud of the fact he was awarded the Distinguished Flying Cross. The newspaper clipping announcing the award took pride of place above my grandmother's mantelpiece and, with her passing away some years ago, it has passed on to an aunt who continues to display it.
Regrettably, however, he never actually got to physically receive his service medal. His aircraft was shot down in early 1944. He was just 23 years of age.
He was the youngest of my grandmother's many siblings and in later years I've discovered that she was very close to him when they were growing up. This is why she would occasionally get very upset when talking about him.
I have managed to do some research and discovered where his grave is. My mother hopes to visit it one day with her sisters and I hope they go through with it.
2) Thanks a lot dad…
My great, great grandfather was a successful figure in the worlds of business and agriculture, a real pillar of the establishment and a colourful character. He felt his family should be doing more to help the war effort during WWI and couldn't understand why one of his sons hadn't been called up for active service.
What does a patriotic man do in these circumstances? He writes to the War Ministry and asks why his son hasn't been conscripted, that's what.
I probably don't need to tell you what happened next. He received a response instructing his son to report for duty. He was one of the lucky ones and returned from the war injured.
3) The French connection
The precise details of this tale have, unfortunately, become a bit fogged over time. The gist of the story, however, goes like this.
One of my French relatives was taken prisoner of war. While incarcerated, he somehow managed to have an affair with a woman and was punished for his actions.
The version I heard as a young boy was that he had an affair with a German. Did the Germans have female soldiers? I assume not and that being the case, who was she? The wife of an officer? Administrative staff? Was she in fact French and involved with the pro-Nazi Vichy authorities that ruled much of France? This story leaves so many questions unanswered.
Whatever happened and whoever she was, the powers that be took a dim view of this love affair. To separate the couple, this chap was forcibly marched across a large chunk of occupied Europe to a different prison camp.
I've heard varying versions; that he was marched from France to Poland, Germany to Poland, across Poland itself. Wherever he went, it was a very long journey.
Regardless, after the war he was demobbed and returned to his home village in France. Having been marched across so much of Europe, he declared he would never leave the village again.
There are three highlights. What did your family do? Please leave a comment, I'd be fascinated to know.
Photo: Amanda Slater. Image sourced from Flikr.com and reproduced under Creative Commons 2.0 agreement. For further information about Creative Commons and links to the agreement, see my disclosure page.
Interested in this blog post? Well have a read of these...