Here's a question for you. Would you consider taking your young family for a day at the races?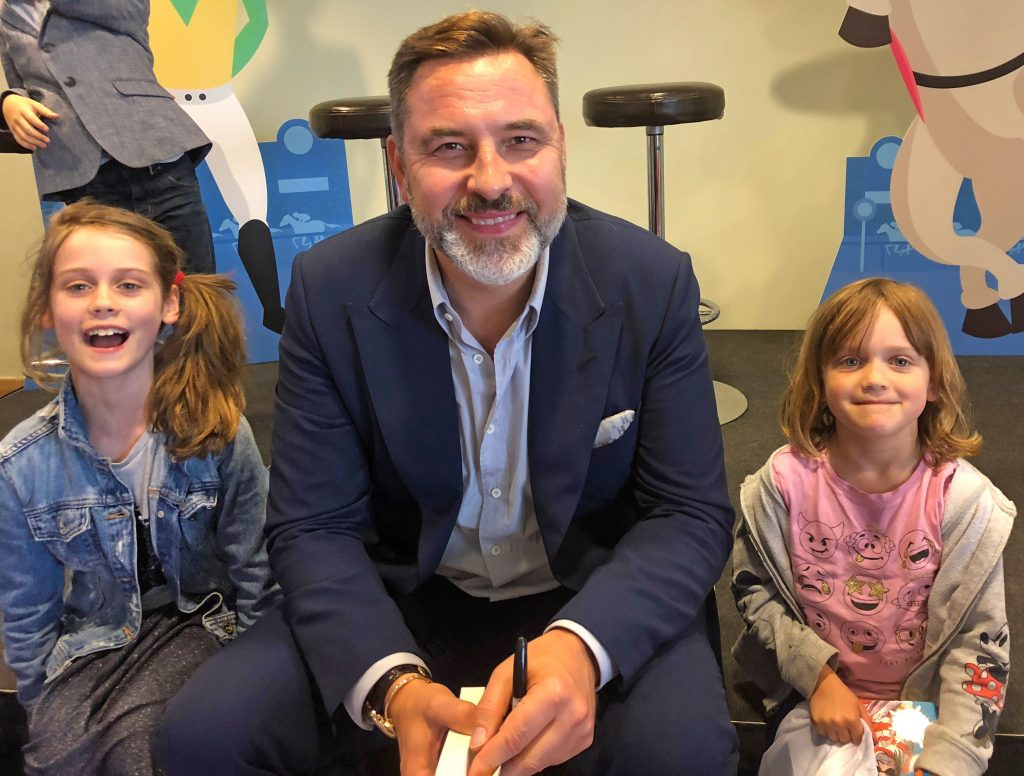 This is what Great British Racing is encouraging families to do. The promotional body has hauled in big names including David Walliams, who needs no introduction, and Billy Jenkins, who plays a very young Prince Charles in The Crown, to make the point that racing makes a great family day out.
To see if I agreed, I was invited along to Sandown Park with Helen and Izzy for the launch of a series of short films called Horsing Around that Walliams and Jenkins have starred in. They've been made to promote Great British Racing's #Under18sRaceFree campaign.
I'll tell you about Horsing Around in a moment. First of all, let me tackle the question of whether racing is a family activity.
Family day at the races: A good idea?
As you've probably figured out from the #Under18sRaceFree name, racecourses are allowing children to attend race fixtures at no charge if accompanied by a fee-paying adult. Over the summer months, there are 200 fixtures taking place at 60 different racecourses at which under 18s can go along at no charge, including more than 50 special family days.
This wasn't the first time we had attended the races as a family. A few years ago we spent a day at Ascot and vowed to return but we simply never got around to it. On that first occasion, Izzy was still in a buggy and it was a bit tricky as she needed to nap.
Returning with slightly older children, however, was a different matter. While there was no need to find somewhere for an infant to nap, both kids needed entertaining between the races. Would the kids behave themselves inbetween races? Was there enough to keep them entertained? Could I get a decent bite to eat?
I'll admit I wasn't entirely convinced there would be enough to keep Helen and Izzy entertained but they thoroughly enjoyed themselves. The beauty of a racecourse is that there's a lot of open space so you can find a spot, pitch up and let the kids run around and burn off energy. On this particular occasion, there was a 'jockey simulator' for youngsters to try out and get a sense of what it's like to ride a horse.
When the racing itself took place, the kids either watched on the big screen or viewed events through binoculars. I think the binoculars themselves are enough to keep little ones entertained for some considerable time!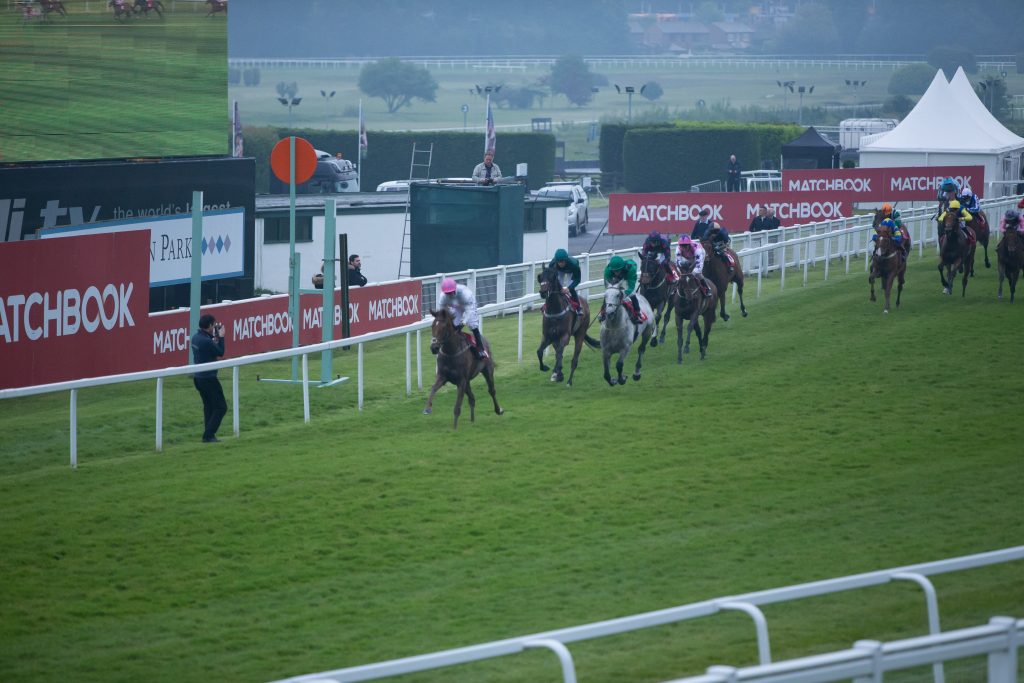 While we didn't experience this ourselves, at most racecourses it is possible for children to meet a racehorse and fairground rides and other entertainments are frequently laid on for younger visitors.
That said, we did get to meet famous jump jockey David Crosse. The point was made to us that racing is a very accessible sport and that kids would be free to chat to jockeys at the races.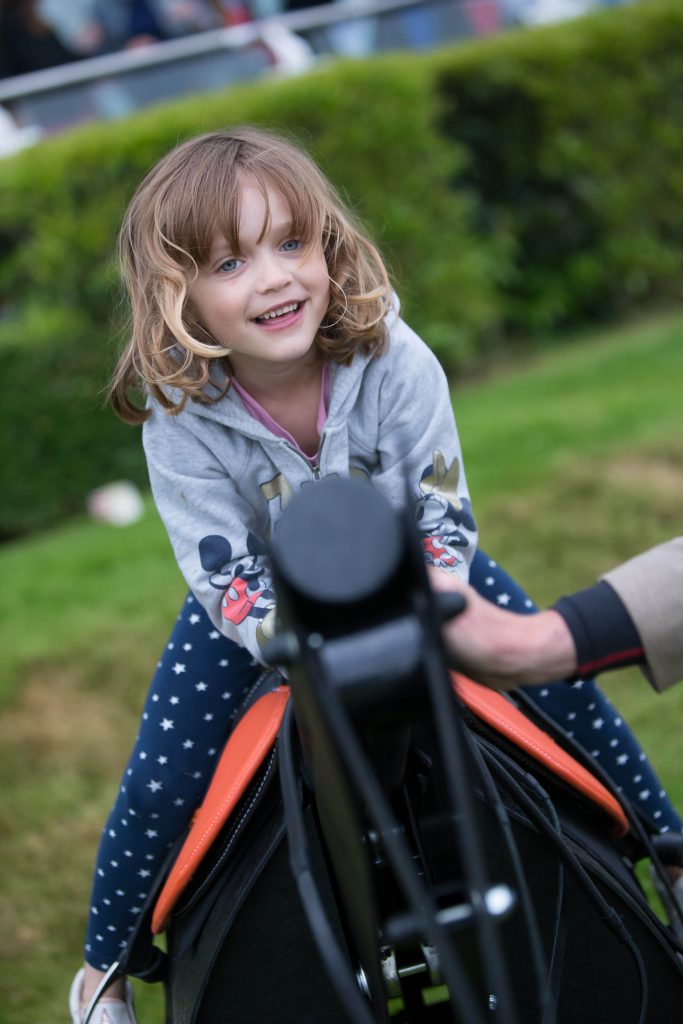 I know Mrs Adams and I would enjoy a day at the races. Helen and Izzy had great fun playing with the other kids that were there and there was a lot more going on for their age group than I expected so I'm pretty sure we'll be back.
What's more, my great blogging friend Vicki Psarias of the Honestmum blog was also at the races so we got to catch up. Just shows how social a race meet can be!
Horsing Around
As I've mentioned, at this particular fixture, Great British Racing launched the Horsing Around series. There will be five short films in total with Billy Jenkins playing the role of David Walliams' son. Episode one and two have already been released, although we were given a sneaky peek at all five videos in the series.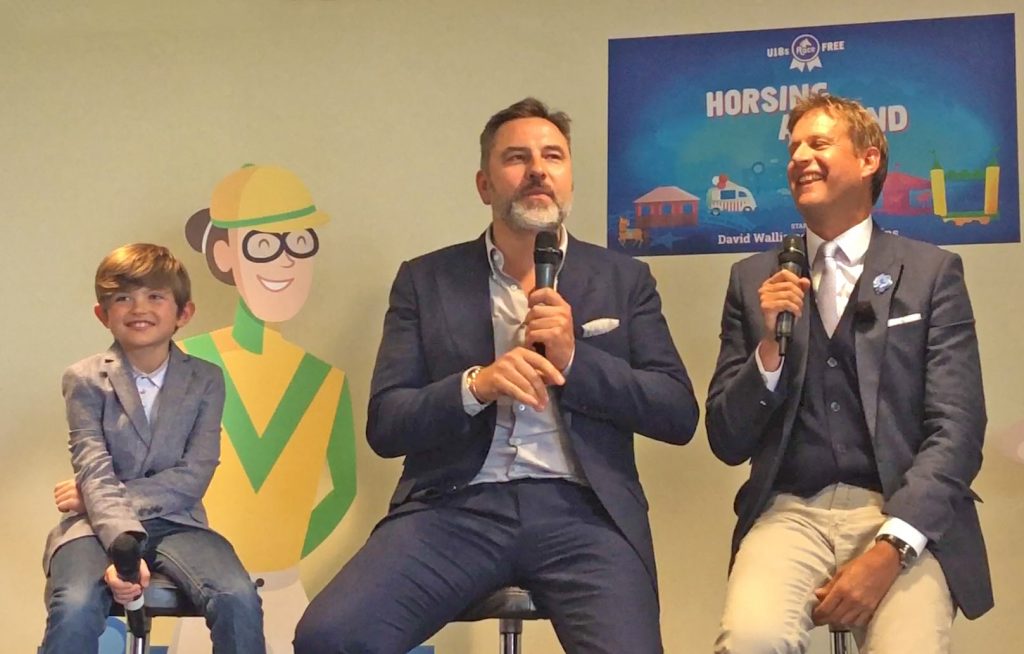 The episodes follow the pair as a reluctant Walliams is persuaded to take his enthusiastic son to the races for his birthday. It's a perfect role for Walliams whose deadpan humour shines through and Jenkins does a great job of showing up his fathers' ignorance of racing.
I won't spoil the surprise by telling you everything that happens, but it transpires Walliams is scared of horses. I'll simply say that by the end of episode five, Walliams has actually met a couple of jockeys and got up close and personal with a racehorse.
I've embedded episode one below. Simply click on the video to watch it.
Returning some time soon
We had a great time at Sandown Park. Helen is a huge fan of David Walliams' books and she and her sister left with signed copies of Billionaire Boy and Rat Burger which both have been reading at bedtime.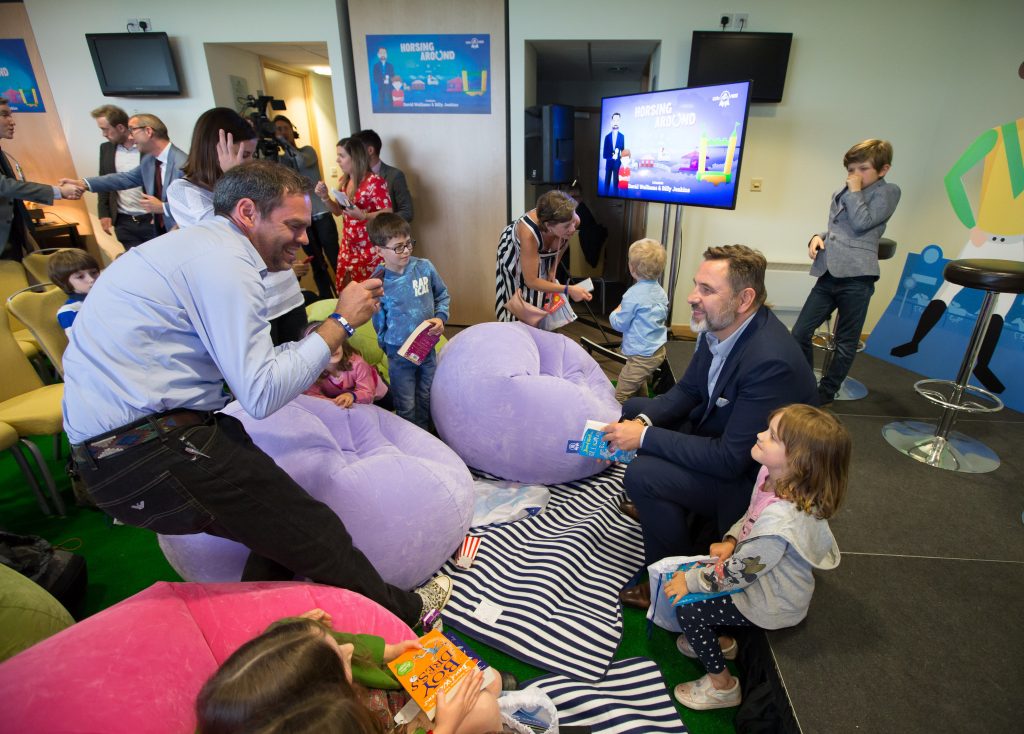 I know the next visit won't have the glamour of A-listers like Walliams or Jenkins but we are keen to return. That long six-week summer holiday is on the horizon and I imagine we will make it to a fixture or two. The fact the kids get in for free definitely makes it more appealing.
To find out more about fixtures where children can go for free, please take a look at the Great British Racing website.
Disclosure: This commissioned post was produced in association with Great British Racing. Thoughts and opinions entirely my own. 
Interested in this blog post? Well have a read of these...