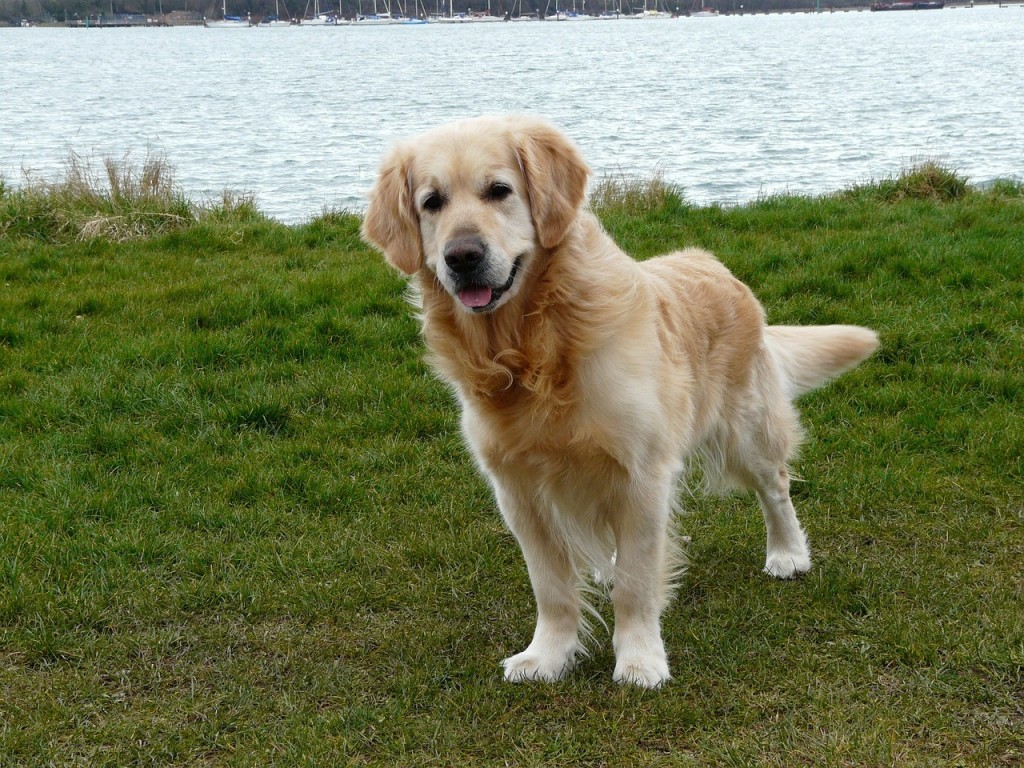 Dogs, by and large, are lovely creatures. I grew up surrounded by the things. Unfortunately my children are scared of them. This is particularly the case with Helen, my eldest daughter, who had a few unpleasant experiences with dogs jumping up at her when she was a toddler.
As a result of this, we're very big on the doggy stranger danger message. We tell our kids not to approach strange animals. It's a message I consider to be common sense.
You never know what an animal's temperament is like. Kids are usually inclined to see the best in any situation and won't necessarily appreciate that dogs can sometimes be;
a) aggressive and nasty or
b) ridiculously friendly and refuse to leave you alone.
Whenever we're out and I spot a dog that's been let of its leash, I get the kids to stop what they're doing and stand next to me. More often than not, the dog will run over, have a sniff and then run off again.
If I don't do this, Helen will spot the dog herself and run off in the opposite direction screaming. This then sets off her youngest sister. The result? Two scared children are running across parkland, followed by me shouting at them to keep still (as running just makes the dog more curious). I, in turn, am being followed by a curious, barking, dog while the animal's owner lumbers up behind calling after their quadruped.
You're probably thinking we should have made efforts to teach our kids how to behave around dogs. The fact is we have. They'll happily play with their grandmother's dog and love to take him for walks. As I said at the beginning, it stems from when my eldest daughter was a toddler and strange, off the leash animals jumped up at her.
I find the attitude of some dog owners to be really irritating. When the above scenario takes place, we'll usually be in a park or some form of wide open space. I have no option but to shout after the kids to warn them a dog is coming. They know the drill; a strange dog is in the area and so they run over to me.
As I've had to shout, the owner frequently hears what I've said. I can guarantee the resulting exchange will take place when they get close enough to speak to me;
"He / she is very friendly, they can come and say hello."
"That's very kind, but they're both a bit scared of dogs."
On hearing this, I would simply say "I understand" and move on. In my experience the majority of dog owners look at me like I've said something horrendously offensive and stand their ground.
"But he / she won't hurt them. They can come over and have a stroke."
"No thank you, they're scared of dogs, they had a few bad experiences with strange animals jumping up at them when they were younger."
"No, honestly, he / she is fine."
I have to keep my cool, but at this point I want to lose it. I've explained that my children are scared of dogs. To illustrate the point, I usually have a child clinging on to each leg. In my opinion this should be enough to persuade the owner to move on but it rarely is.
To continue pushing the point makes no sense. It's like taking Indiana Jones to the reptile house of the local zoo, like giving an arachnophobic a tarantula as a birthday present or arranging to take your claustrophobic lover for a dirty weekend on a submarine. I've said nothing rude about the animal, I haven't criticised its behaviour, my children have an issue with dogs and I simply want the owner to go about their business.
"Thank you, but we're trying to teach the children not to approach strange dogs."
This usually persuades the owner to leave us in peace. They can look slightly offended but I'm really not bothered.
I had such an exchange yesterday. On this occasion the owner really pushed the point that her animal was harmless. She didn't want to drop it and I found it so annoying as I had children hanging off me, both of them clearly frightened.
A polite "no" really does mean just that; "no". It's not a big deal and it makes absolute sense that a child would be scared of an animal two or three times their size. Please, just move on, walk you dog and leave us alone.
What's your experience with dog walkers? Can you relate to the above. Maybe you have dogs and wish to respond. You're very welcome to leave a comment below.
Pic credit; Cams. Sourced from Pixabay.com. Reproduced under Creative Commons agreement. For further information about Creative Commons pplease see my Disclosure page.
Interested in this blog post? Well have a read of these...