Dr Ranj Singh is a well-known face from the television. Over the years, he has combined his experience as a specialist in emergency paediatric medicine with his natural presenting abilities to become the resident doctor on ITV's This Morning. He's also presented ITV's Dr Ranj on Call and Cbeebie's Get Well Soon and had an impressive run on Strictly Come Dancing. He's now turned his hand to writing a book for teen and tweenage boys called How to Grow Up and Feel Amazing.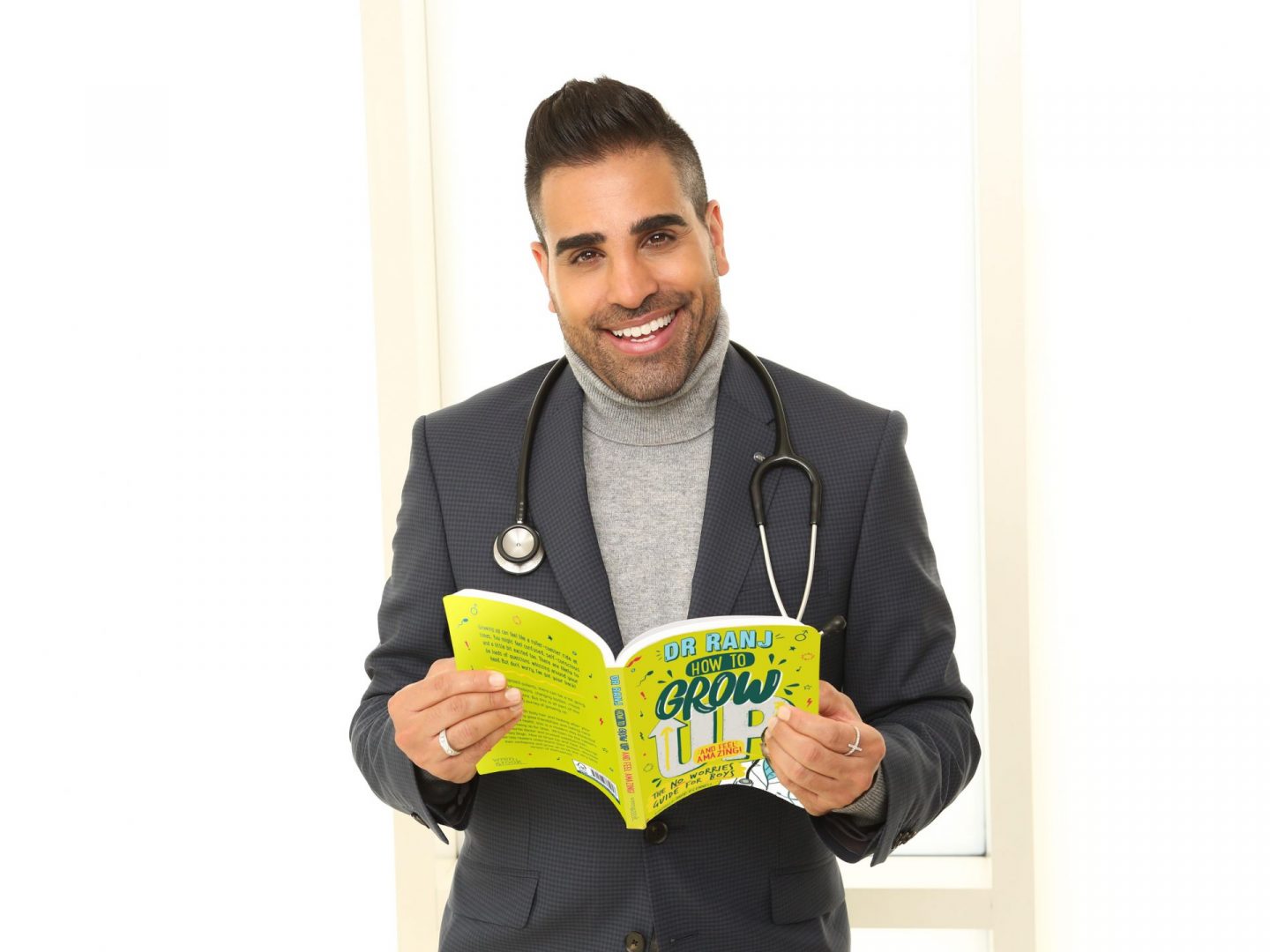 In this blog post, I provide a brief overview of the book and Dr Ranj answers a few questions about the book and his work. At the end, there's a giveaway you can enter (Editor's note, giveaway has now ended, but do read on to find out more about this excellent book).
Taking part is very simple. I have a total of five copies to give away and the instructions are at the end of this post. Before we get on to that, here is an overview of what you will find in How to Grow Up and Feel Amazing.
Introducing How to Grow Up and Feel Amazing
The first point I'd make is that it's written in very clear, accessible language that will appeal to tweenage and teenage boys. Dr Ranj does not shy away from awkward subjects like body image and masturbation and ventures into territory often ignored by books like this, such as blended family life. Illustrations, meanwhile, are provided by David O'Connell, a well-known illustrator who specialises in illustrating children's books.
There is a lovely intro intro, which Dr Ranj makes very personal (something he does through the book in fact). He mentions that he was shortest boy in class and wondered when he'd start developing like other kids. He also goes out of his way to stress everyone is unique and makes repeated statements clearly designed to build confidence in young readers.
Chapter 1 is called This Is Me. In this chapter, Dr Ranj talks about puberty and how the body changes. He gets right in there, explaining what boys can expect to happen to their genitals and dedicates some page space to erections. This also includes a detailed diagram that shows the relationship between the penis, bladder, testicles and even prostate. This is notable as I have never seen a diagram including the prostate in a book aimed at this age group before and yet prostate health is something men (and therefore boys) need to know about.
The chapter also covers acne, shaving and hair growth. Further bonus points to Dr Ranj as he has dedicated a section to what girl's experience in puberty, something that should form a part of every boy's education.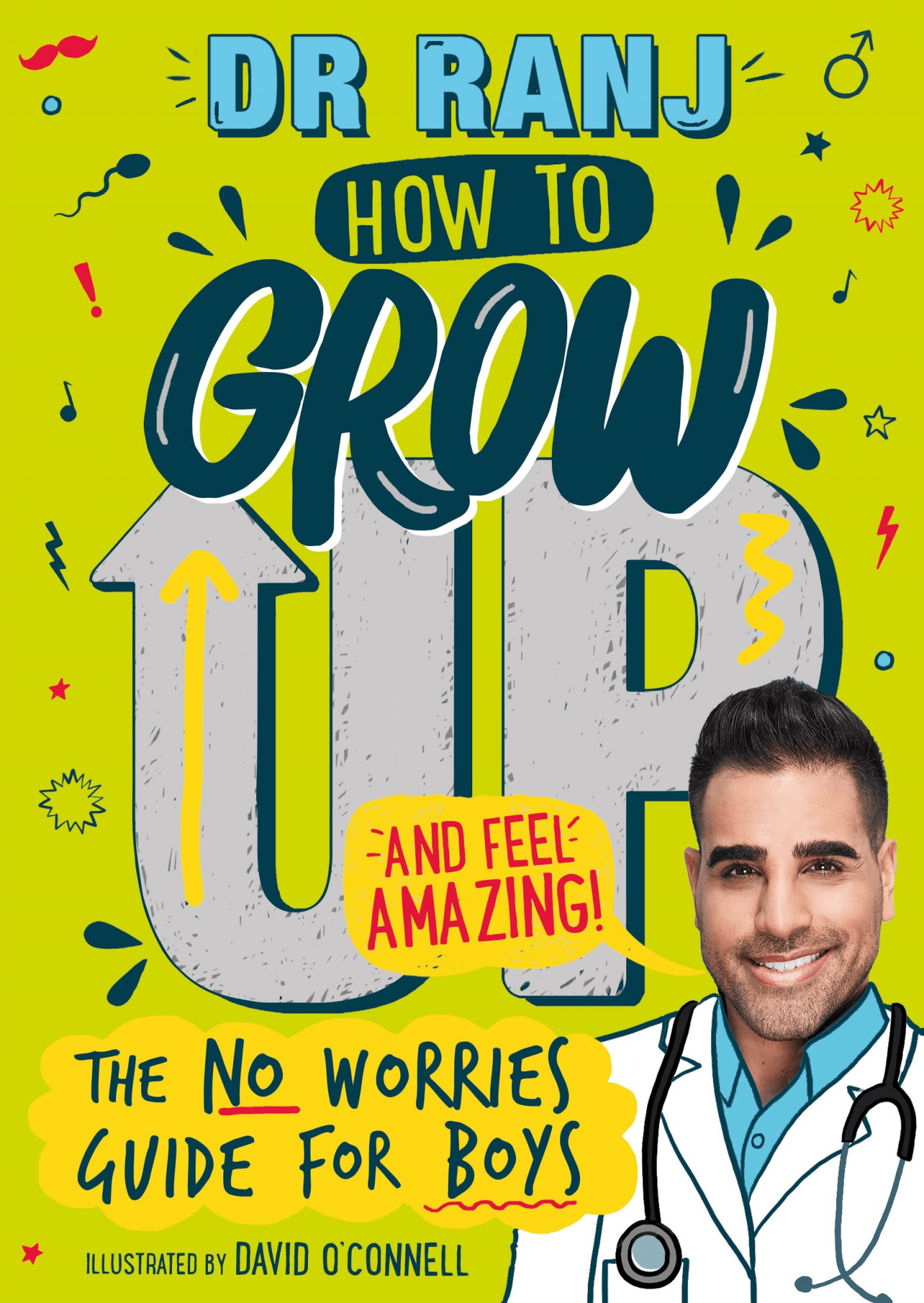 Thoughts, feelings, emotions and mental health are covered in chapter two. There are interesting sections focused on teenagers taking risks and also making the point that it's perfectly acceptable for boys to cry if they feel upset.
The following chapter looks at personal relationships, not only with friends but with family members. It also covers the thorny issues of sibling rivalry, loneliness bullying and the potential impact when parents split up and divorce. I make no secret of having a special interest in step and blended family life as I have been a stepchild since I was a very young boy. For me, Dr Ranj, gets further credit for including a brief section about blended families.
Chapter four is all about sex. It looks at sexuality and what might happen when you have sex or get intimate with someone, plus explains the ins and outs, if that's an appropriate term to use, about contraception. There's also a list of things a boy can do to be a good boyfriend.
Body positivity and online etiquette are in the spotlight of the fifth chapter. I'm really pleased Dr Ranj included this section as body confidence is a huge and under-recognised issue among boys. I felt under pressure when I was a teen, so I dread to think what it's like in this day and age with youngsters being constantly bombarded with images of the perfect body on social media.
The final chapter looks at health. It covers everything from sleep and diet to getting your eyes tested and practicing mindfulness. There is also a section covering smoking, drugs and alcohol, risks and temptations every teen faces.
You've heard what I think of the book. Dr Ranj was kind enough to answer a few questions about the title, explain what inspired him to write it and talk a bit about his work. Here's what he said.
What are the biggest pressures today's youngsters have to deal with that their parents haven't had to contend with?
"The most obvious thing at the moment is the restrictions we are all experiencing because of the coronavirus pandemic. These are tough times for everyone, and for youngsters stuck at home with little or no contact with their peers and a likely impact on their learning, it's particularly difficult. The other big one is social media: It's everywhere now and for many of us adults, it was something we never had to think about growing up.
"Both bring such pressure to youngsters. With COVID-19 we need to be aware of the impact that these past months have had on young people and ourselves: We're all going to need some time to reflect on what's happened when we're able to return to a 'normal life'. When it comes to social media, my advice to young people is always to treat other people with kindness and respect, be cautious, and if you see or hear anything that hurts you, worries you or makes you uncomfortable, then speak to a grown-up you trust about it."
Do you agree the leap from primary to secondary school is a lot bigger than many parents realise. If so, how can it be made easier for kids?
"Growing up is scary full-stop. Then when you add in the pressures of changing schools, most likely going to a much bigger school, it's no surprise that it feels like a lot to handle. It doesn't help that this transition tends to be around the same time our bodies are changing too.
"My advice to any child worried about taking that big leap is to talk to their friends, teachers and parents about it. Visit your new school if possible and don't forget: When you start secondary school, you won't be alone. Everyone else in your year is starting that day and you're all in it together. So be brave and enjoy making new friends!"
Can you tell us a bit about your new book?
"How to Grow Up and Feel Amazing! is a modern, up-to-date and honest growing-up guide for boys and anyone else that might be interested in the challenges they face. As I was writing it, I kept thinking: What did I wish someone had told me? So it's the book I needed when I was growing up!
"It covers everything from how your body and mind changes during puberty, to having healthy relationships, to dealing with social media, and how to just get the most out of every day. We go beyond that to also look at what it actually means to be a boy, exploring stereotypes, diversity and inclusion.
"You'll also get an insight into the things I went through when I was a kid and what I learned from them. I want every young person that reads this book to feel like they are not alone dealing with this stuff. I didn't always have that when I was growing up, and I really wish I had. I'm pleased I can help make sure that young people have it now. I want them to feel more confident about themselves, and also to feel empowered to seek help if they are struggling, which can be more of a challenge for boys."
A key theme within the book is mental health. How important is it to discuss this with children and young people?
"Mental health and wellbeing is probably the most important thing to talk to children about right now. Especially given the events of the last year or so.
"We all understand the importance of physical health. Now we're starting to realise that mental health is just as vital. We know that physical exercise is good for the health of our bodies, but what do we do to exercise and optimise our minds? When we fall and hurt ourselves physically, we know what to do and who to tell. But how many know what to do or how to seek help when that happens to them mentally?
"These conversations are essential for all young people, but particularly boys who aren't always given the space, time or permission to express their feelings. If we don't learn how to do that when we're growing up, we carry those issues with us into adulthood when they can have a massive impact on our lives.
"I hope this book gives young boys the framework and courage to have those conversations and get any help they need. Mental health should be embedded into every school curriculum, but until then, this book should help!"
How do you hope How to Grow Up and Feel Amazing will support and inspire children and young people?
"I wrote this book to educate and empower any young person who picks it up. I want it to be the companion that you can turn to for reassurance about anything that is happening in your life, and that helps you learn how to deal with it. It's like a non-judgemental friend who can allay your fears and advise you on how to make things better. I want the reader to feel happier, more hopeful and inspired to dream and be better. I make a specific point of echoing my own life mantra in it: Dream big, work hard and be kind. Those are words I have lived my own life by and they have helped me immensely, so I hope others will find them valuable too.
"I've also tried to make it as relevant to as many people as possible. I don't want anyone to feel like it doesn't consider, understand or mention them. That's why we talk about sexuality and identity as well as biology, puberty and everything else. And you'll see from the amazing illustrations by David O'Connell that there are people of every background, body shape and culture in there. This book is for everyone."
Are the topics discussed in How to Grow Up and Feel Amazing you have seen first-hand?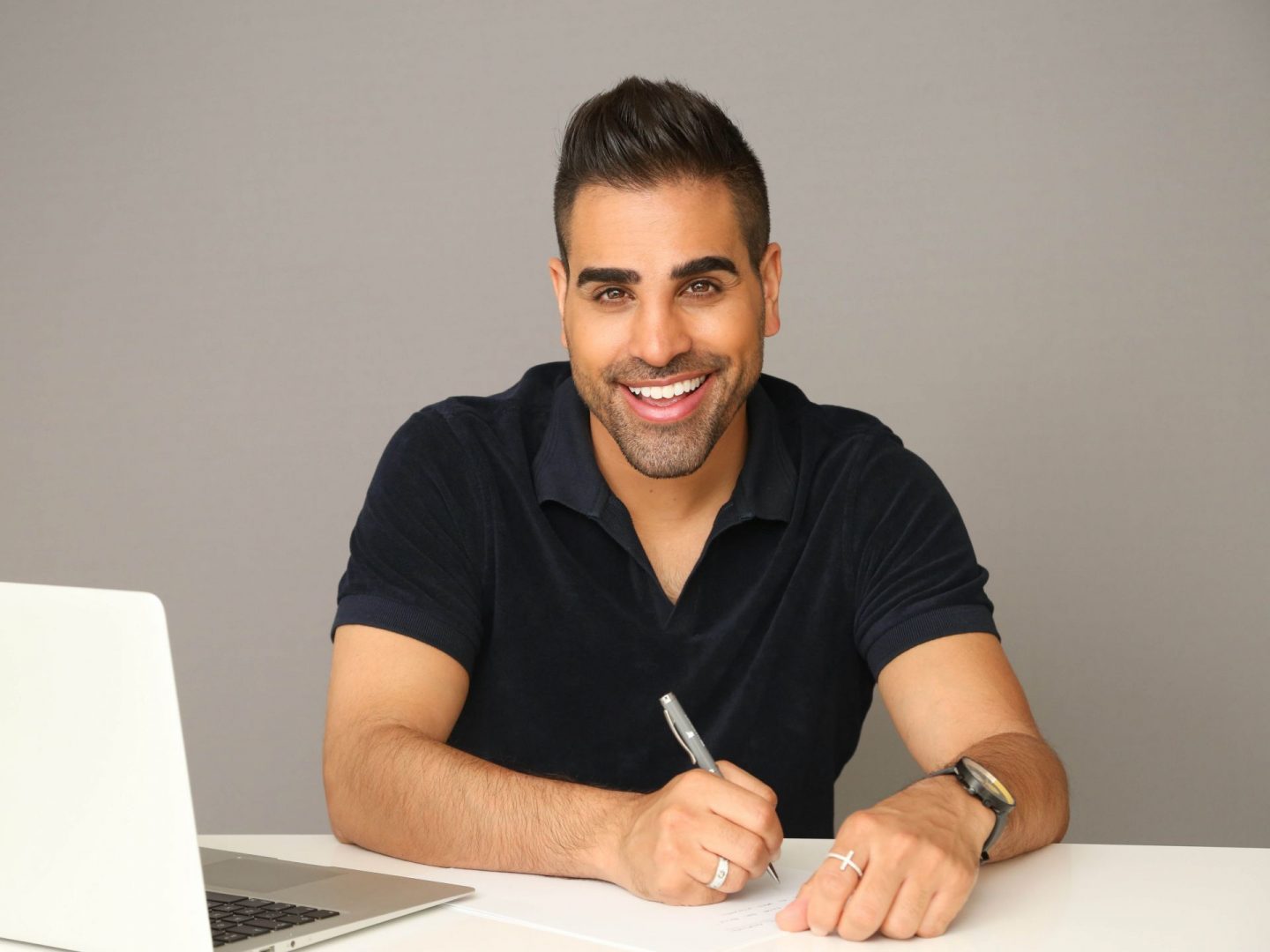 "There is nothing in this book that I haven't either gone through myself or dealt with in my professional career, so in that sense it's all first-hand and coming straight from the horse's mouth! I want the reader to feel like they can trust me and the information I'm giving them. I've been there. I've seen it or felt it. I've come through it. And I'm here to help you do the same.
"Authenticity was really important to me. That means you'll also hear about my own experiences and struggles growing up: My mental health challenges, how I discovered and accepted my sexuality, the ups and down of my relationships with my brothers, my struggles with my weight and self-confidence, and also how I got better at studying and learning to achieve my dream of becoming a doctor."
When it's all getting a bit much, what do you advise children and young people to do?
"This is a message that is woven throughout the book: If you are struggling, if you need help, don't be afraid to speak to someone you can trust. That could be a friend, a relative, a member of staff at school or a health professional. Asking for help can be the most difficult step, but it will definitely make you feel better and is the only way you can change things. There is also a list of helpful websites and resources at the end of the book to point people in the right direction."
As a child, what did you want to do when you grew up?
"The first thing I can remember is wanting to be an astronaut. No idea why… I guess it just seemed like a cool job! Then I wanted to be a teacher, but soon changed my mind when I saw how hard teachers have to work! Eventually I settled on wanting to become a doctor. Why? Well, I learned that I loved science, had a fascination with how things worked and really wanted to help others. So medicine seemed like a logical choice."
"Thing is, I was never really that academic and I didn't think I could make it. And I didn't know any doctors so didn't have any idea of what it entailed. Fortunately, we were very good friends with our local pharmacist who advised me to just aim as high as I could and see what happened. He was absolutely right and that's a piece of advice I've carried with me throughout my career. Just give it your best shot – no matter where you end up, you'll be in a better place than where you started."
How important is taking 'time out'?
"We all have so many responsibilities these days: Work, family, friends, general life admin and so on that sometimes it's easy to get bogged down in it and forget to have fun or take some time for ourselves. Those moments of 'time out' when we step back and just take a second are a chance to reflect, learn and refocus. They are just as important as the times when we are actively doing something. So I make sure that I take those moments now and again, usually when I'm on holiday, to reflect on it all, remember what I have achieved and what I still want to do, and be grateful. I think everyone should do it."
Dr Ranj: How to Grow Up and Feel Amazing book giveaway
If you'd like to buy a copy of Dr Ranj's How to Grow up and Feel Amazing, simply follow this link. Alternatively, I have five copies to give away and you have a chance to win one of them.
Taking part is very simple. The instructions are all in the Gleam below. Essentially, however, all you need to do is comment on this blog post explaining why you want a copy of the book or retweet the tweet in the Gleam.
The deadline for taking part is: Entrants must be over 18 years of age and resident in the United Kingdom. Winners will be selected at random and notified via email. If you don't respond to the email with 72 hours, another winner will be chosen in your place.
Wishing everyone who takes part the very best of luck!
Interested in this blog post? Well have a read of these...