Many years ago, long before I became a father, I spent a little time backpacking in Latin America. During this time, I was introduced to the empanda.
Loosely translated, empanada is the Spanish word for sandwich. In truth, it has a much greater resemblance to a Cornish pasty. Essentially, it's an envelop of pastry filled with either a vegetable or meat and vegetable filling.
Back when my eldest daughter, Helen, had packed lunches at school, I was looking to add a bit more variety to the foods I gave her each day. On one occasion, I told her about this strange but delicious delicacy called an empanada that I had eaten in a far-away land where the Incas used to live.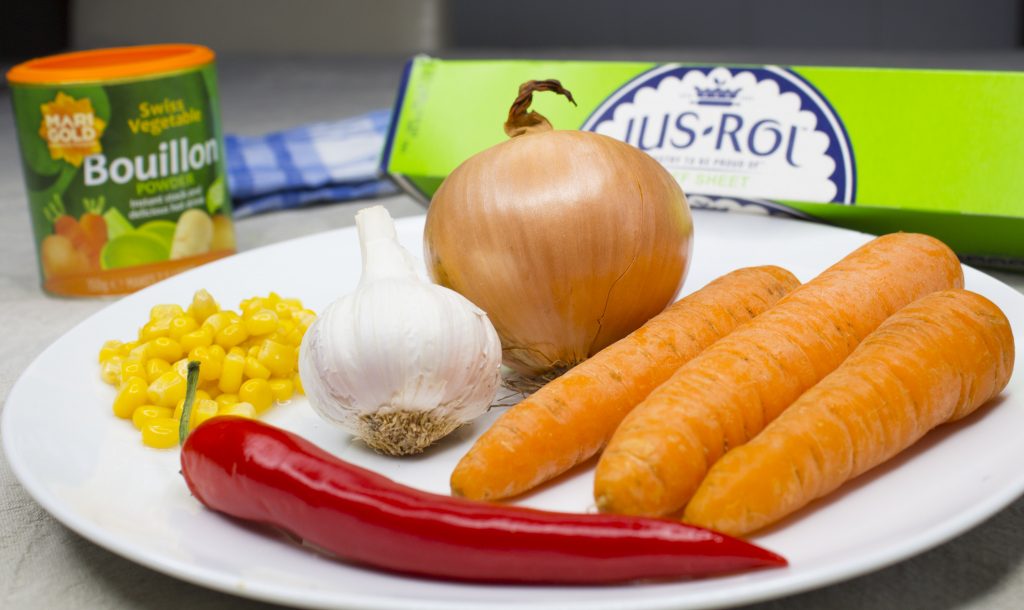 I made some empanadas for her. I was unsure what response they would get but Helen loved them and was always very excited when I made a new batch. They were such a hit that I have, on several occasions, had to make larger ones so Mrs Adams and I could have them for our evening meal. In fact, I once made a batch that she took into work for her colleagues to enjoy.
I haven't done a food post in a while, so I thought I would share my recipe here. The beauty of this recipe is that you can go completely freelance and make up the filling as you wish and empanadas can be cooked or partially cooked, frozen and stored for future use.
I have based my recipe loosely on what I ate and saw in South America. For convenience, I use shop bought puff pastry, but if you wish and have the time to make something more authentic, you can make an empanada dough.
I said there were many different ways to store the empanadas. You can eat them hot or you can cook and have them later when they're cold. Sometimes I create the filling and allow it to cool before putting it in a pastry casing and freezing it so it can be cooked and served another time.
One further thing I should add, when I made the empanadas for this blog post, both Helen and my youngest daughter Izzy were helping me (Izzy wa a little more inspired to help than her older sister who wanted to go and practice her gymnastics, hence why Helen isn't in the photos). I like to give the kids jobs to do while cooking as they enjoy it and it builds up their own cookery skills.
With my daughters helping me, however, I didn't put too much emphasis on presentation of the final product. The idea was to have fun while cooking together, not to make the most Instagrammed empanada in the world! As you'll see from the image below and at the end, things did get a little out of hand and the final product looked a bit like a calzone pizza gone very wrong but hey, it didn't affect the taste.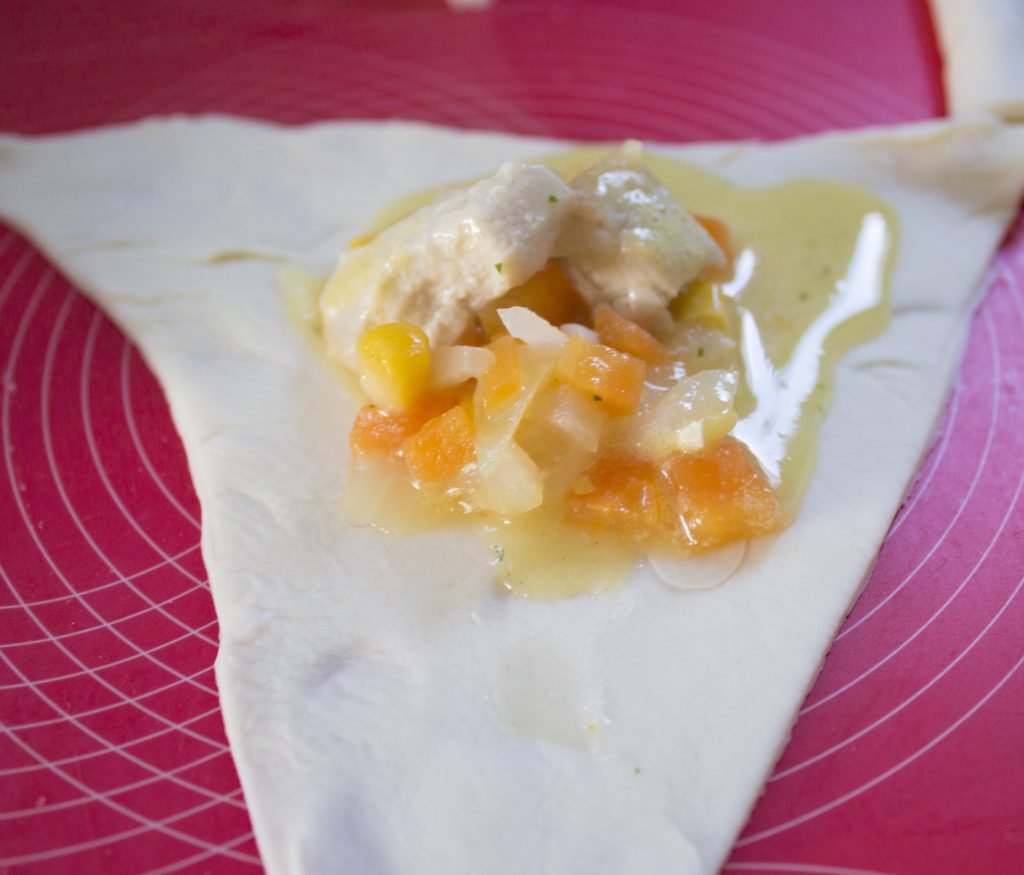 With that said, here's how you can create your own easy lunchbox empanadas. I hope you give it a try and if you do, let me know, either with a comment below or on social media where you'll find me on all the usual channels as @dadbloguk.
Easy lunchbox empanadas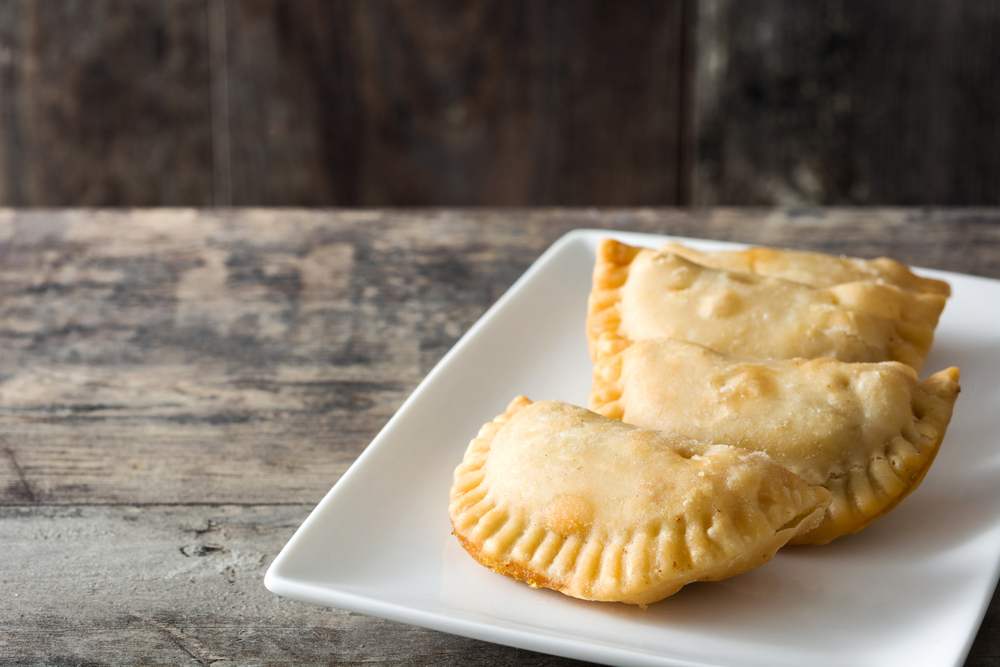 Preparation time 10 minutes. Cooking time 25 minutes.
To make roughly 10, small lunchbox sized empanadas you will need:
One 320 gramme box of ready made puff pastry
Four medium sized carrots
One medium sized onion onion
One clove of garlic
100 grammes of sweetcorn
Either two medium sized boiled potatoes or two small chicken breasts diced into small pieces, slightly larger than a pea.
If making for adults, half a chopped chili pepper or a liberal pinch of chili flakes
For the sauce you will need:
Two tablespoons of olive oil
One tablespoon of plain flour
One tablespoon of Boullion (or a cube of vegetable or chicken stock)
Around 200ml of water.
Method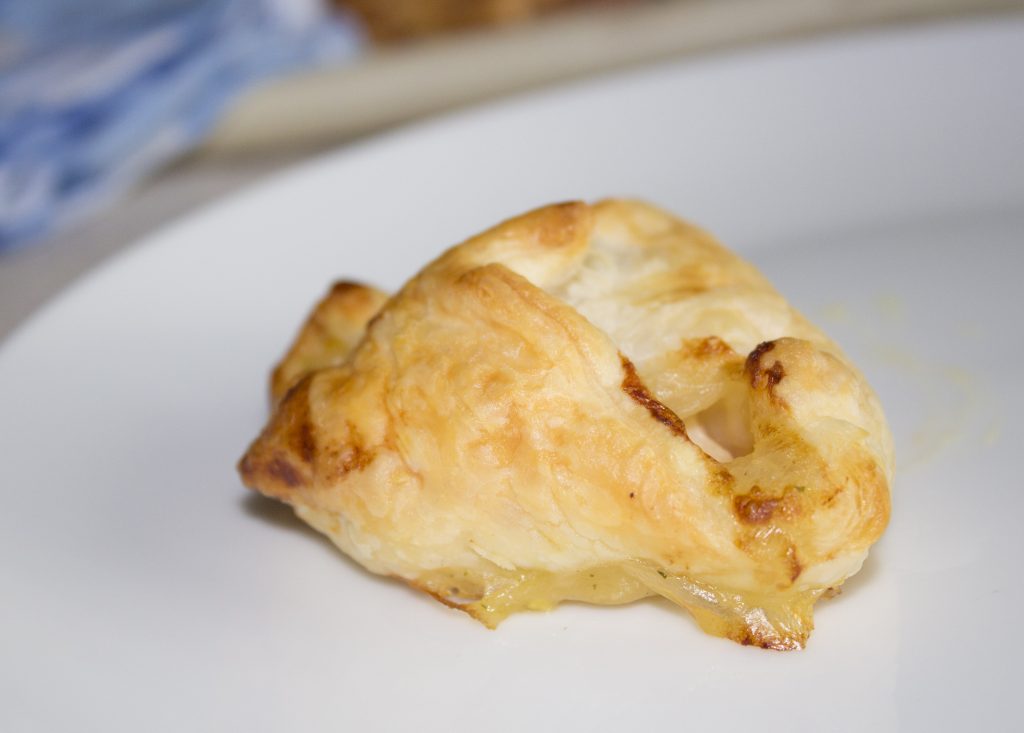 Pre-heat the oven to 200˚c.
Slice and dice the carrots and onions. Crush the garlic. If using fresh chili, chop it up into tiny pieces. Set to one side while you make the sauce.
The sauce is very similar to making gravy. You want to make it thick, or else it will leak from the empanda.
Heat up the olive oil, add the plain flour and stir it in before slowly adding the water while stirring constantly. Add the Boullion / stock cube and keep stirring until you have a thick sauce without lumps. If needs be, run it through a food blender. Once made, set it to one side.
Heat up a tablespoon of olive oil in another pan. If adding diced chicken, throw it into the pan and brown it off. If using potato, place that in the pan and heat it for a minute.
Add the carrot and onion and fry for a couple of minutes before adding the garlic. If you're adding chili, add it now.
Fry for a further couple of minutes before stirring in the sauce and adding the sweetcorn.
Leave the filling to simmer for five minutes.
While the filling simmers, roll out the pastry and cut into between eight and 10 equally sized squares. You're aiming for something about 12cms by 12 cms.
Take the filling off the hob (if you've added chicken, do a quick check to ensure it is cooked). Take one of your squares and spoon in about a tablespoon of the filling.
Fold the pastry over and using a fork, pinch the edges together and then cut off any excess pastry. Place on a baking sheet lined with parchment paper. Repeat until you have made all the empanadas.
If you really want to go to town, glaze the empanadas with beaten raw egg.
Place the empanadas in the oven and cook until golden brown, roughly 15-20 minutes.
Either serve immediately or leave the empanadas to cool down and add them to your little one's lunchbox in the days to come.
Most importantly of all, enjoy!
Interested in this blog post? Well have a read of these...