I was recently chatting to a mum I know about some activities I had planned with Helen and Izzy. When I explained I was going to do some baking with them, she called me an "Earth Mother".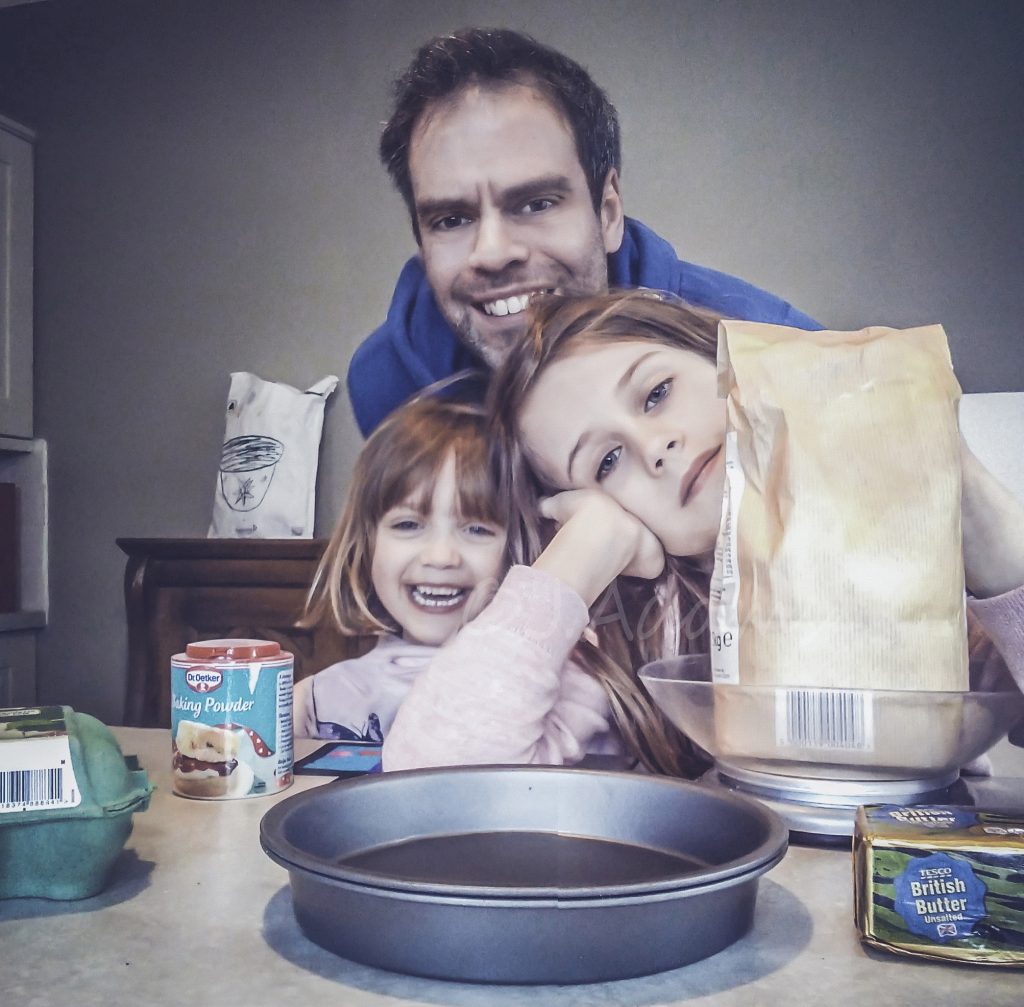 I've been called many things, but this was a first. She said she didn't bake with her child and another mum, overhearing what had been said chipped in and, looking slightly bemused, admitted that she didn't bake wither her offspring either.
Each to their own, but my kids love cooking. I think it's something I want Helen and Izzy to experience. I remember baking cakes with my aunt when I was a young boy and I think the fact I remember it all these years later says a lot.
Helen is a bit more of a chef and likes to create savoury dishes but Izzy likes baking. Before she started school, Izzy would often ask me if we could bake cakes or biscuits together.
I don't want to give you the wrong idea, life in our family is not one great big cookery session. Sometimes it's a few days between our cookery sessions, sometimes it's weeks, but I make sure it happens when I can.
Not only do I find it a great way to spend quality time with the children, but they learn essential skills along the way. It's not simply about how to use a whisk or a sieve, but they get to measure ingredients and weigh them and learn about the process of making food.
We had four snow days last week because of the weather. We had lots of time to fill, and Helen and Izzy asked if we could bake a cake. I was only too happy to agree.
They wanted to create a sponge cake with an interesting filling: crunchy peanut butter. It was their idea it was what they wanted to do, who was I to interfere and suggest a jam or jam and cream filling?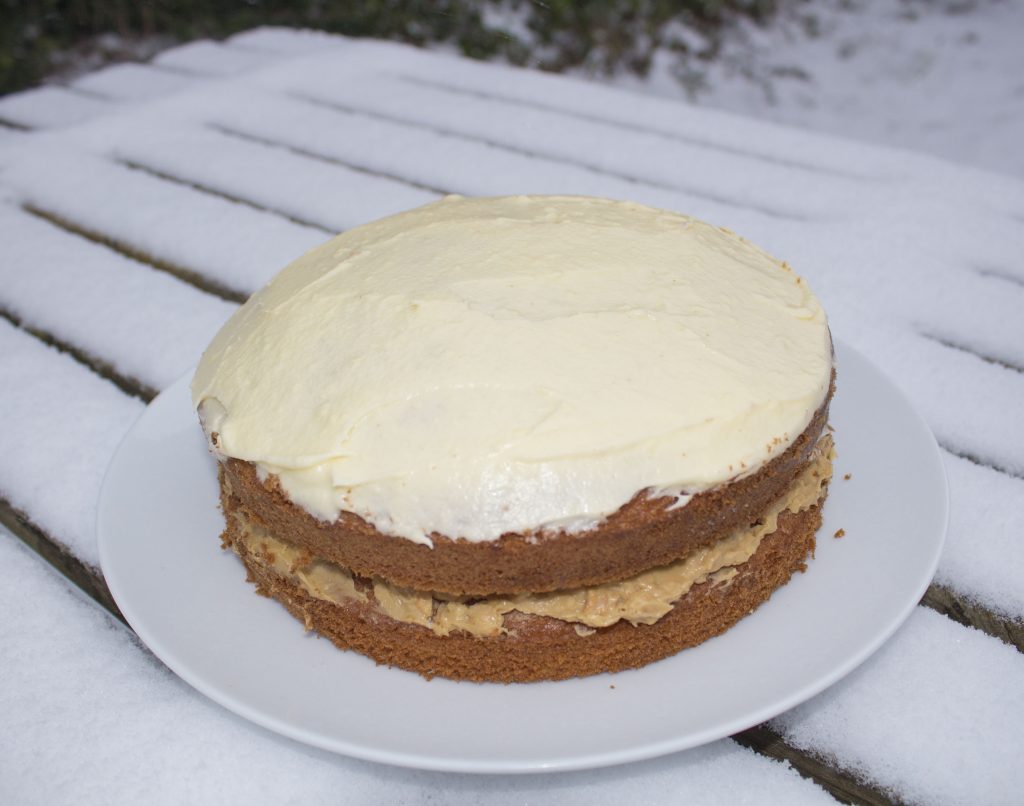 The cake was a great success and I thought I would replicate the recipe below. I'll be quite frank, aside from the filling this is run-of-the mill sponge cake recipe.
You'll find the recipe in most recipe books but the beauty of it is that it is very simple. If you haven't baked with your kids before or you haven't done it for a while, I hope you're inspired to give it a go.
You really can't go wrong and you can use whatever filling you like: Peanut butter, jam, jam and cream, chocolate spread. Use whatever you or your kids will eat. Most of all though, simply enjoy cooking with your children!
You will need
For the cake
Four eggs
225 grammes of self raising flour
225 grammes of brown sugar
225 grammes of butter (softened)
2 teaspons of baking powder
For the filling
Crunchy peanut butter (or whatever appeals to you)
For the buttermilk icing
90grammes icing sugar
90 grammes butter
2 tablespoons milk
Method
Weigh out the sugar, flour and butter. Place in a mixing bowl along with the baking powder and make a well in the middle
Crack the eggs into the well and mix thoroughly with a whisk until you have achieved a good cake mix
Pour the mixture into two greased cake tins and bake for 15 to 20 minutes at 180˚c.
While the cake mixture bakes, make the icing.
Sieve the icing sugar into a bowl and slowly mix in the softened butter.
Add in the milk and continue to mix until smooth and with no lumps.
Return to the oven and test to see if the cake mixture is thoroughly cooked by sticking a knife in the middle. If it comes out clean, remove from the oven and allow to cool.
Once the two halves of cake have cooled down, spread crunchy peanut butter (or your chosen filling) in the middle, place the other half on top and then spread the icing on top.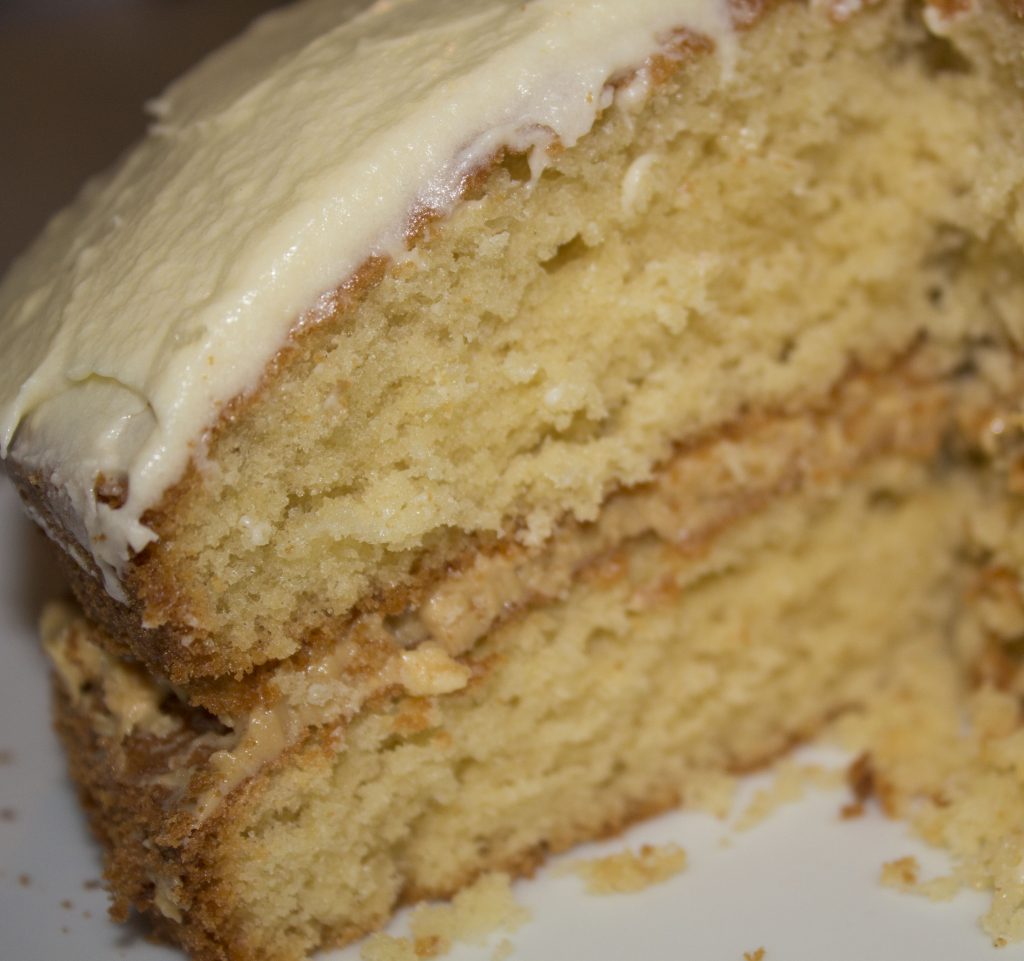 Voila! Your cake is finished. Now go ahead and enjoy!
Oh, but please do remember, this recipe was bought to you by an Earth Mother called John.
Interested in this blog post? Well have a read of these...